Aluminum Die Casting - Leading Aluminum Casting Manufacturer
Aluminum die casting is a manufacturing process that has been around for decades, with various applications across various industries. It helps keep your overall product lightweight while ensuring that the hardware parts and components are durable for long-term use. You can find die cast aluminum applications in consumer electronics, networking equipment, the automotive industry, the aerospace industry, home appliances, and many others.
With aluminum die cast, manufacturers can also produce small-volume products that need to meet specific weight requirements. Also, with its high thermal resistance characteristic, aluminum pressure die casting can have hardware parts or components operating at high temperatures.
A most significant benefit of aluminum die cast is that it creates lighter parts with more surface finishing options than other die casting alloys. Aluminum can retain high dimensional stability with thin walls. It is versatile and corrosion-resistant. Furthermore, aluminum can withstand the most elevated operating temperatures of all the die cast alloys. It can be used in almost any industry. TEAM Rapid has decades of experience producing various types of aluminum die casting parts, including Aluminum Housing & Cover; Aluminum Brackets & plates; Aluminum Heat Sinks; Aluminum Valve Bodies; Aluminum Gearbox Housing, etc.

How Aluminum Die Casting Works
Aluminum die castings have not significantly different from any other die casting methods. It uses die cast aluminum alloys as the primary materials in this process. It works in simple steps.
First, you will need to prepare the steel molds for the specific hardware parts, components, or prototypes you want to produce. The steel molds need cavity and core sides that will clamp together to create the entire shape of the aluminum die casting parts you are making. Then, you will need to prepare the die cast aluminum of your choice, melt it, and pour it into the mold cavities. After that, the molten aluminum will solidify inside the mold civilities.
The die casting aluminum process is complete. You can then open the clamped shell of the steel molds to take the aluminum part you have produced, which you can use in the subsequent rapid manufacturing processes. Depending on the complexity of the shape, you might need to create unique mechanisms for the custom aluminum die casting mold in producing the expected design of hardware parts.
Aluminum Die Casting Alloys at TEAM Rapid
TEAM Rapid is a professional aluminum die casting manufacturer in China. Our aluminum pressure die casting serves a wide range of industries. In the past ten years, we made a series of motor housing, die-throwing heat sink, exhaust fan, aluminum enclosure, die cast aluminum cookware, washing machine handle, camera housing, led housing, etc. ADC12 and A380 aluminum die cast are the most popular aluminum die casting alloys at TEAM Rapid.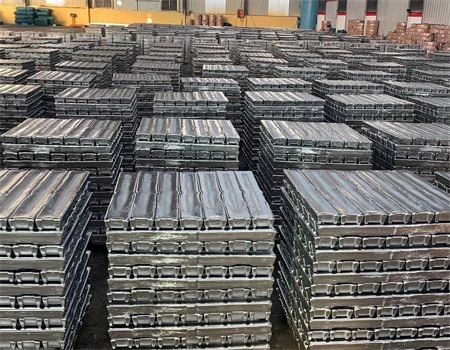 Aluminum Casting Alloys - ADC12
ADC12 (Al-Si-Cu-based cast aluminum alloys) have good castability and high mechanical properties. These alloys are commonly used for complicated automotive parts such as transmission cases, cylinder blocks, converter housings, etc. It is also one of the most widely used metal choices for many die-casings produced internationally.
Die Cast Aluminum Alloy A380
A380 aluminum die cast is one of the most commonly used die casting aluminum alloys. Benefits from its' good performance, A380 is widely used in many applications.
It has the best combination of mechanical, casting, and thermal properties.
It has pressure tightness, excellent fluidity, and resistance to hot cracking.
It is widely used in various products, including die cast aluminum heat sinks, engine brackets, chassis for electronic equipment, household furniture, die cast aluminum cookware, gearbox cases, hand tools, etc.
The Benefits of Aluminum Die Casting
Compared to other die casting materials, aluminum die castings can offer various benefits to the manufacturers, such as producing lighter and more durable hardware parts and components. Die cast aluminum is also suitable for a wide range of applications, as there are various aluminum alloys you can use for multiple purposes.
● Lightweight and Durable Materials.
Aluminum is a lightweight and durable material to use, which is perfect for a wide range of applications across various industries. Using aluminum die casting parts, you can keep the product at a minimum weight while maintaining its durability for long-term use.
● Various Alloy Options.
You can choose between various alloy options depending on the parts or components you want to create. Each die casting aluminum alloy has its characteristics, pros, and cons.
● Polished Surface Finishes.
Aluminum materials will provide you with polished surface finishes when you use them in the die casting process. Also, you can choose from among various finishing options available.
● High Operating Temperature.
Aluminum is a die casting material that can withstand high operating temperatures. You can use it to produce hardware parts or die cast aluminum heat sinks that operate at high temperatures, such as those in the combustion engine. You don't need to worry that the functions or components will break if you use aluminum as the primary die casting material.
● Corrosion Resistance.
Aluminum is also corrosion resistant, allowing you to use the die cast aluminum parts or components for a long time without worrying about the details getting rusted or corroded.
Aluminum Die Casting Process at TEAM Rapid
Cast aluminum vs. die cast is a highly efficient and economical process to produce aluminum metal parts. As an expert aluminum die casting manufacturer, TEAM Rapid can have aluminum parts in a broader range of shapes and undercuts with this excellent manufacturing technique.
Custom Aluminum Die Casting Mold
The aluminum casting process requires a steel mold first. We also call these reusable steel molds dies. They can be designed to produce complex shapes and geometries with high accuracy and repeatability. The mold lifetime can range from 10,000 to 100,000+ shorts, mainly depending on the steel for tooling.
Aluminum Die Casting Process
The dies are mounted into a die casting machine. Then the molten aluminum is injected into the dies under high pressure. Once the molten die cast aluminum has solidified, the mold is opened, and the casting is removed from the die. The mold is then closed, and the process starts over. The cycle time for the aluminum die casting process depends on the part weight and size. Typically, the bigger part, the longer the cycle time. Contact us for aluminum die casting now!

Aluminum Die Cast Manufacturer
TEAM Rapid is one of the best aluminum die casting companies in China. We offer excellent aluminum die casting services to meet your project developments. From hundreds of prototypes to thousands of production parts, we have solutions both on tooling and casting for our customers. Being in the field of aluminum die casting for decades, we serve many customers from different industries worldwide. Nearly 99% of customers are happy with our services and quality. Also, they are satisfied with our prices.
High Mix Low Volume Supply Chain Aluminum Casting Parts
1. As a professional aluminum die casting supplier, TEAM Rapid offers turnkey solutions integrating prototyping, tooling, die casting, machining, surface finish, and assembly to our customers, even for the low volume aluminum die casting.
2. TEAM Rapid provides a wide range of aluminum materials (ADC12 and die casting alloy a380) to meet your low-volume manufacturing needs.
3. TEAM Rapid follows strict quality control even for your low-volume production parts.
4. TEAM Rapid offers a series of secondary finish options for your product needs.
5. TEAM Rapid is near HK. Your aluminum casting parts can be exported easily and quickly via HK port.
Aluminum Pulley Wheel Die Casting Case - Cast Aluminum Vs. Die Cast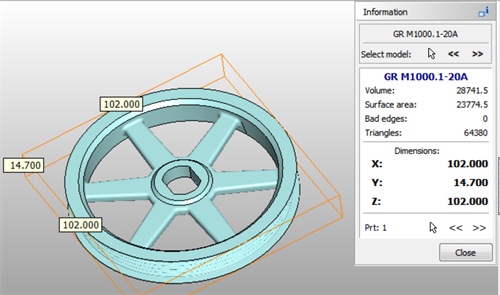 Aluminum Pulley Wheel Die Casting Case - Cast Aluminum Vs Die Cast
Inquiry from Customer
Hi, I attached a STEP file and a drawing (with notes, part to be as cast, no machining).
Please quote as follows:
1) Material: Aluminum (Standard Cast Grade) and/or Steel (Standard)
2) Quote per your MIN Qty order...or... as 500 parts yearly.
3) What's the time frame for Prototype & Production?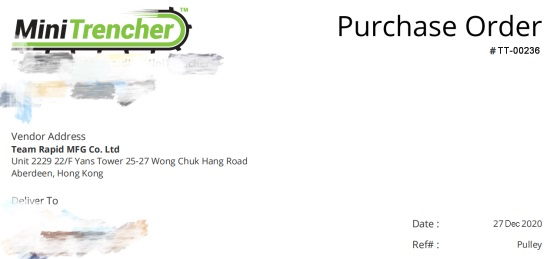 Placed Order
Dear TEAM Rapid MFG Co. Ltd,

The purchase order (TT-00236) is attached with this email.

An overview of the purchase order is available below:
----------------------------------------------------------------------------------------
Purchase Order #: TT-00236
----------------------------------------------------------------------------------------
Order Date : 27 Dec 2020
----------------------------------------------------------------------------------------
Please go through it and confirm the order. We look forward to working with you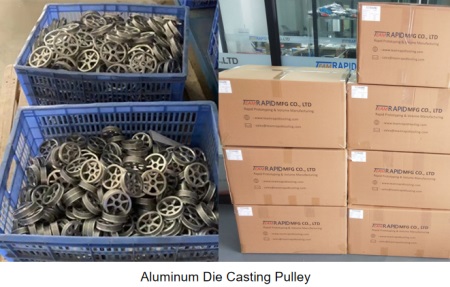 Customer Feedback
Thank you Jason, we received these parts successfully this morning.
It's amazing to look at the molds taking shape through your updates -- some of these parts are complex, but I like that way you guys make them look easy! Thanks again for helping us meet our aggressive schedule! The part works excellent! Do you work at zinc die casting? What is the different between zinc die casting vs aluminum die casting? Our new project is coming.
-Sergio
Start for Your Next Aluminum Die Casting Projects
Zinc die casting vs. aluminum die casting? Need low-volume manufactured aluminum die casting parts with post finishes? TEAM Rapid is one of the best aluminum die casting companies. We are pretty sure we can help you. Contact Us at [email protected] today. Here, we offer one-stop manufacturing services to meet your needs!
Frequently Asked Questions