CNC Milling Services - Precision Milling Centers
Among the various CNC machining methods, CNC milling services are one of the most well-known methods to produce various custom parts and components in the rapid manufacturing process. It is a method that uses the subtraction machining process, whereby the materials you put will get removed little by little to achieve the desired shape according to your design requirements.
What is CNC Milling?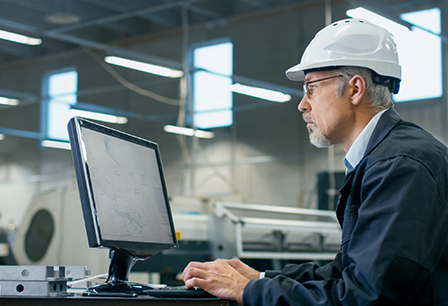 CNC Milling Service(Computer numerical control) CNC milling machines produce complex components with better accuracy and faster processing times. Through a series of programming, operators can create more parts at faster speeds. Operating a CNC mill machine to run production is much smoother; the manufacturer can produce more parts faster. This process can be done with good repeatability and is ideal for low to high-volume custom manufacturing.
The precision of a computerized control system is used to set the axes and position the multi-point cutting tools. As the raw stock is processed through a series of pre-programmed cuts, a tool moves along the axes X, Y, and Z to precisely cut the material. For complex and intricate designs, a 5-axis CNC machine is ideal. It can work seamlessly with three linear axes and two rotational axes.
TEAM Rapid is an expert in CNC milling services and other CNC machining services. We have the 3-axis, 4-axis and even 5-axis CNC milling service capability, which can produce your custom CNC milling parts from prototypes to mass production quickly and precisely. Contact us today for your upcoming projects.
How CNC Milling Works
Like any other CNC machining process, custom CNC milling uses computerized commands. So, you first need to supply the software or data information to the CNC equipment before you can start its operations. You will need to use CAD software to create the initial prototype or part design you would like to produce, and then you will need to convert the design data into CNC data, which the milling equipment can process.
After supplying the design data to the CNC equipment, the equipment will start the operation process. However, before doing that, you need to ensure that you have loaded the equipment with the materials you prefer. The machine will use the rotating cylinders as the cutters for the materials and then move the cylinders along the cutter axes.
Using the subtraction machining method, the axe cutters will create holes and cut the materials into shapes that will fit with the initial design data. After completing the process, you can pull out the finished plastic or hardware CNC milling parts and use them further in your product assembly process.
Types of CNC Milling Machining
In short, CNC milling machining is a subtractive manufacturing process involving removing material from a part to produce a final product. The process starts with a computer-generated design (CAD) of the component, which is then translated into a language that a machine can use. The milling CNC machine reads the generated CAM instructions and conducts a series of precise machine movements along different paths and axes. The most commonly used milling CNC methods are conventional face milling, partial face milling, end milling, profile milling, pocket milling, and surface contouring.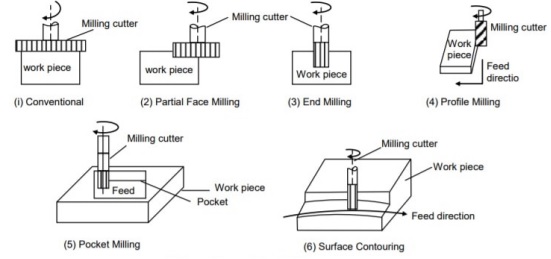 1. Conventional Face Milling: The CNC milled putter head and milling cutter's diameter is larger than the workpiece's width. The milling cutter remains overhanging on both sides of the workpiece.
2. Partial Face Milling: the CNC milling cutting tools only overhang the workpiece on one side in this case.
3. End milling: In the case of end milling, a thin (low diameter) cutter is used compared to workpiece width. It is used to make a slot in the workpiece.
4. Profile Milling: This is like end milling in which the outer side periphery of a flat part is machined (milled).
5. Pocket Milling: This is a selective portion milling on the flat surface of the workpiece used to make shallow packets there.
6. Surface contouring is done by pushing a ball nose cutter across a flat surface. This operation creates the required contours by using a linear path. This operation is used to make contours of molds and dies, and this time the process is named as die sinking.
TEAM Rapid invested in a series of CNC machines; we can make your parts in any volume, whether simple or complex. Please send us an email at [email protected] now!
Benefits of CNC Milling
The CNC process will allow you to produce CNC milling parts and CNC milling components with high efficiency and accuracy, ensuring that the end products are of high quality. With CNC milling, you can program the CNC vertical milling machine to produce the parts according to your design requirements and finish the production process quickly.
● Reliable, High-quality Results.
CNC milling service can provide reliable and high-quality results you can count on every time. The process is repeatable, meaning you don't need to worry about the machine giving you different results every time you operate it. The high-quality results you will get from the CNC milling part in consistent and reliable.
● Complex Shape Production.
You can also use CNC milling services to produce prototypes or hardware parts with complex shapes. The CNC milling turning service can handle what the traditional machining process cannot do.
● Precision and Accuracy.
By using computerized commands, you can count on the precision and accuracy of the machining process when you use precision CNC milling. The cutting process will be very accurate every time you operate it, as it follows specific computerized commands with little to no chance of failing.
● Production Efficiency.
You can use CNC milling service to produce large volumes of prototypes and part designs. You should use this process for CNC mass production, as it will provide the best efficiency. You will only supply the design requirements once, and the CNC vertical milling machine center will do the rest of the work for you.
● Advanced Custom CNC Milling Manufacturing Process.
Five-axis CNC mills can often handle tasks that traditional machining processes cannot do. For instance, it can work to produce parts with complex designs and with the highest precision, which many other manufacturing processes cannot handle.
CNC Milling Turning Service for Your Custom Parts
With a wide range of materials available, it is very flexible to create various end-used parts through prototypes to high-volume by fast CNC machining. Our experts can make the complex cut and CNC milled parts fast to reduce costs and improve the quality of your products. We successfully delivered millions of high-quality custom CNC milling aluminum parts to our customers worldwide. Our 3d milling service helps many customers from different industries make their parts successfully. Here are some parts we made: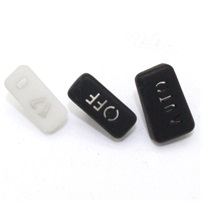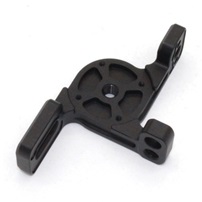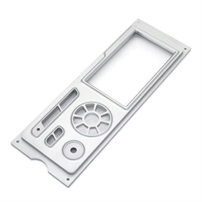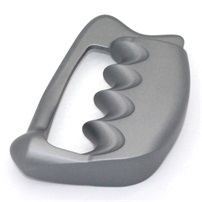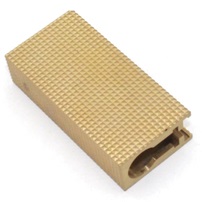 Plastic Buttons Machine Component Aluminum Panel Medical Prototype Automotive Part
Materials Used for CNC Milling Services
You can use various materials, such as metal and plastic materials, even in the benchtop CNC mill machine. With metal materials, you can use steel, aluminum, titanium, and brass for the CNC milling process, whereas, for plastic materials, you can use PC, ABS, and nylon. Aside from that, CNC machining is also suitable for other materials, such as ceramics, glass, elastomers, composites and custom CNC milling wood. You can use various material options for CNC milling and CNC turning. You can create products, prototypes, parts, and components across various industries.
Low Volume Manufacturing to Mass Production through CNC Milling Machining
TEAM Rapid machines are a mix of parts ranging from low-volume production runs to high-volume. Our one-stop service assists the designer in verifying their concept at the prototype phase and turns their idea into a final product that is then market-launched. The high-precision machining center's equipment adapts to different machining requirements, Master CAM software is used for programming, and most everything can be processed in a variety of sheet metals and plastic blocks. The products are widely used in household appliances, consumer electronics, mechanical parts, communication equipment, auto parts and many other fields.
Frequently Asked Questions
What is CNC Milling Process?
Milling is a manufacturing process through removing materials by a rotary milling cutter to get the desired shape products. At the disposal of a machinist, there are various cutting tools that can be used to turn raw materials into finished components. Some of these include end mills and face mills.

With the help of two milling tools, it's easy to create complex parts or simple holes in various shapes. Choosing the right tool for the job is very important when it comes to making complex parts. Whether you're using a traditional machine or a CNC machine, the right tool can make a big difference in the success of your project.

Traditional milling machines are made to operate at higher speeds and feed rates. On the other hand, CNC machines utilize a more powerful tool. The production rates of CNC machines increase exponentially due to the heavy duty cutting capabilities. The capabilities of a CNC machine are awe-inspiring. While most experienced machinists can barely believe their eyes when they see how these cutting tools work.
What is CNC Milling Used for?
CNC milling machining can be used to produce various types of parts in different materials such as aluminum, steel, and nickel, etc. It is ideal for performing cavity, die cutting, and profile shaping operations, and it can be controlled using two or three axes at the same time.
What are the Three Types of Milling?
Vertical, horizontal, and gantry are the main three types of milling.
- The vertical milling machine uses a spindle that's oriented toward the vertical, producing deep cavities and precise holes. On the other hand, - The horizontal version is used for heavy-duty applications, such as turning and shaping metal.
- Gantry milling machines have both a horizontal and a vertical spindle, and they are well-suited for large projects that require a high degree of precision.
The various accessories for each type of milling machine can be customized to fit different tasks and requirements.