Zinc Die Casting - NO Minimal Order Quantity
Compared to the other casting materials, zinc is perhaps the most accessible and versatile metal you can use in the die casting process. Zinc alloy has good properties not only in toughness but also the high impact strength. With zinc die casting, you can create various metal parts and components with certain finishing qualities and particular mechanical and physical characteristics.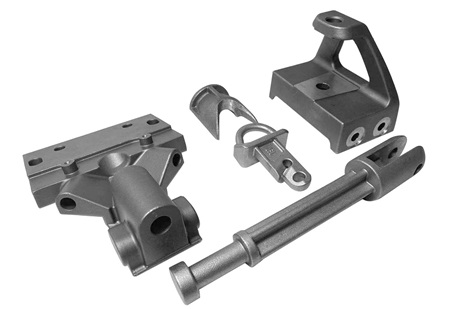 Since zinc alloy for die casting parts performs much better than any other sand-casting metal parts in toughness and impact strength at average temperature, the parts are widely used in many industries. As one of the best alternatives to aluminum, manufacturers use zinc die cast to produce certain metal parts, prototypes, and components for various applications. However, the most common use of zinc die casting is in the automotive industry.
You can find many parts and components in the automotive industry that use zinc alloy die casting in their production processes, such as vehicle brakes, engines, air conditioner components, and many others.
● Engines.
Zinc has excellent thermal and electrical conductivity, which is why zinc alloy die casting parts manufacturers use zinc alloy casting to produce parts of vehicle engines in the automotive industry. It is durable and will last for a long time.
● Air Conditioning Parts.
Some parts of air conditioning systems in various vehicles use high-pressure zinc die casting in their production process. Zinc is an excellent material for creating small parts and components for the vehicle's air conditioning system.
● Fuel Systems.
The good electrical and thermal conductivity also makes zinc suitable for the vehicle's fuel systems. Many components used in the vehicle's fuel systems are produced in zinc under a zinc die-casting plant.
● Chassis Hardware Parts.
The durability of zinc materials makes it suitable for chassis hardware parts production. Zinc die cast is the primary method to produce various chassis hardware parts in vehicles.
● Brakes and Power Steering.
The durability of zinc materials is also helpful for producing parts and components for the brakes and power steering in vehicles. It will ensure long-lasting use of the vehicle's brakes and steering mechanisms.

What Is Zinc Die Cast and How It Works
Zinc alloy casting works the same way as the die casting method with other metals. However, with the low melting point of zinc materials, the die casting process can go faster than with other metals. First, you will need to prepare the zinc alloy die casting mold to produce the parts or components. The Zamak die-casting mold will have two pieces clamped together using the high-pressure mechanical system.
Next, you will need to melt the zinc materials and insert the melted zinc into the mold cavities. The melted zinc will solidify, following the hollow shapes of the mold cavities. Once it thickens, you can pull out the resulting metal parts or components from the clamped mold shell and use it for other production processes.
The Characteristics of Zinc Alloy for Die Casting
Zinc materials have specific characteristics that make them suitable for die casting. With the unique attributes of zinc materials, manufacturers can produce high-quality hardware parts and components for various purposes.
● Stability.
Zinc has a material stability that allows you to produce zinc parts and components that are sturdy and durable.
● Thermal Conductivity.
Zinc is an excellent material that can withstand high operating temperatures, allowing you to create parts that need to get exposed to constant heat.
● Electrical Conductivity.
It is also typical for manufacturers of zinc alloy die casting parts to use zinc to produce various electrical components, as it has excellent electrical conductivity.
● Low Melting Point.
Zinc materials have a low melting point, so casting is easy and allows you to produce parts at a faster production rate.
● Electroplating.
The zinc die casting plant can apply electroplating on die-cast zinc materials, making it more conductive to electricity. It is perfect for mechanical components that require constant electric currents.
● Complex Geometries.
The zinc die casting companies can also use zinc to create complex geometries, allowing you to produce parts and components with complex design requirements.
Zinc Die Casting Alloys at TEAM Rapid
Zinc alloy die casting is one of the core services at TEAM Rapid. We offer a series of die-cast zinc alloys to meet the customer's die casting needs. Zinc2, Zinc3, and Zinc5 are the most popular zinc alloy die casting materials these years. The properties and performances of these three brands of zinc are different. Here we have the details: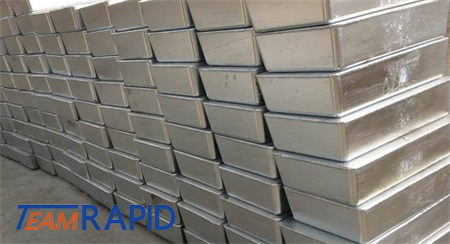 Zinc2
It is also known as Zamak 2, which has the highest hardness and strength of zinc alloys.
Zinc3
We also call Zamak 3, it is the most commonly used zinc alloy at TEAM Rapid, and it has excellent properties in finishing characteristics.
Zinc5
Name Zamak 5 as well. It has less flexibility than Zinc 3 and higher strength due to the higher copper content. Zinc 5 is commonly used in Europe.
Zinc Die Casting Manufacturer in China
As one of the best zinc alloy die-casting parts manufacturers in China, TEAM Rapid offers one-stop manufacturing services for zinc die-casting. We provide services from engineering to zinc alloy die casting mold making, zinc injection molding, post-machining, and secondary finish. We can offer customers high-quality zinc parts from a few grams to more than 50 pounds with different volumes. We provide low-volume rapid manufacturing zinc parts by casting services as well.
Tooling
Single cavity tooling, multi-cavities tooling, family tooling, etc., zinc alloy die casting mold available. MUD mold base for low-volume zinc casting parts.
Casting
They make zinc casting parts from small clips to huge electronic devices with complex geometries, such as thin walls.
Post Machining
Equipping with advanced CNC machining centers, we can process CNC post-machining on those dimensions with tight tolerances to get specific parts.
Secondary Finishes
Powder coating, e-coating, chrome plating, and other bright/matt finishes.

Benefits of Zinc Die Casting
Zinc materials can offer various benefits for the manufacturers of zinc alloy die casting parts in their production process. For instance, zinc is much more cost-effective than other popular metal alloys for die castings, such as aluminum and magnesium. It can also provide the manufacturers with even faster production cycles, as this metal is straightforward to cast.
● Fast Production with Cost Effectiveness.
Zinc has material characteristics that allow you to cast it quickly so that you can complete the die casting process of zinc materials much faster than any other metals. Also, zinc is much more affordable than aluminum or magnesium, which can be a suitable alternative if you want to cut costs in production while still keeping quite a good production quality.
● Finishing Options.
You can use various finishing options for zinc pressure die casting, including mirror-polish, matte, and patina finish. It will allow you to improve how the hardware parts or components look and give the end products some additional properties.
● Accuracy and Precision.
The zinc die casting plant can accurately and precisely perform the die casting process on the design. You can use this metal to complete complex design requirements for your project with no problem. Provide specific qualities and characteristics that make it suitable for certain production schemes.
● Great Durability for Long-Term Use.
Zinc die casting companies can also rely on zinc material for its durability for long-term use. The metal parts or components in zinc will have sturdy and durable characteristics, which make it last for a long time.
Low Volume Zinc Die Casting Parts
TEAM Rapid offers aluminum and zinc die casting services for low-volume production needs. We adapt three main methods in low-volume manufacturing to cut down your tooling costs and get high-quality casting parts. These methods are:
MUD Mold Base (Master Unit Die)
MUD mold base, we also call it master unit die, both the aluminum die casting vs. zinc die casting projects can apply the MUD mold base. It is a quick interchangeable modular mold base used in low-volume manufacturing. Two or several casting molds share one MUD mold base to cut costs and shorten the lead time. TEAM Rapid owns the MUD mold base; we create a series of MUD mold bases stored and ready for upcoming projects. They are free and at no charge for use.
Family Mold
As the low-volume demands, we can create a mold with more than one cavity to cover multiple parts of the same materials and have a similar size. We can obtain different zinc alloys for die casting parts in one cycle. Family molding can significantly save not only the tooling cost but also the casting costs. It is commonly used in injection molding and die casting. The part layout is essential!
Interchangeable Inserts
One of our customers wanted to have zinc die casting parts in 3 versions. These three versions are in the same outline but with different knots, but the demanded volume is low. There are 100 units of parts after sample approval. As a professional zinc die casting plant, TEAM Rapid suggested the customer go ahead with the proposal of interchangeable inserts. We built one mold with three sets of different inserts. The geometries of all these inserts are different, and they can be assembled into the mold quickly and easily. We pull down the mold to change the insert after casting one version.
Contact TEAM Rapid for Zinc Die Casting Services
TEAM Rapid provides OEM services if you need to learn how to choose zinc die casting vs. aluminum for your projects. Please feel free to send us the quotation documents at [email protected] today. Our sales engineers will quote you at soonest.
Frequently Asked Questions
Why Use Alloys Instead of Pure Zinc in Pressure Die-casting?
Zinc alloy can have the same performances as pure zinc, but less costs.
Is Die Cast Zinc Safe for Food?
Although certain metal components, such as aluminum, copper, and zinc, are safe for food, they have to be surface treated after casting.
How does Zinc Die Cast Compare With Solid Brass?
Most die-cast hardware is made out of zinc, which has a bluish-white color and is an element that can be found in nature. Zinc is commonly used in the manufacture of various products, such as hygiene products and die-cast hardware. It is cheaper than brass, but it is less durable and lighter.Solid brass, or die cast brass, simply signifies that the object is brass all the way through.
Yes, zinc is a metal that can rust. It is not a rust inhibitor. but it is an oxidizer.