Zinc Die Casting - Customized Cast Zinc Parts
Zinc alloy has good properties not only in toughness but also the high impact strength. Benefit from zinc die casting process, the zinc parts can be made easily and efficiently. Since zinc die casting parts perform much better than any other sand casting metal parts in toughness and impact strength at normal temperature, the parts are widely used in many different industries, including but not limited: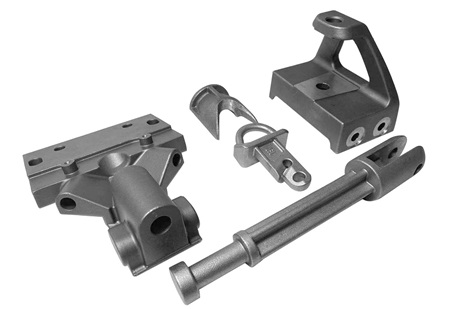 - Interior automotive aesthetic parts.
- Power steering systems.
- Engine and other under-the-hood components.
- Brake parts and systems.
- Fuel systems.
- Complex net-shaped housings.
- Air-conditioning components and systems.
- Electronic devices.
- Lock and handle.


Zinc Alloy Die

Casting

at TEAM Rapid
Zinc alloy die casting is one of core services at TEAM Rapid. We offer a series of zinc alloy to meet the customer's die casting needs. Zinc2, Zinc3 and Zinc5 are the most popular zinc alloy die casting materials these years. The properties and performances of these 3 brand zinc are different, here we have details:
Zinc2
It is also known as Zamak 2, which has the highest hardness and strength of the group of zinc alloys.
Zinc3
We also call Zamak 3, it is the most commonly used zinc alloy at TEAM Rapid, and it has excellent property in finishing characteristics.
Zinc5
Name as Zamak 5 as well, it has not only less ductility than Zinc 3 but also higher strength due to the higher copper content. Zinc 5 is used commonly in Europe.
Zinc Die Casting Manufacturer in China
As one of the best zinc die casting manufacturers in China, TEAM Rapid offers one-stop manufacturing services for custom zinc die casting parts from engineering to tooling and zinc die casting, post machining, and secondary finish. We can offer the customers high quality zinc parts from a few grams to more than 50 pounds with different volumes. We love low volume zinc die casting manufacturing as well.
Tooling
Single cavity tooling, multi-cavities tooling, family tooling available. MUD mold base for low volume zinc die casting parts.
Casting
Making zinc die casting parts from a small clip to huge electronic devices with complex geometries such as thin walls.
Post Machining
Equipping with advanced CNC machining centers, we can process CNC post machining on those dimensions with tight tolerances to get specific parts.
Secondary Finishes
Power coating, e-coating, chrome plating, and other bright/matt finishes.

Low Volume Zinc Die Casting Parts
TEAM Rapid offers zinc die casting services for your low volume zinc die casting parts and zinc die casting products. We adapt with 3 main methods to cut down your tooling costs, and get high quality casting parts. These methods are:
MUD Mold Base
MUD mold base, we also call it master unit die. It is a quick interchangeable modular mold base which applied in low volume manufacturing. Two or several casting molds share with one MUD mold base to cut down the cost and shorten the lead time. The MUD mold base are owned by TEAM Rapid, we create a series of MUD mold base stored and ready for upcoming projects, they are free and no charge for using.
Family Mold
As the low-volume demands, we can create a mold with more than one cavity to cover multiple parts which made of the same materials and have similar size. We can obtain different zinc die casting parts in one cycle. Family mold can be greatly saving not only the tooling cost but also the casting costs, it is commonly used in injection molding and die casting. The part layout is important!
Interchangeable Inserts
One of our customers wanted to have zinc die casting parts in 3 versions. These 3 versions are in same outline but different knot. The demanded volume is small, there are 100 units parts after sample approval. TEAM Rapid suggested the customer to go ahead with the proposal of interchangeable inserts. We built 1 mold with 3 sets different inserts. The geometries of all these inserts are different, and all of them can be assemble into the mold quickly and easily. We pull down the mold to change the insert after casting one version.
Contact TEAM Rapid for Zinc Die Casting Services
TEAM Rapid provides OEM services, if you have die casting project needed in low to high volume zinc die casting parts, please send us the quotation documents at [email protected] today, our sales engineers will quote to you at soonest.