Low-Cost Clear Plastic Injection Molding Parts
From a small clear cup to a clear lamp cover or even parts used in helicopter, we can find clean plastic injection molding parts easily in our life. Clear plastics for injection molding is used widely in all walks of life. TEAM Rapid offers clear plastic molding services to help lots of customer to make their clear plastic parts successfully in the past 10 years. Our rapid manufacturing parts including light pipe, lamp cover, clear plastic cup, Lenz cover, panel cover etc., and receives lots of positive feedbacks.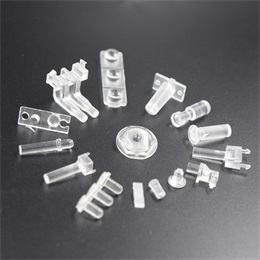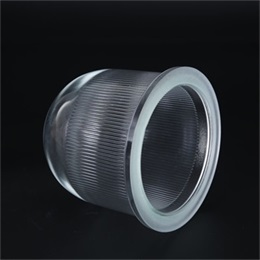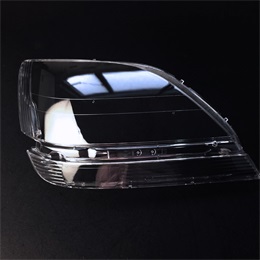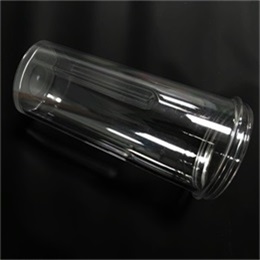 Light Guide Lamp Cover Lens Cover Clear Plastic Cup
Molding Clear Plastic at TEAM Rapid
TEAM Rapid offers high quality & cost-effective custom molding clear plastic services. Plastic injection mold making is same important as clear plastic parts molding. How to make plastic molds and how to mold plastic are two big topics! The good quality plastic mold is the foundation of making high quality clear plastic molding parts!

1. Use the right steel for clear plastic molds building.
NAK80, S136, S136H are the most universal steels used for cavity and core at TEAM Rapid. For low-volume clear plastic molded parts such as clear plastic molding, clear plastic molding covers, we usually suggest our customer to used NAK 80 or S136H for the plastic injection molds, it is good to have 50,000 + short clear plastic mold injection parts even if without heat treatment. For the large volume demands, the advantage of heat treated S136 is over NAK80 and S136H, it is more durable for injected molded plastic.
2. Use the right injection mold plastic for your Clear Plastic Molding.
At TEAM Rapid, we offer a series of clear injection molding of plastics such as ABS; PMMA; PC; PS etc. for your plastic mold injection parts. Material is one of critical factors that effects on your final product's function and performances. Take a mirror finish lens for example, PC / PMMA should be the first choice plastic for injection molding, as these 2 materials have great properties on finish and transmittance, if you switch the material to clear PP, the performance will be totally different. Taking full considerations about the material before tooling and clear plastic molding is important! You are able to get your most expected certificated clear plastic at TEAM Rapid, contact with our plastic injection molding quality engineering team at [email protected] to select right injection molding plastic for your project now!
3. Finishes available for your clear plastic molded parts.
TEAM Rapid as a professional plastic mold maker, we follow with SPI standard, we have made wide ranges of clear plastic parts such as clear plastic molding covers, clear plastic corner molding in SPI-A2, SPI-A3 finishes. SPI finish & texture/sand blasting finish are applied most popularly. Also, depending on the part's requirement such as light pipe, we can according to the needs of customer to adds scale of light diffusing agent into mold plastic, it will help the light pipe to be more suitable for use.
4. Use the right size injection machine to mold your clear parts.
It is unreasonable to mold your small clear plastic corner molding by a large-capacity plastic molding machine. This will highly raise the risk of injection defects such as silver streak, air bubble, surface gloss defects, flow marks etc., and may leads to problem on your final product's performance. At TEAM Rapid, we equipped with a series of injection machines ranges from 50 ton to 500 ton, we take care of parts' quality by every detail starts from part's structure optimization, mold design, tool building to molds for plastic injection by the right machine, we apply with the best plastic molding manufacturing parameters.
TEAM Rapid is one of the best plastic injection molding companies, we offer custom clear parts at any volume. Looking for plastic molding manufacturing? Contact us to get the solution now.
FAQ about the Clear Plastic Molding
1. What is the most durable injection molding plastic for clear parts?
PC and ABS should be the most 2 durable injection molding plastics for clear parts.
PC is hard and strong molded plastic which can withstand the highly-impact, the material can be used as a lens cover.
ABS displays the synthesis working ability, it is flexible and not so easy to crack, but it is not very clear molding plastic.
Clear mold plastics such as PC, ABS, HDPE, PP etc. are used commonly at TEAM Rapid, contact us for more details of clear plastic molding resins.
2. How to make cheap clear plastic or resin for molding?
Actually, the clear injection molded plastics or resins just take a small amount of the moldings, the main costs for your clear injection molded parts are the tooling and molding process! You need to get a low cost one-stop tooling and molding manufacturer to help you with. Do the research on Google, you can have a list of tooling and molding manufacturer in China, they are happy to quote for you! Then you can pick up the one at reasonable competitive for your parts, or you can send us email at [email protected] directly to request a plastics injection molding quote.