Sheet Metal Fabrication - Custom Sheet Metalwork for Prototypes and Production
Among the variety of manufacturing methods available to use today, sheet metal fabrication remains one of the most common methods manufacturers are using to create metal objects for a wide range of industries.
Depending on the sheet metal you are using, you can use sheet metal parts in various industries, ranging from home appliances to the aerospace industry. The way sheet metal suppliers use the rapid sheet metal will vary based on their functions. For instance, copper sheets are more suitable for electronic components. Meanwhile, the stainless-steel sheets will be suitable for making chassis and other strong fixtures by sheet metal contractor. You can also use sheet metals to produce various equipment enclosures and housings, such as PC cases, smartphone cases, and more. Sheet metal fabrication services allow you to create your own custom design, making it even more flexible for you to use it in other applications. Medical industries also use metal parts fabrication to create various medical equipment and tools, as some sheet metal materials are resistant to bacterial infection, which means they will be healthy to use for the patients.
Custom sheet metal has the characteristics of lightweight, high strength, electrically conducive, low cost, and a good performance from the large-scale mass production. With the increasingly wide application of cutting sheet metal, sheet metal design has become a very important part of the product development process. Reasonable design shall not only meet the requirements of product's features and application, but also make the stamping die manufacturing simple and the help to lower costs. At a professional sheet metal contractor, TEAM Rapid offer professional sheet metal parts fabrication services, we can help you to get your part at low cost! Request a sheet metal bending quote now!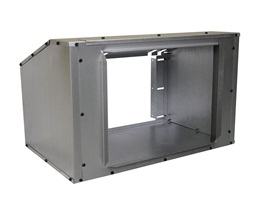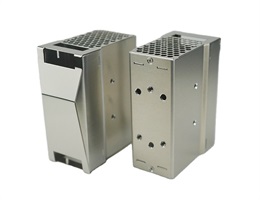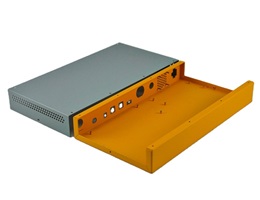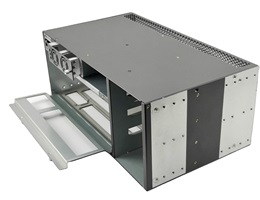 How Sheet Metal Fabrication Works
Making metal fabrication parts works in a few steps. The steps involved in this process include the blueprint preparation, design creation, metal fabrication, and product finalization.
1.Blueprint Preparation
This is the first step you will need to go through in custom sheet metal fabrication. To create the sheet metal prototypes, parts, and components for your project, you will need to prepare the blueprint for it. The blueprint will act as the overall design of the product you want to produce with the rapid sheet metal process. The metal prototypes, parts, and components production will need to follow the blueprint you have prepared.
2.Design Creation of Sheet Metalwork
This step will involve creating the workable design based on the blueprint you have prepared. The blueprint will contain only the general design idea for your prototypes, parts, and components. In the design creation phase, you will need to expand such a general idea into a workable design, which you will use to produce the metal objects using the sheet metal fabrication services.
This includes providing the 3D design for the blueprint, coloring the parts, determining the materials for each sheet metal part, and so on. You will need to turn the blueprint into a readable design that can be applied on the sheet metal bender, sheet metal cutter, sheet metal nibbler etc. equipment.
3.Custom Sheet Metal Fabrication
After getting the design ready, it's time for you to put it into how to cut sheet metal. The sheet metal cutters will follow your design requirements and process the sheet metals according to the metal object design you expected.
The metal fabrication phase has various processes involved, such as bend sheet metal, cutting sheet metal, sheet metal break, perforated metal sheet, joining, punching, forming, and many others. Then, the equipment will perform this process according to the programmed calculations for volume production, and you will get the end product that resembles the design requirements you expected earlier.
4.Product Finalization
Now, your rapid sheet metal parts, and components are ready. However, after completing the custom metal sheet manufacturing process, there might be additional manufacturing processes you need to perform to complete the product. This process might not be necessary, but you will still need to do it if your project requires it.
The product finalization step might include adding a specific finish on the rolled sheet metal object, painting the metal object, and so on. This process will become important if you want to prepare the product for commercial distribution right away.
The Benefits of Sheet Metal Fabrication
Custom sheet metal manufacturing offers various benefits that the other machining processes might not give you. For instance, custom metal sheet part is quite affordable for you to use, even more so for the aluminum sheet metals.
With their affordable prices, it's easier for you to produce custom metal sheet parts, and components with a minimal budget. There are also various wholesale sheet metal materials you can use for your production process, which will provide you with the flexibility to pick the best sheet metal supplier to help with your projects.
● Precise and Accurate Designs.
You can create metal objects such as sheet metal brake, sheet metal panels etc. with precise and accurate designs using the cut sheet metal process. The sheet metal materials are very easy to shape by sheet metal shear, and they can follow any design of the object you want to produce.
● Sheet Metalwork Is Better than Plastics.
Compared to the plastic materials, metal sheets 4x8 are much stronger and more durable. You can rely more on sheet metals for long-term usage, making it suitable for various applications across a wide range of industries.
● Cheaper Costs for High-Volume Production.
Galvanized sheet metal 4x8 materials are also very cost-effective, meaning that you don't need to spend too much money to produce metal objects with metal sheet cutter. The higher your production volumes, the cheaper the costs of production will be.
● Pressure and Corrosion Resistant.
Galvanized metal sheets will not corrode, and they can withstand high pressure. Thus, you can use the metal objects made by sheet metal cutting tools for various equipment for the best long-term use. With its corrosion-resistant property, the metal objects with good sheet metal thickness can also withstand the regular wear and tear.
● Smooth Finishes.
The smooth finishes of the metal objects made by sheet metal tools can also have a good finish. Typically, it needs no additional post finish process you need to do to smoothen the surface of the metal objects made in 20 gauge sheet metal. However, there are also various finishing options you can apply to the metal objects you have produced, which will be optional for you to use.
Sheet Metalwork Fabrication Services
How to cut sheet metal? Many processes are available in our end to build your parts rapidly. Bending, Stamping, Extrusion, and laser cutting are commonly used to produce your sheet metal parts at low cost without compromising quality. As a professional sheet metal contractor, our sheet metal contractors can offer us good sheet metal prices at various materials, contact us to learn more about us and get a sheet metal bending quote.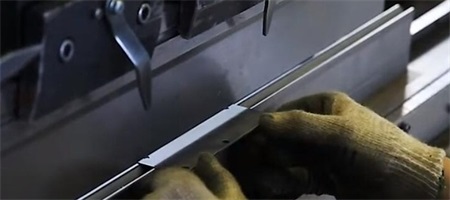 Sheet Metal Bending
Sheet metal bending is a manufacturing process used commonly to produce a V-shape, U-shape, or channel shape along a straight axis in ductile materials by sheet metal bending tools. Box and pan brakes, brake for sheet metal presses, and other specialized machine presses are the machine equipment used for sheet metal bending.

Sheet Metal Stamping
Sheet metal stamping is a type of cold forming process that uses extreme force and/or speed to permanently alter the shape of sheet metal. It involves placing flat sheet metal, in either coil or blank form, into a stamping press. In the press, a tool and die surface form the metal into the desired shape.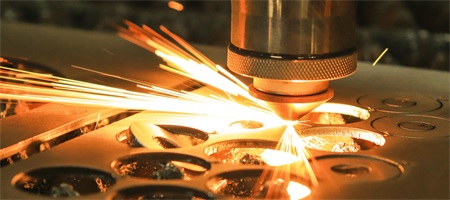 Sheet Metal Laser Cutting
Laser cutting is a process uses a focused laser beam to meld material in localized area. The assisted gas jet is used to eject the molten material and create a kerf, it severs metallic plate with high accuracy and exceptional process reliability. We can process a continuous cut by moving the laser beam or workpiece under CNC control, laser cutting aluminum extrusion is widely used in our projects.
Aluminum Extrusion
Aluminum Extrusion is a metal forming process which is used to create a metal or plastic work piece by pushing through a die of the desired cross-section. This process is extensively used in pipes and steel rods manufacturing, and can be applied in making solid part, hollow part and semi-hollow part in desired cross-section shape in sheet metal. Request a quote for aluminum extrusion!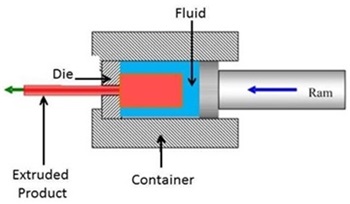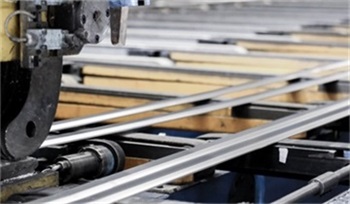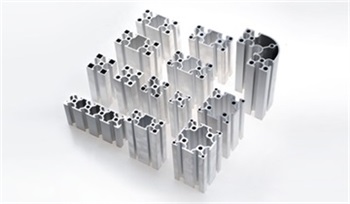 The Materials Used in the Sheet Metal Fabrication Process
Sheet metal fabrication offers plenty of flexibility for sheet metal fabricators to use various sheet metal types to complete their production requirements. Each sheet metal will offer certain characteristics or properties that make them best suited for certain applications. For instance, copper might be best for producing electrical components, whereas aluminum will be best for producing durable and lightweight enclosures or housings.
●Aluminum.
Aluminum is lightweight, but it is also strong enough to withstand the normal wear and tear. This sheet metal is also resistant to corrosion, sheet metal fabricators use the aluminum sheet to build both exterior and interior metal parts. This is perhaps the most common sheet metal material that the manufacturers will use for various applications. We can get aluminum sheet metal on sale easily on the market, the 4x8 metal sheets price is low.
●Copper.
Copper is a malleable metal that widely used by the sheet metal fabricators. You can use this metal for various metal objects, since it is very easy to shape. It has an excellent electrical and thermal conductivity. This is a common metal used in electrical components, medical tools.
●Brass.
Brass is a mixture of zinc and copper, and the ratio of the mixture will depend on the qualities or properties you want to get from it. This is the sheet metal that is useful for creating electrical components by sheet metal suppliers, as it has a good electrical conductivity. Even more so, brass is also a sturdy metal, making it good to lengthen the usage period of various electrical equipment.
●Steel.
There are various steel metals you can use in sheet metal fabrication. Stainless steel is the most common one used by sheet metal suppliers. It is sturdy and durable, and it might be the strongest sheet metal you can use for sheet metal fabrication. Thus, stainless steel is suitable for various metal parts fabrication that require excellent sturdiness and durability. The other steel types available for rapid manufacturing include carbon steel and regular steel.
Frequently Asked Questions About Sheet Metalwork
A. What materials are available at TEAM Rapid for my sheet metal parts?
As one of the best sheet metal contractors, TEAM Rapid has a mature supply chain, we can get different sheet metal near me easily, we usually suggest our customer to make sheet metal parts in Carbon steel, SPCC, SGCC, Stainless steel, Aluminum, Brass, Copper, etc.
B. What surface finish can I have for my sheet metal parts?
At TEAM Rapid, we offer arranges of post finish such as Brushing, Polishing, Anodizing, Powder Coating, Plating, Silkscreen printing, Sandblast, etc. for your needs.
C. What's kinds of information you need for a quote?
In order to get sheet metal bending quote easily, please kindly provide us the following information together with your inquiry.
1. Detailed drawings (STEP, CAD, SOLID Works, PROE, DXF and PDF)
2. Material requirement (SUS, SPCC, SECC, SGCC, Copper, AL, ETC.)
3. Surface treatment (powder coating, sand blasting, planting, polishing, oxidization, brushing, etc.)
4. Quantity (per order/ per month/ annual)
5. Any special demands or requirements, such as packing, labels, delivery, etc.
D. What shall we do if we do not have drawings?
As one of the best sheet metal contractors, we have the suggestions:
1. Please kindly send your sample to us, we will study on it and give you the best solution.
2. If sample is not available, please kindly send us pictures or drafts with dimensions (Sheet Metal Gauge Thickness, Length, Height, Width), we can give you a rough estimation.
E. How can I know the status of my project without visiting your company?
Our project manager will offer a detailed production schedule and send weekly reports with photos or videos timely to show the machining progress. We have strict inspection system to guarantee every part are full inspected before shipment.