CNC Turning - Commercial Parts on Demand
CNC turning is a manufacturing process that uses a cutter feed to a bar of material held in a high-speed rotated chuck to remove material to create the desired shape. It is also a "subtraction machining "process involving material removal. A turret (shown center), with tooling attached, is programmed to move material from the bar and follows the program's setting. If the CNC turning center has both turning and milling capabilities, the rotation can be stopped priority to mill out the shape first. With the CNC system configurations, you can determine the design requirements for each CNC turning machining operation, allowing you to produce prototypes, parts, or components that meet your design standards.
TEAM Rapid has offered CNC turning services for years. We combine our rich machining experience with various machines to provide the best solution to our customers. Whether it is only 1 or 10,000+ parts, we can create them quickly and cost-effectively through the CNC turning process.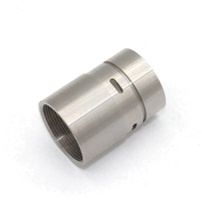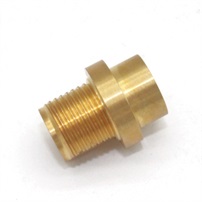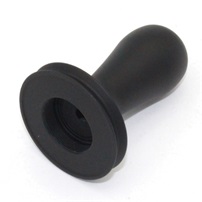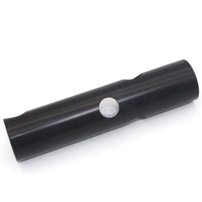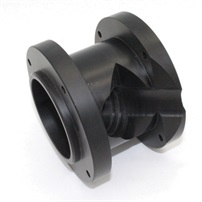 Stainless Steel Part Brass Part Aluminum Part POM Part ABS Part
How CNC Turning Works
Turning machining is a manufacturing process that uses turning and rotating operations in its production cycles. For this process to work, you will need to supply the design requirements or data to the CNC turning console before you can operate it. Then, you will need to prepare the materials as holding bars and feed them to the chuck on the CNC equipment. Once you are done, you will need to start the console, and the console will produce the parts according to your design requirements.
The CNC equipment will rotate the chuck containing the holding bars of materials, and by using some cutting tools, the machine will cut the bars of materials to achieve the shape as specified in the design requirements. The cutting process will go through as the CNC machine rotates the chuck. Then, after some time, you will get your parts ready to use as the CNC turning center completes the machining process.
Now, you can pull out the prototypes or parts from the CNC turning machine process and use them further in your production cycles.
Precision CNC Turning Techniques at TEAM Rapid
CNC turning center is versatile and can produce round or cylindrical parts. They can work in various processes and quickly adapt to different material types. Other methods can be utilized to create various types of CNC-turned parts. These methods can be developed for different end-uses, including multi-function turning, multi-part turning, swiss-type turning etc.: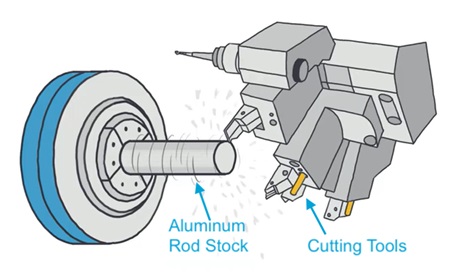 Multi-function Turning Machining
As one of the best CNC turning components manufacturers, CNC lathes are capable of high-speed milling and turning at TEAM Rapid, which can easily handle the machining model's complexity during the CNC machining process.
Multi-part Turning Machining
Advanced CNC turning and milling capabilities allow speciality lathes to turn multiple parts simultaneously. A key feature is flexibility around the path and axis to enable synergy in the art movement.
Swiss-type Turning Machining
This turning technique is ideal for rapid manufacturing small, medium size, high-precision components and parts. Swiss equipment and parts are commonly made to serve the medical and dental industries. They are capable of producing multiple parts within the same manufacturing cycle.
The Benefits of CNC Turning
In manufacturing, CNC turning machine process has become one of the most preferred methods to create CNC turning parts and components from various material types, such as metals, plastics, and wood. It also has a unique machining process, and because of this, it can offer various benefits for your overall production cycles.
● Improved Production Efficiency.
CNC machining turning can help create CNC turning parts according to your design requirements with little or no mistakes. The computerized process will ensure each production will go according to the design requirements, which will help increase your production efficiency in a big way.
● Faster Production Speed.
Compared to traditional prototyping methods, CNC turning services offer you a faster production speed, allowing you to produce parts in large volumes. It's also easy to set up by CNC turned before you can let it operate.
● Safer Operations.
CNC milling and turning is a healthy manufacturing process for the environment, and you don't need to worry about damaging the environment by using this process. The CNC machining turning equipment is quiet and safe to operate, and your prototype materials will be handled best. In contrast, material waste can be recycled for the next production cycle.
● Cost-saving.
With little or no mistakes to make, materials compatibility, waste recycling, and fast production speed, CNC turning service can ensure the cost-effectiveness of your production operations.
● Higher Precision.
The computerized process in the CNC turning service makes it easier to create prototypes, parts, and components with higher precision and accuracy. It means better quality for your overall production results, which can also improve the quality of the products you build or assemble.
Are you looking for CNC-turning components manufacturers? Contact us for CNC turning online quote and get your parts in days.
Machining Materials of CNC Turning Service at TEAM Rapid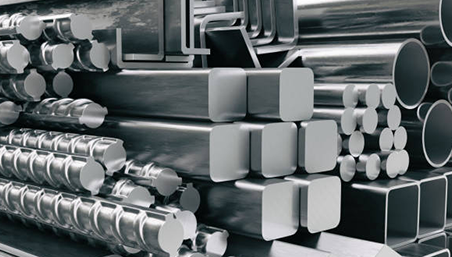 In manufacturing, metals are the most common materials used in machining. You can use the metals for the CNC turning process to produce aluminum CNC turning parts or other components in aluminum, low carbon steel, brass, steel alloy, titanium, and stainless steel. However, sometimes, plastics and woods are also suitable CNC turning materials you can use.
The CNC milling turning service offers the flexibility for manufacturers to use a variety of materials for their prototyping and production needs. Also, with metal materials, you can add various surface finish options to polish each metal part you produce. The most common surface finish options include sharp-edge finishing, broken-edge finishing, and bead blast.
Different types of lathes are needed to turn metal/plastic and wood. Many maintenance and safety precautions are required for the operation of a lathe. These include the use of certain materials and equipment. Here are some commonly used materials for CNC milling turning service at TEAM Rapid:
- Metals: aluminum, magnesium, brass, steel, stainless steel, bronze, copper, titanium, nickel alloy, etc.
- Plastics: nylon, polycarbonate, POM, ABS, etc.
- Bar materials in metals and plastics of diverse dimensions.
Have questions about the material selection and machining ability? Contact us for the questions and get a free CNC turning online quote today!
CNC Turning Applications
With its precision machining process, the turning process has become one of the most preferred methods for manufacturers to create CNC turning machine parts and components with precise engineering. The precision and accuracy provided by turning are the best in their class, which is why big manufacturing industries use this process in their production cycles.
● Automotive.
The process is suitable for producing various automotive parts that require the best precision. Gears, engines, and other vehicle parts, such as brass CNC-turned parts, use the turning process to produce, ensuring that they can work with other parts in the best way.
● Aerospace.
You can also find various parts of SpaceX rockets made with by turning process. The reason is that rocket parts require precise engineering, and CNC turning is the process that can deliver such engineering precision.
● Electronics.
Small electronic components you can find in various electronic products, such as smartphones, laptops, game consoles, and many others, use the aluminum CNC turning method to produce them. Again, precision is the key, and the turning process can provide the precision needed for these electronic products.
● Toys.
Manufacturers can also use the process to produce various toys and toy models, such as die-cast toy cars, merchandise, puzzles, and many others.
● Furniture.
Knocked-down furniture also uses CNC turning to produce them, ensuring that each part can work with other parts without a problem.
Contact Us for CNC Turning Machining Services
As a professional CNC turned parts supplier, TEAM Rapid offer the best CNC-turned parts in metals and plastics. Our general tolerance is ISO DIN 2768f for metal parts and 2768m for plastic ones. A wide range of post finishes can be applied to your CNC turning part, including painting, printing, polishing, sandblasting, anodizing, plating, passivation, etching, et cetera. Contact our team today to have a CNC turning online quote.