One Of The Best Rapid Prototyping Services Companies in China

At TEAM Rapid, we specialize in producing high-quality rapid prototypes at low cost. With a range of services and technologies, we are the perfect one-stop shop for all your fast prototyping needs. Our sales volume has increased by 20% yearly, starting from 2017. Customers worldwide love our professional rapid prototyping services. We expect to help more customers realize their ideas into rapid prototypes successfully! Are you looking for China rapid prototyping factories? Contact us today to learn more about our prototyping services.
What is Rapid Prototype? - Rapid Prototyping Definition
A rapid prototype is the design object you can produce using quick prototyping. Rapid prototyping is the manufacturing process that allows you to create hardware components, parts, or objects based on your design requirements. It uses 3D printing or other rapid manufacturing technology to help shape the hardware parts or things based on the design.
The rapid prototyping model you will get might differ from the finished product. The reason is that you will use the prototype as the test objects or product samples for the end product you will mass produce later. 3D prototyping, CNC prototyping, and other prototyping methods will make it easier for you to produce various samples for your product before it gets released as the end product.

How to Get a Prototype Made
You can create rapid prototypes in a few simple steps:
1. First, you need to create the design for your prototype.
2. Next, use your preferred manufacturing technology to produce the prototype.
3. Review the prototypes you have produced and determine whether they fit your product best.
4. Redesign the prototype if you think they still need some improvements.
5. Then, reproduce the prototype using your preferred manufacturing method.
6. Review the prototypes and start over again until you get the correct version for your product.
Are you looking for China rapid prototyping factories? Besides rapid prototyping services, TEAM Rapid offers low-volume manufacturing services too. We can make your end products in small volumes (such as medical devices rapid prototyping), which means you can have less input but high-quality products to test the market first. Contact us today to learn more now!
Benefits Of Rapid Prototyping
Rapid prototyping is a manufacturing process that can give plenty of advantages, both for the rapid prototyping companies and the consumers. For instance, manufacturers can speed up their production cycles with the metal quick prototyping process to provide faster prototypes for their client's needs. As for the consumers, they can get access to the newer versions of their favorite products faster.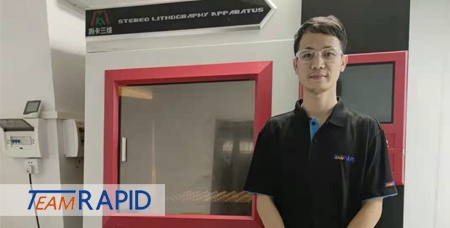 ● Easier to Test New Product Features Before Production
Rapid prototyping allows you to 3d prototyping your product in fast production cycles so that you can test any new features before production. You can even try a new idea for your product and see if you can work it out.
● Speeding Up the Production Cycles
Prototyping is a manufacturing process that speeds up your production cycles. It will help you go through the testing. Rapid prototyping 3d printing and CNC rapid prototyping are faster, allowing you to mass produce your product as fast as possible.
● Evaluating the Environmental Friendliness of Any Product
The materials you use for your product development might not be healthy for the environment. 3D printing prototype allows you to evaluate the environmental impact of your product before you put it into mass production.
● Reducing the Costs of Production
Prototype machining uses more efficient manufacturing equipment and technology that helps you to produce more parts for your product with less expensive costs while keeping the best quality of the end product.
● Allowing Massive Improvements for Each Product
You can use CNC prototyping to improve various aspects of your product. It will allow you to test multiple parts of your product and improve on them to produce a better version.
● Preventing any Failures in Certain Product Parts.
You can use a CNC prototype to test various parts of your product and determine whether they have specific weaknesses. Thus, it will be helpful for you to prevent any failures in certain product parts, which can also help you maintain customer satisfaction for your product.
Are you looking for SLS rapid prototyping? Please email us at [email protected] now!
Rapid Prototype Service at TEAM Rapid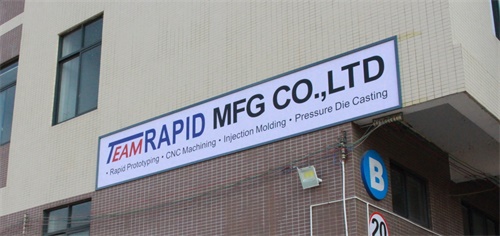 As one of the best Rapid Prototyping Services Companies in China, TEAM Rapid understands your needs and can provide high-quality prototyping services at a low cost.
1. Professional engineering supports starts from prototype making to volume production.
2. Multiple processes to make your designs cost-effectively and rapid.
3. Experienced technicians work carefully on every detail of prototyping.
4. Excellent after-sales service to guarantee rapid prototyping manufacturing timely and satisfactory.
Our Rapid Prototyping Process
You are replying on various rapid prototype machining and rapid prototype casting technologies to give you the best services for your product. The manufacturing technologies used in the prototype machining will vary from company to company. Fast prototyping companies will use their selection of manufacturing technologies that will work best for them. At TEAM Rapid, we offer a series of rapid manufacturing methods to make your prototypes:
● 3D Printing
3D printing means creating 3D objects, such as prototypes, hardware parts, or components, layer by layer using the additive manufacturing method. With 3d rapid prototyping, you will need to supply a 3D design to the 3D printing equipment, and the 3D printer will produce the 3d printing prototype according to your supplied design.
● CNC Machining
CNC machining, or CNC rapid prototyping, is the manufacturing process whereby you use pre-programmed software and a particular code control system to control the movements of the manufacturing equipment. Rapid prototyping CNC machining can produce very accurate and precise cutting for the prototypes, which is best for making hardware components that need to fit with other components.
● Vacuum Casting
Vacuum casting is a manufacturing process that involves pouring molten plastic materials into the molds and then cooling them down to achieve the shape you want to get. You can use this vacuum casting rapid prototyping service to produce complicated parts designs and low-volume manufacturing parts.
● Sheet Metal Fabrication
In sheet metal fabrication, you can use metal sheets to form various prototypes and hardware parts using multiple sheet metal manufacturing methods. It is another kind of prototype machining. You can use different sheet metal materials to create the hardware parts, components, or prototypes. Each sheet metal material has its benefits and disadvantages.
TEAM Rapid always offers our customers the best rapid prototype service to get high-quality parts and prototypes at minimum cost. Contact us to learn more now!
| | | | | |
| --- | --- | --- | --- | --- |
| | CNC Prototype | Polyurethane Castings | 3D Printing Rapid Prototype | Sheet Metal Prototype |
| Available Materials: | Metals & Plastics | Plastic-like/Rubber-like Materials | Resins | Metals & Plastics |
| Typical Finishes: | Raw, Painted, Polished, Anodized | Painted, Polished, Blasted | Raw, Polished Smooth | Raw, Painted, Polished, Anodized |
| Advantages: | High accuracy &Quick turnaround | Very cost efficiency at small volume | Nearly no geometries limitation | Without investing much on tooling |
| Disadvantages: | With cutting limitations | Post finishes needed | May not strong enough | Some post machining needed |
| Main Factor of Cost: | Geometry, Material & Volume | Part size, Finish & Quantity | Part size & Weight | Geometry & Part size |
| Typical Lead Time: | 2-20 Calendar Days | 5-25 Calendar Days | 3-7 Calendar Days | 2-25 Calendar Days |
A Range of Materials and Finishes Available for Our Rapid Prototyping Services
Make your prototypes in specified materials by multiple processes. Customized Finish & Color, more choices to follow your heart!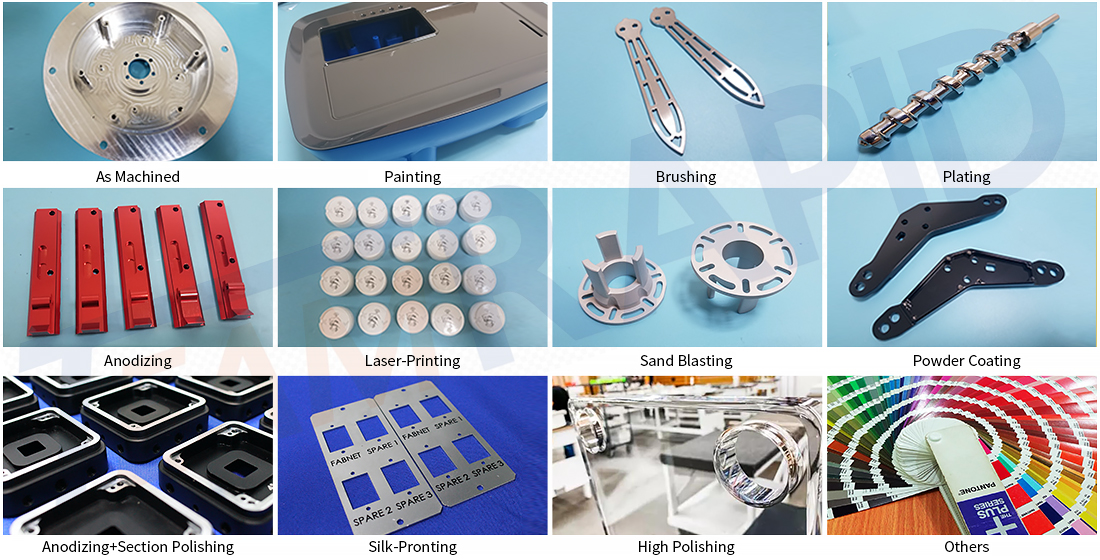 Moving From Rapid Prototyping to Volume Production
TEAM Rapid offers a range of solutions to help you move from prototyping to production. CNC Machining, Injection Molding, Pressure Die Casting, and Stamping are the main production processes at TEAM Rapid. No matter for small volume or mass production, we can supply an ideal solution for bringing your new ideas to market on schedule. Talk to us and see how we support your different volumes of production needs.
Frequently Asked Questions