Urethane Casting ABS-Liked Plastic Bracket
Since the 1930s, urethane has been used in various forms of media, including film studies and craft rooms. With so many resin options to choose from, how do you know which one is right for you? We've compiled a step-by-step guide to help you make the right decision when it comes to urethane casting.
What is Urethane Casting?
- Urethane is a resin that can be used to make a wide range of plastic items, such as belts, umbrellas, and pillows. Due to its properties, it can be molded into various shapes and sizes.
- Urethane casting is a process used for the production of low-volume products such as film props and models.
- Urethane casting is a process that produces high-quality parts and whole models at low prices. It works well for creating detailed designs and quickly.
Urethane Casting Resins
Urethane resins can be used to create molded parts and prototypes that are made in various properties. These resins can be strong and durable, they can be rubber to hard plastic. These resins are commonly used as two-part kits that are poured into closed and open mold setups. Urethanes are sensitive to moisture, so avoid using wooden or paper stirrers during the mixing stage.
- The Shore A urethanes performs softer, it will deliver pliable, impact-resistant parts or flexible molds for harder urethanes with negative angles.
- Shore D urethanes performs harder, it will deliver harder, more rigid parts, capable of holding surface details for superior cosmetics.
Urethane Casting ABS-Liked Bracket

Project Details: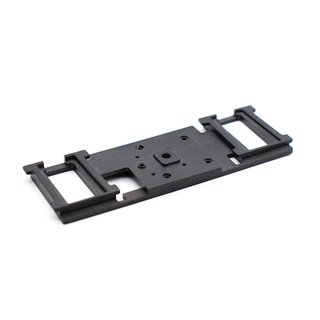 | | | | |
| --- | --- | --- | --- |
| Part Size: | 382*98.4*17.5mm | Business Type: | OEM |
| Material: | ABS-Liked(PU) | MOQ: | 1 |
| Process: | Urethane Casting Service | Place of Origin: | Guangdong,China |
| Post Finish: | Deburr | Shipping Method: | By Express |
| Color: | Black | File Format: | STP;IGS |
| Tolerance: | +/-0.1mm | Brand: | No |
| Order QTY: | 5 PCS | Customer: | Italy |
| Lead-Time: | 8 Calendar Days | | |
Supply Ability
Packaging & Delivery
With over 10 years of experience in the Urethane casting industry, TEAM Rapid has developed a team of engineers who are ready to assist with any aspect of your project. Our expertise in urethane casting has led to the development of various build techniques and post-processes methods. With quality certifications ISO 9001 registration, we won't rest until your project requirements are met. Contact our team at [email protected] for engineering supports.