CNC Prototyping Services - Custom Parts Made Fast
CNC prototyping uses the subtractive process, which is a process similar to sculpting. You will put the block of material into the machining equipment. The material will be subtracted with the computerized instructions to achieve the shape according to the 3D design you have inputted using CNC machining services. TEAM Rapid loves rapid prototypes and low-volume manufacturing; we invest in advanced 3-axis, 4-axis, and 5-axis CNC machines specializing in CNC prototyping services. Timing is the same important as the quality; for the common CNC machining prototype parts, we can ship as little as two calendar days. Contact us now!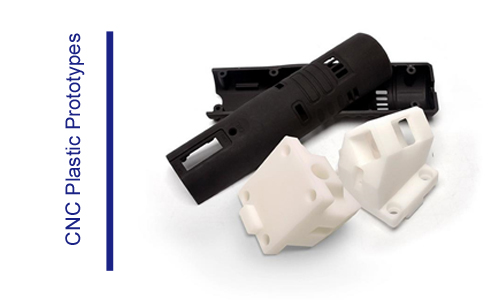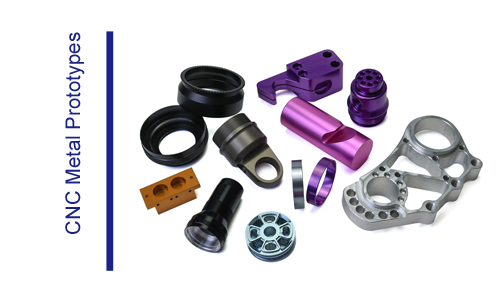 Benefits of CNC Prototyping
CNC prototyping service has various benefits compared to the traditional prototyping method. The primary difference between CNC prototyping and traditional prototyping is that CNC prototyping uses computerized instructions that allow you to create much more precise and accurate prototypes or hardware parts every single time. Benefits of CNC prototyping:
● Consistent High-quality Prototypes by CNC Machining Services
You can get consistent, high-quality prototypes or hardware parts for your product with prototype CNC machining services. The computerized technology allows you to calculate every aspect of the machining and production process, ensuring that you can get high-quality prototypes every time you run the operation. Thus, the repeatability and consistency in quality are very high with CNC prototypes.
● Reliable Precision and Accuracy Prototype Machining Services
With computerized calculations for the machining process, you will always produce prototypes or hardware components with reliable accuracy and precision. Compared to the traditional prototyping that might give you hit-and-miss results, the CNC prototype service ensures that you can get reliable precision and accuracy for the prototypes you produce.
● A Wide Range of Materials Selection
CNC prototyping allows you to choose from a wide range of materials, meaning that you can get plenty of variations from the CNC rapid manufacturing process. Among the materials you can use for CNC prototyping include aluminum, steel, stainless steel, titanium, zinc, and various types of plastic materials.
● Consistency with the 3D Design
The CNC prototyping process will follow the 3D design you have submitted to the machining equipment, meaning that the result will always be consistent with the 3D design you have provided. You don't need to worry that the CNC machining equipment will produce prototypes or hardware parts that deviate from the original design you have created.
● Easy Customization By CNC Machining Services
There are various customization options you can change in the CNC prototyping process. The customization options will allow you to change multiple aspects of the machining processes to get the best result according to your preferences.
Why Making CNC Prototypes at TEAM Rapid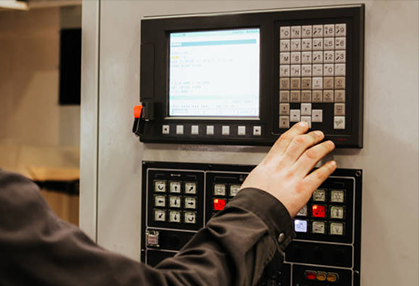 1. Speed- Our CNC prototype service can build your rapid prototypes in days!
2. Quality- We follow ISO standards and guarantee good-quality prototypes!
3. Services- One-stop CNC machining services from prototype CNC services to mass CNC machining productions. We help you to launch the market with minimum risk.
4. Materials and Finishes- Most metals and plastics are available for CNC machining prototype service. Customers can get accurate materials in expected finishes in their prototype machining services.
5. Low Shipping Cost- TEAM Rapid works closely with express companies such as FedEx and DHL, freight forwarders, etc... We can offer low shipping costs by air, by land, and by sea, which can help you to reduce wholesale CNC prototype service investments.
Please request a free quote from TEAM Rapid, and let our engineers help with your projects.
Tips to Get the Best Result from CNC Prototyping
CNC prototyping is the machining process that uses advanced computerized technology. However, even with this advanced automated technology, the result will still depend on how you use the CNC machining equipment. As the user, you will determine whether you will get the best outcome for the prototype production. Here are some tips to get the best result from CNC machining prototype service:
● Be Sure to Update Your 3D CAD Software to the Latest Version
Using outdated 3D CAD software can only limit your design capability, and it will also limit yours in using the advanced features of the CNC machining equipment. Using the most up-to-date 3D CAD software to create your prototype design is best.
● Avoid Designing Complicated Objects
It's best to keep your design as simple as possible. Creating a complicated procedure for your prototype can only cause problems in the CNC machining process. Sometimes, the CNC machining equipment can only translate your design instructions well if the design gets simple enough.
● Avoid Using Complex Internal Geometries
Complex internal geometries are out of the question with the subtractive process for CNC prototyping. You can't create a prototype that has complex internal geometries with CNC machining.
● Create a Design Checklist
The design checklist can help you keep your design in check, ensuring it can go well with the CNC machining equipment.
Choosing the Right CNC Materials for Your CNC Prototypes
Metal and plastic materials are often grouped into two or more categories as their properties vary. These two materials are used in various applications. The properties of multiple materials were discussed in detail in the following sections. These included mechanical strength, machinability, and temperature resistance. Here is an infographic that you can use as a quick reference to quickly identify CNC materials that fit prototype CNC services needs: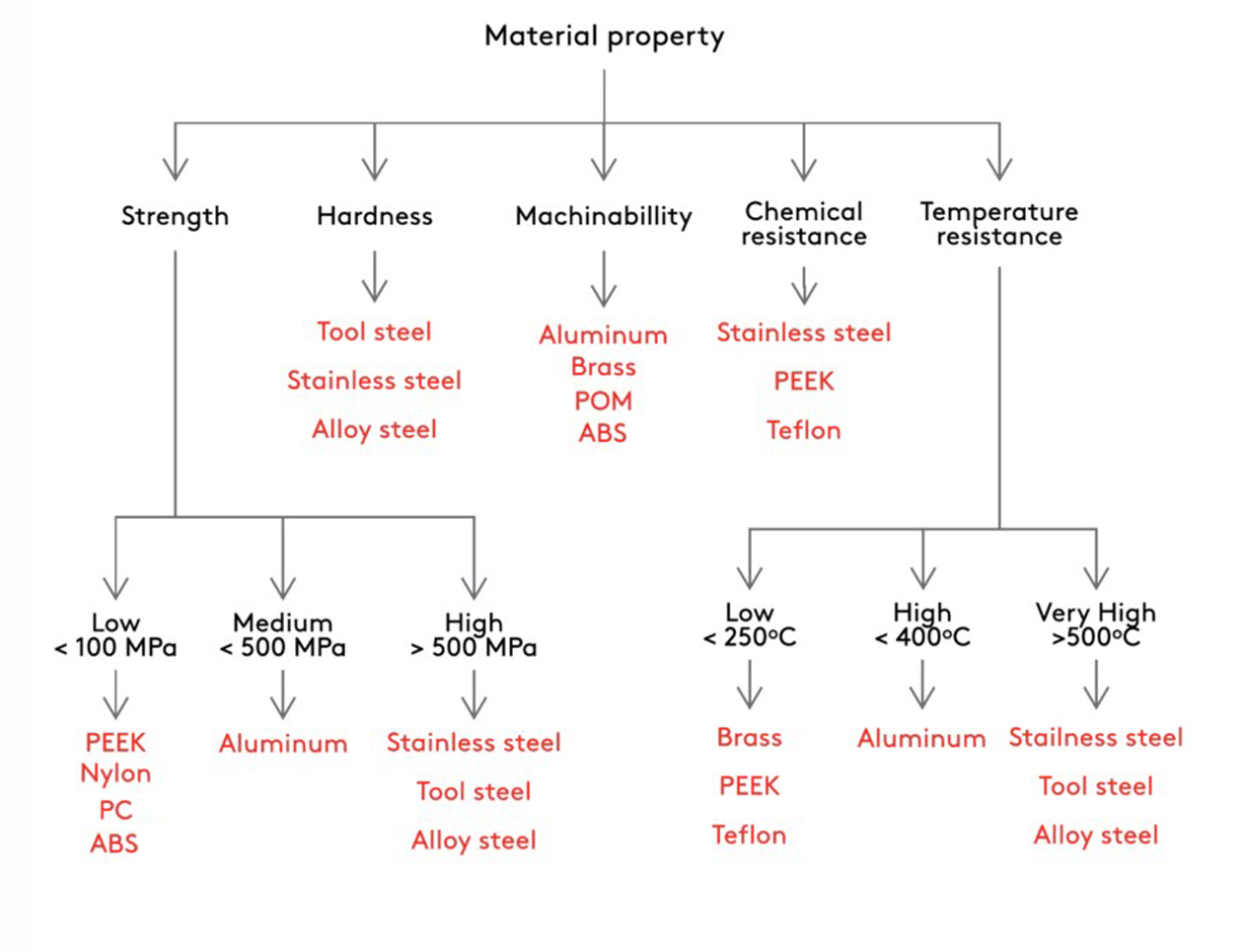 Rapid CNC Prototyping at TEAM Rapid
As a professional CNC prototype service manufacturer, TEAM Rapid has helped many customers make their CNC machining prototypes these years. Rapid CNC prototyping in ABS, POM, PC, Aluminum, Copper, Steel, Stainless Steel, etc., is widely used in various walks of life. Customers are happy with our quality and services, and usually introduce us to their colleagues and cooperated companies. In the past five years, our sales increased by 50% every year from customers' trust.

How to Handle Undercuts in Prototype Machining Services
1. For a part without undercuts or the undercuts that can be machined by custom tool, we usually do the machining in one material block without splitting metals or plastic. The CNC prototyping parts made in this way can have good strength and can work well under pressure without damage.
2. For a part with unavoidable undercuts, which can't be machined directly. We usually suggest the customer split the piece into several components, then glue or weld these components together after machining. This method is suitable for rapid prototypes and small-run production parts that have low demanded numbers. Also, the strength and durability of these CNC prototyping parts are weeks. The pieces might fall apart when under pressure. This CNC prototyping method is usually for proof of concept, visual presentation, and engineering verification, which is unsuitable for functional test works under pressure.
3. For large CNC prototyping parts, to cut down the costs, some customers request the way of split and gluing/welding: plastic part split and glue, metal part split and weld.

TEAM Rapid is one of the best CNC prototype service manufacturers. We serve customers from many industries, such as medical, energy, industrial, automotive, and robotic. We receive lots of positive feedback from our happy customers. Are you ready to kick off your project today? Contact our team at [email protected] today to get free CNC prototype service quotes.
Frequently Asked Questions
What Is CNC Prototype Machining?
One of the most common rapid prototyping methods is CNC prototype machining. Although 3D printing is becoming more prevalent, this process is still important to create parts. Due to its fast action and accuracy, this process is commonly used by manufacturers for custom plastic and metal parts.
CNC Prototype machining is used for developing automotive models that are exact specifications. It is also utilized in the production of various transportation components such as transport trucks and shipping vessels.
What is CNC Prototyping(What is CNC Rapid Prototyping)?
CNC prototyping means that manufacturers apply CNC machining(CNC milling, CNC turning, CNC grinding, etc.) in making prototypes. Compared to the traditional CNC machining process, CNC prototyping may need more experimentation and adjustment. How to make the prototypes fast and qualified is a great topic for the manufacturers. TEAM Rapid has over ten years of experience in prototype machining. Our customers come from individuals to fortune 500 companies and are happy with our services
What Type of Prototyping Manufacturing does A CNC Machine Use?
CNC milling machines, CNC turning machines, and CNC grinding machines are commonly used in prototyping manufacturing.
When is It best to Use CNC Machining for Prototypes?
1.For the custom parts, especially the ones in metal.
2.For the parts needed in a short time.
3.For the parts needed in accuracy and precision.