Two-color injection molding allows you to add color variations to your primary plastic-molded parts or components. With the two-color injection molding machine, you can add two different plastic-colored materials to the final product you create, enabling you to introduce appealing color variations for your plastic-molded products.
Here are some basic details about the two-color injection molding machine: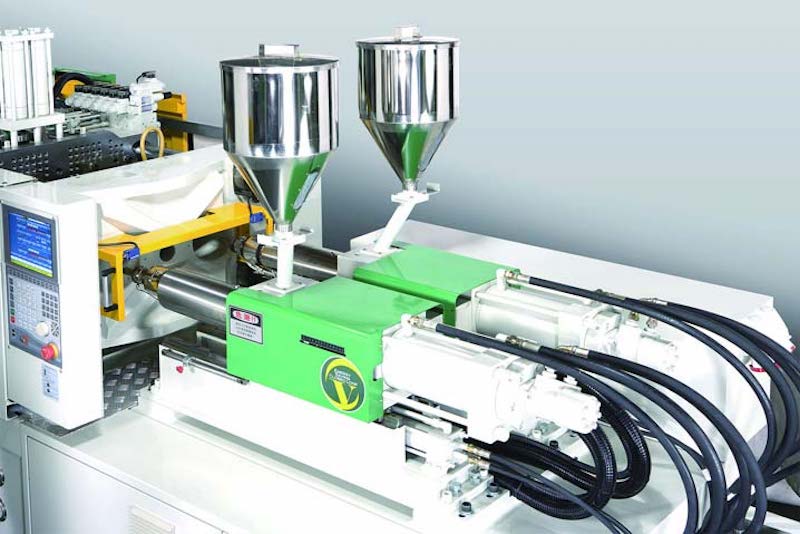 ●It supports injecting two different plastic colors for a single product.
You can inject different-colored plastic materials to create a single plastic-molded product. It is a great way to introduce certain variations in your products that make them look even more appealing.
●Two different molds vs. one mold with two injection points.
There are two ways the injection molding process works with this machine. The first method is to use two different molds, each filled with different plastic colors in each mold. The second method is to use one mold with two different injection points inside the mold. Each injection point will be filled with different colors, eventually joining together into a single product.
●Slightly more complex than a single-color injection molding machine.
The machine has the complexity that the single-color molding machine doesn't have. Thus, the entire equipment can be more intricate than the standard one because it offers additional features unavailable in the regular plastic molding equipment type.
What Makes Two-color Injection Molding Machine Differ from the Regular Type?
The machine is a step up or an upgrade to the equipment's features. It still follows the same injection molding principles but has expanded to allow different plastic colors to be injected into the same mold. Here's what makes a two-color molding machine different from a regular injection molding machine:
●The capability of adding two colors in a single injection molding process.
The regular injection molding equipment will only support one plastic molding process at a time. However, the two-color injection molding equipment allows you to process two different molds or mold pieces in one injection molding process(such as overmolding and silicone rubber molding).
●New features are not available in regular injection molding equipment.
Some features are only available in the machine, such as the capability of joining two different molds or using a single mold with two injection points. The two-color molding equipment will also support two injection molding cycles to inject each color variation into the mold.
●Capability to expand your molds.
The two-color molding machine is a special type of injection molding equipment that allows you to expand and modify a single mold further to support the two-color injection process. You can do it by adding different injection points and placing different-colored plastics in each point. You can also expand the molds by joining two different molds into one, each containing its colored plastic material.
●Weight addition due to additional components.
Another difference that makes the machine stand out from the regular one is the weight of the equipment itself. The two-color machine will be weightier than the regular injection molding equipment due to the additional components inserted into the machine to make it capable of running the two-color injection molding process.
Primary Advantages of Two-Color Injection Molding Machine
The basic or regular injection molding equipment can only perform the regular injection molding process with a single mold. However, the two-color type offers way more benefits when compared to the regular type of injection molding machine. Here are the primary advantages of the the machine:
●Different color variations.
The first benefit is the ability to add different color variations to the mold. Not just different color variations, you can also add different plastic materials into the mold, provided that the materials are compatible with each other.
●Faster and more efficient production time By Two-Color Injection Molding Machine.
Instead of doing it separately, you can build a single part and rapid prototype with different colors in a single injection molding process. It can speed up your overall manufacturing process.
●Better final product aesthetics.
With this molding equipment, you can create final plastic products with much better aesthetics. Moreover, there will be different color variations you can apply to your final products, making them more appealing to your customers.
●Simple two-color molding process by Two-Color injection molding machine.
The machine will also provide a simple two-color molding process that doesn't differ too much from the regular injection process. You must prepare the mold and deliver each colored plastic-material variation to the different injection points or mold parts according to your preferences or configurations. Then, let the molding process commence.
●Plastic material variations.
It's not just different colors of the same plastic materials supported by the equipment. Different plastic materials with different colors can also be used in this process.
Are There Any Disadvantages of two-Color injection molding Machine?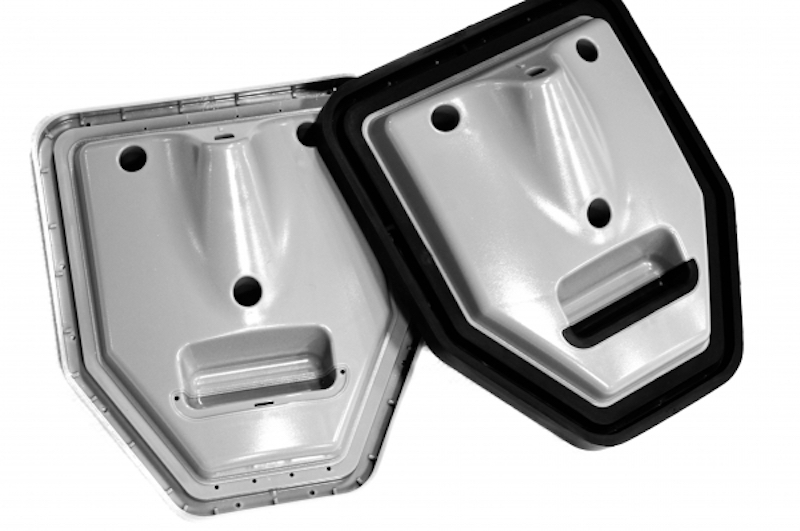 ●Pricey equipment.
The two-color molding equipment is pricier than the regular type one, so it will require a high initial investment if you use it in your next plastic molding projects.
●Design limitations.
Because it requires two different molds or two different injection points, the two-color molding equipment will have some design limitations not existing in the regular molding machine.
●Plastic material compatibility factor.
You need to ensure that all the plastic materials are compatible to avoid any potential problems caused by material incompatibility, which can deform or damage the final product when you neglect its compatibility factor.
●Expensive tooling.
The tooling process for the two-color mold is also more expensive than the regular mold. Tooling for the two-color mold will also have a longer lead time.
Conclusion
You will need a machine to create different color variations in your molding process. The two-color molding machine offers more features than the regular type and is more expensive. Also, it would help if you considered various factors when using the two-color molding machine in your project, such as compatibility between different plastic materials, tooling lead time, and production expenses.
TEAM Rapid invest a series of machines to meet your project needs. Injection molding, CNC machining, die casting, 3d printing etc are our core services. Contact our team today to request a free quote now!