Glossy PP Part Molding
Polypropylene (PP) is a thermoplastic addition polymer, it is used mainly in injection molding applications. PP is low cost and easy to access, and because of its semi-crystalline property it possesses a high flexural strength.
PP injection molding material, a thermoplastic addition polymer made by combining several propylene monomers. It is widely used in applications which include packaging of consumer products, plastic components for such industries like the automotive industry. The surface of the PP plastic is very slippery, it can be used to replace some plastics like polyacetal (POM) in some low-friction applications, or can be used as a contact point for furniture. One of the disadvantages of this property is that it is not easy to adhere PP to the surface of other materials. PP does not bond with certain types of glues, so sometimes it needs to be welded when a joint is needed. PP is slippery at the molecular level, but it has a high friction coefficient. So, POM, nylon or PTFE will sometimes replace PP. Compared to other common plastics, PP also has a relatively lower density, which mean the number of producer and seller of injection molded PP products is reduced.
PP is resistant to moisture absorption. It has a very slippery surface which makes it a good substitute for other plastics in a wide range of low-friction applications. PP has similar properties to polyethylene. Compared to polyethylene, PP parts are slightly harder and more heat resistant.
PP Uses
PP is featured in an array of injection molding applications which include the packaging of consumer products. PP is regularly used in plastic components in the automotive industry. Due to its relatively low density and weight, PP can also be used in a wide range of molded PP products, for example, children's toys, sporting goods, caps, closures, automotive applications, foot trays, cups, to-go container, household good, dishwashers and more.
Speed of Plastic Injection Molding
During PP injection molding process, a fast speed is needed to keep the internal stresses at the lowest possible level. In case of PP parts have surface defects, it is better to use a slower injection molding speed at higher temperature conditions. Injection molding machines which are able to offer profiled speed are strongly recommended.
Runners and Gates
With regard to the cold runner molds, the diameter commonly used is between 4 to 7mm. We recommend the application of full round sprues and runners. It is fine to employ all types of gates. Usually, the diameter of a pin gate is between 1 to 1.5mm. It is also possible to use diameters of as low as 0.7 mm. When it comes to edge gating, manufacturer should keep the depth of the gate no lower than half of the wall thickness, but the depth of the gate should be at least twice as wide as the wall thickness. On the other hand, the hot runner molds are able to be used for the PP injection molding directly.
Advantages of PP Injection Molding
1. PP is easy to access and not expensive.
2. PP has a high flexural strength due to its semi-crystalline property.
3. PP is characterized by a relatively slippery surface.
4. PP is resistant to moisture absorption.
5. PP is chemically resistant to a wide range of bases and acids.
6. PP is fatigue resistant.
7. PP is impact resistant.
8. PP can perform as a great electrical insulator.
Disadvantages of PP Injection Molding
1. PP has a high thermal expansion coefficient which lead to limitation of high temperature applications.
2. PP is UV sensitive.
3. PP is not chlorinated solvents and aromatics resistant.
4. PP is not easy to be painted because of its poor bonding properties.
5. PP is highly flammable.
Except for its weaknesses, PP is a great injection molding material. It has a diversity of unique qualities which other materials do not have. It is an ideal choice for a diversity of application projects.
What are the different types of PP parts?
There are many important things to consider when starting a PP part project. Many different factors will affect the end PP parts. One of the main properties of a product is the appearance. The texture of the PP parts' surface is another factor. You might want the end result to be smooth to the touch. Different materials have different looks and finishes to meet the requirements you want your end PP parts to be seen.
Surface finishes smooth out the surface of the end PP parts and create their look. Surface finish helps take away imperfections or marks which left by molds during the injection molding process. There are twelve different grades of plastic finish created by the Society of Plastic Industry. These grades are based on the qualities of each finish ranging from dull, matte finishes to glossy finish. These twelve grades are broken down into four main categories: shiny plastic finishes, glossy finish, matte finishes, and dull finishes. Below are details of these different types of plastic finishes
and the characteristics they give to the end part.
Dull Finish
Dull finish produces the roughest and least polished surface finish. Dull finish is usually used for internal parts which are not visible or for the parts which need a dull look. Dull finish is achieved by sandblasting the PP parts.
Matte Finish
Matte finish has a low shine and rougher texture compared to glossy or shiny plastics. They are commonly achieved by a fine stone powder polish. Similar to dull finished parts, matte finishes are usually used for internal parts, thermoset, or die-cast parts.
Semi Glossy Finish
Semi glossy finish is smooth but not as smooth as a glossy finish. Semi glossy finish is achieved by different levels of grit sandpaper. Semi-gloss finish is used for external parts and interior parts which need to be smooth.
Shiny Finish
Parts with shiny finish all have very shiny, perfectly smooth surfaces. The appearance of the plastic parts like a mirror. Shiny finish is achieved by diamond powder in oil to polish the plastic. These finishes are mainly used on parts which need to be reflective like a mirror. The texture of plastic part's surface can be done in several ways. Abrasives like steel wool or grit paper are usually used to remove blemishes and create the desired smoothness. The finish impact how the paint stick to the plastic parts. Labels and stickers may not adhere to certain finishes and others. You might need to consider how the item can be gripped well, according to what it will be used for. The surface finish can affect more than just the appearance of the product.
The best way to determine which surface finish is right for your parts is to examine what it will be used for. If the parts are used as inner working of the product, it may be OK to go for a dull finish as no one will see them. If the parts need to be attractive and colorful, a shiny finish or semi-gloss is probably ideal. Every surface finish has its own characteristics. At TEAM Rapid, our engineers will help to determine which surface finish fit your projects best.
Project Details: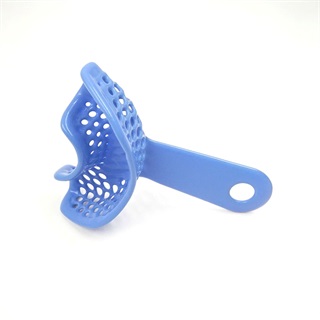 | | | | |
| --- | --- | --- | --- |
| Parts Size: | 103.1*63.1*86.2 | Business Type: | OEM |
| Material: | PP | MOQ: | 1 |
| Process: | Injection Molding | Place of Origin: | Guangdong,China |
| Post Finish: | Deburr | Shipping Method: | By Express |
| Color: | Blue | File Format: | STP;IGS |
| Tolerance: | +/-0.05mm | Brand: | No |
| Order QTY: | 3000 PCS | Customer: | Spain |
| Lead-Time: | 9 Calendar Days | | |
Supply Ability
Packaging & Delivery
Contact TEAM Rapid
Are you working on your next rapid manufacturing project? Contact our team at [email protected] for engineering supports.