3D Printing Services-Plastic Model
Car Rapid Prototype - TEAM Rapid
Since the 1970s, companies have used 3D printing to create prototypes. This process is called rapid prototyping. It's relatively cheap and fast to make. From idea to 3D model, it's a matter of days. Aside from rapid prototyping, 3D printing also used for rapid manufacturing. This process is a new method of manufacturing that's used for short-run or small batch production.
What is 3D Printing?
3D printing or additive manufacturing is a process of making three dimensional solid objects from a digital file.
- An object is created through an additive process, where the layers are laid down in order to create a layered structure.
- 3D printing is a process utilized for creating 3D models of objects. A 3D printed object is made up of layers or sections of metal or plastic.
- 3D printing enables you to produce complex shapes using less material than traditional manufacturing methods.
How Does 3D Printing Work?
It all starts with a 3D model. You can opt to create one from the ground up or download it from a 3D library.
3D Software
There are many different software tools available. From industrial grade to open source. We've created an overview on our 3D software page.
We often recommend starting with Tinkercad. It is a free and easy-to-use program that will teach you how to build 3D models. Tinkercad is a free and easy-to-use web app that lets you create 3D models and print them as a PDF. It works seamlessly in Chrome browser.
Slicing: From printable file to 3D Printer
Slicing is a process that involves creating multiple layers or layers in a 3D model. It's done with a 3D printer's slicing software. When sliced, the file is ready to be fed to your 3D printer. Just like with other 3D printers, you can easily modify the file's structure by layer by layer.
3D Printing Industry
3D printing has reached critical mass, with many companies now ready to embrace it. Where 3D printing was only used for prototyping, it is now becoming a production technology. Most of the 3D printing market demand is industrial. Due to this, the demand for 3D printing is expected to grow at a robust rate during the forecast period. As it evolves, 3D printing technology is destined to transform almost every major industry and change the way we live, work, and play in the future.
Examples of 3D Printing
3D printing is a broad term that encompasses many different forms of technology and materials. It can be used to describe various industries that are using 3D printing. A few examples including:
– industrial products (manufacturing tools, prototypes, functional end-use parts)
– consumer products (eyewear, footwear, design, furniture)
– prosthetics
– dental products
– reconstructing fossils
– architectural scale models & maquettes
– reconstructing evidence in forensic pathology
– replicating ancient artefacts
– movie props
3D Printing Prototyping Case at TEAM Rapid
TEAM Rapid help lots of oversea customers to make their 3D printing rapid prototypes successfully in the past 10 years. They are happy with our services, and some of them partnering with TEAM Rapid for many years till now. We understand what their needs, and can offer high quality 3D printing prototypes at low costs. Here are one of the cases we got positive feedbacks from the customer: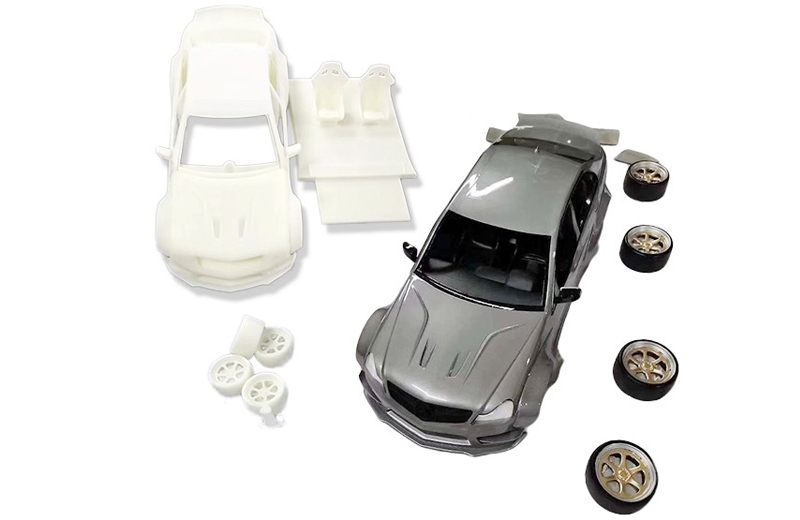 Prototype Car Model

Project Details:
| | | | |
| --- | --- | --- | --- |
| Part Size: | 311.4*123.3*67mm | Business Type: | OEM |
| Material: | ABS-Liked(Resin) | MOQ: | 1 |
| Process: | 3D Printing Service | Place of Origin: | Guangdong,China |
| Post Finish: | Painting, Glossy | Shipping Method: | By Express |
| Color: | Customized | File Format: | STP;IGS |
| Tolerance: | +/-0.1mm | Brand: | No |
| Order QTY: | 3 Units | Customer: | UK |
| Lead-Time: | 5 Calendar Days | | |
Supply Ability
Packaging & Delivery
3D Printing Low Volume Production
3D printing is a process that involves adding material to a 3D model. Unlike traditional CNC machines, 3D printers do not require tools or equipment to produce their finished products. Also, it's much easier to use than a traditional machine. Additionally, 3D printing is much easier to use than a traditional CNC machine. It does not require tools and can be utilized for low-volume production runs.
The highest-end CNC machines have better tolerance than 3D printing machines, which are measured between thousandths and inches. But for most applications, 3D printing is the optimal choice, and the technology will continue to evolve and improve resolution and tolerance.
Are you working on your next low volume manufacturing project? Contact our team at [email protected] for engineering supports.