CAD (Computer-Aided Design) and CAM (Computer-Aided Manufacturing) software is the type of software you can use to build 2D or 3D designs for your prototypes, hardware parts, and components. You can use the data from the CAD/CAM software for the CNC machining process by converting them into the command configurations that the CNC machining equipment can understand.
Using the right CAD/CAM software, you can create the best 2D and 3D designs for the CNC machining process, which will also help you create more accurate, complex, and precise components, parts, and prototypes for your projects. Here's the top 8 CAD/CAM software you can use for CNC manufacturing: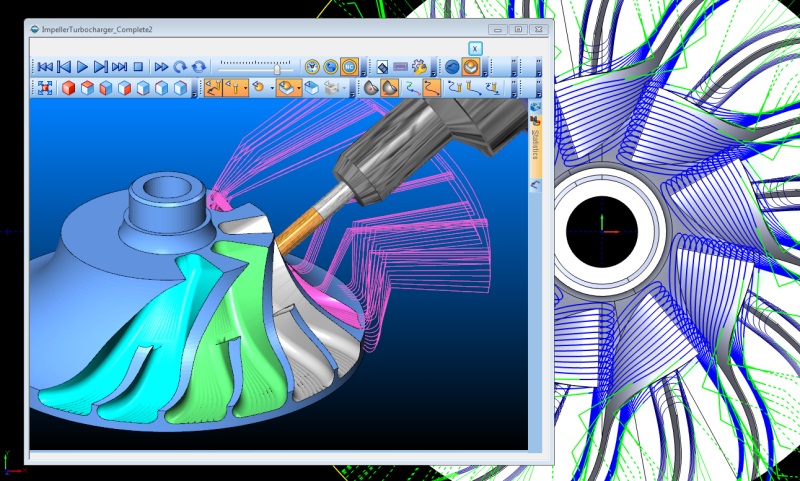 1. AutoCAD CAD/CAM software
AutoCAD is a popular 2D and 3D modeling software that features various toolsets to make it easier for you to produce the best design for your projects. These tool sets include mechanical, architecture, MEP, map 3D, plant 3D, electrical, and raster design.
With AutoCAD, you can work on your design via desktop, web, and mobile apps, and you can collaborate with your teammates for the most efficient workflow. You can also automate certain tasks, such as adding blocks, drawing, counting, and many others, to get your project done even faster.
2. Carbide Create
Carbide Create is a CAD/CAM software you can use for CNC routers, which allows you to create both basic and detailed designs. With this software, you can create your design with basic shapes, splines, text, alignment, background images, offsets, Booleans, and various design elements. It also provides you with various machining tools, such as V-carving, pockets and contours, engraving, a tool library, speeds and feeds, and 3D simulation.
You can use Carbide Create to turn your ideas into the 3D design you would like to produce. You can install this software for Windows and Mac, and it doesn't need an active internet connection.
3. Autodesk Fusion 360 CAD/CAM software
Autodesk Fusion 360 offers CAD/CAM software that can help unify the processes of engineering, design, electronics, and manufacturing in one simple workflow. You can use this software to design simple and complex prototypes, hardware parts, PCB electronics, and components using flexible 3D modeling.
Autodesk Fusion 360 offers various features, including flexible 3D CAD, integrated CAD and CAM, unified PCB design, seamless 3D simulation, generative design tools, and instant on-data management. This software also provides photo-realistic rendering and documentation, which you can annotate with ease.
4. Inkscape
Inkscape is a free and open-source drawing software that you can use as an alternative to various professional CAD/CAM software. This software can help you create basic and complex designs, which you can import to the CNC machining equipment later. The object creation tools offered in this software include drawing, shape tools, text tools, embedded bitmaps, and clones.
Aside from that, Inkscape also provides various other features, such as object manipulation, fill and stroke, operations on the path, rendering, text support, and various file format supports. For object manipulation, you can use various tools, such as transformations, grouping objects, layers, alignment and distribution commands, and Z-order operations.
5.SolidWorks CAD/CAM software
SolidWorks provides various CAD/CAM tools you can use for design creation, engineering, collaboration, and manufacturing. With this software, you can create a 3D design for CNC machining, and you can also take advantage of its collaborative operations to work with your team members and create the best workflow for your projects.
SolidWorks also provides solutions to help you perform CNC machining on various complex parts, whether you are using CNC robots or multi-axis milling machines. Aside from that, SolidWorks will also validate your 3D design to detect potential machining errors before putting it into production.
6.AlphaCAM
AlphaCAM is a CAM/CAD software you can use to create 3D designs for metalworks, stoneworks, and woodworking projects. It offers various key design features, which include interactive sculpting and blending, building 3D shapes from various vector outlines, importing 3D clipart and mesh models, 3D component manager, and more.
You can also use AlphaCAM for machining various simple and complex parts, whether in 2D or 3D, which include engraving, lathe, stone cutting, thread milling, 3D Disc machining, and many others. This software also supports designing for part repairs and modifications, and you can also use it for remote monitoring of CNC machines.
7. Solid Edge CAM Pro CAD/CAM software
Solid Edge CAM Pro provides computer-aided manufacturing software that can help you create the 2D or 3D design that will work best for CNC machining equipment. It uses an intuitive user interface that allows you to create your 3D design in the easiest way possible, with guides, tutorials, and templates you can use to start your project right away.
You can use Solid Edge CAM Pro for feature-based machining, milling, turning, and NC simulation. It also offers you a large online post-processor library that allows you to get access to thousands of post-processors you can use to generate production-ready CNC programs.
8.FreeCAD
FreeCAD provides free CAD software you can use to create 3D designs for your project, which you can send to the CNC milling service and CNC turning equipment later. It is a parametric 3D modeler that you can use to design various parts, components, and prototypes with accuracy and precision. You can transform a 2D design into a 3D model and vice versa with this software.
With FreeCAD, you can create various 3D designs in architecture and mechanical engineering. So, it's an excellent choice of CAD software to use, whether you are a hobbyist, student, or professional. You can also use this software to learn from scratch about 3D design and modeling.
Conclusion
These are the top CAD and CAM software you can use in your 2D and 3D design process. You can get your design process done and send the data to the CNC machining equipment before putting it into mass production. The CNC machining equipment will convert the data you have sent from the software into actual CNC machining programs, which will contain certain instructions for various CNC machining operations to rapid prototyping services, or making component, and sheet metalwork.
Pick one of the CAD/CAM software listed in this guide to get the best 2D and 3D design experience in your project. You can also choose between free or open-source and premium professional CAD/CAM software, depending on your needs. TEAM Rapid has decades of product design and rapid manufacturing experience, we have 30 excellent product design and mold design engineers and 20 excellent mold processing engineers. Our processing equipment has 10 advanced CNC lathes, 5 rotary machines, 3 grinding machines, 8 EDM cutting machines, etc., we also have 20 stamping machine tools, and 60 large injection molding machines, we undertake global product OEM design and processing orders, to provide you with integrated product design, manufacturing, transportation solutions. Contact us today for your upcoming projects.