Custom Plastic Injection Molding Service
TEAM Rapid is one of the leading plastic injection molding component manufacturers. We specialize in manufacturing custom plastic unique parts. Our state-of-the-art facility and modern equipment allows us to finish products from samples to mass production in-house. Our team of engineers are equipped with rich plastic injection molding parts producing knowledge that ensure customers' injection molding project is done perfectly and meet or exceed their expectation. Contact us for your next plastic injection molding part manufacturing projects.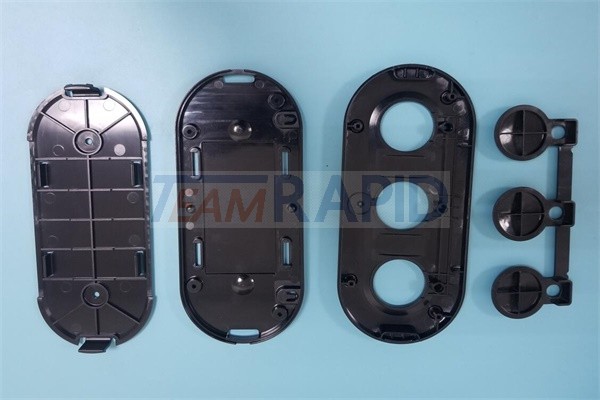 Plastic Injection Molding Service is a method of manufacturing plastics. It is an important step in the plastic injection parts of product manufacturers. It is also a good option to look to convert heavy metal parts to plastic for manufacturers. Plastic injection molding process is a way uses melted and inject plastic resins or polymers by heat or high pressure into a custom mold to get the designed useful and durable parts. Injection molding is an efficient process to mass-producing plastic parts. The process includes six basic steps: clamping, injecting, dwelling, cooling, mold opening, and product removal. Plastic Injection Molding process is quite complex and require high level experienced injection mold makers who are able to cater customers' unique requirement, specifications, budget etc.
To make custom injection mold, we will evaluate the complexity of customers' projects and dictate the customization they need which include tooling, engineering, scientific method, analytical tools, molding process technologies and more. In order to meet complex plastic parts' precision and performance requirements, custom Plastic Injection Molding relies on many different manufacturing methods, analytical tools and molding process techniques. It is very important to evaluate an injection manufacturer with project requirements. For example, compared to toys, medical or military parts needs the attentions and experienced injection molders which really specialized in complex design, engineering and technical support. Plastic parts used in medical or military applications need strict specification.
For more than 10 years, we have been a custom plastic parts manufacturer offer the most suitable solutions and options in custom injection molding to a wide range of industries and applications. With our injection molding capabilities, we provide customers with high quality custom molded plastic parts at the most competitive cost. Contact us at [email protected] today for our plastic injection molding projects.
Request A Quote