Quotes of Low Volume Manufacturing from Saudi Arabia
TEAM Rapid is a company specialize in rapid prototyping, CNC Prototyping, Rapid Injection Molding, and other low volume manufacturing needs. Our 20,000 square feet facilities provide a workplace for over 40 employees that includes 2 independent factories of Rapid Prototyping and Rapid Tooling. We help lots of customers to prototype their ideas and lunch the products into the market. Recently, we got some quotes from Saudi Arabia clients, below is the details:
1. 3D Drawing attached. Material is Aluminum 2024. Qty Required is 1000 parts.
2. Hi I would like to get a prototype for a digital ring counter, I have drawings and dimensions. Please advise, how can you help on my project. Thanks
3. I am looking for company to produce approximately 5000pcs / month of square plastic with centre cut out. Please see attached image for more details. All prices and quotes welcomed. Regards
4. I am inquiring about a possible quotation for the carbon fiber chassis. I have attached which should withstand high loads since it is used for a robot which gets thrown around from a height of around 3m. I am also curious the type of suitable machining for this application. It will be used for prototyping and eventually for mass production of around 10 units. I would highly appreciate your help!
5. I am inquiring about a possible quotation for 20 wheel hubs made out of aluminum 7075 and the suitable machining process that would be used to manufacture them.
6. A small precision product and I wish to make 1000 to begin with.
7. Surface finish should be smooth, and either matte or glossy (we haven't decided yet). Material - we need a recycled/recyclable plastic, easy to clean, stable in UV, safe with bleach, and also strong, stiff and durable. Could you please let me know the most economical way to produce it in increments of 1K, 10K, and 100K units?
8. Hi, I'm interested in seeing what the pricing would be for an item like this. If it works out alright i might have quite a few different items to get machined. Aluminum with no post surfacing.
9. Hello, I am currently looking for a company to do a prototype, aluminum for a product I am working on. If you are interested to know more, let me know and I will pass an NDA. I will then share the details of the product with you and you will be able to quote on the work. Thanks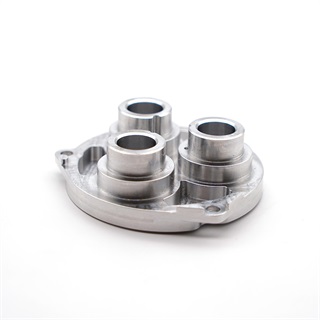 10. Hello, I am looking for the production of the attached parts. The parts are need to be made from Ti and within the tolerances as appear on the drawings. I will appreciate if you be able to send me a quote for the production of: 1. 50 pcs. From each part. 2. What will be the lead time? Best regards
11. I am audio product manufacture looking for a partner who can do plastic molding of our party speaker products. Probably 4 pcs for the mold in total. Yearly volume will be 15kU with an 500pcs MOQ.
12. Can I get a quote for two of each part. Drawings and step files are attached. Material can be mild steel or stainless steel. No finish necessary, as machined is ok. Thanks
13. quote to vacuum cast 50 items in polyurethane resin
14. Hello, Attached is a .zip with 2 folders outlining the parts I am requesting a quote for. The 3 CNC parts are 6061 Aluminum, and the 8AN to M16x1.0 piece. I am also interested in having anodized black. Once looking at the files please recommend if you would prefer waterjet or laser(if able) Ideally I am interested in 10pcs of each CNC part and 5 pcs of the waterjet parts (unless larger QTY is required) If possible can the quote outline prices per part? Thanks for your help!
15. I want to mold two parts from attached drawings. Material for larger part will be black HDPE and for smaller part it will be natural HDPE. Please send me cost for molds and for 1000 pcs. of moldings. Please send me also a lead time.
TEAM Rapid is a China rapid prototyping company, we aim to help you reduce the risks involved in production and improve efficiency to meet your needs from the early prototype R & D to late mass production. We spare no effort to make sure you are satisfied with the quality, price and services! Want to find a best solution for your ongoing project? Contact us at [email protected] today and get a free quote.
Request A Quote