Precision Machined Parts Manufacturing
TEAM Rapid is one of the trusted precision machined parts manufacturers. We have more than 10 years experiences in high quality precision machined parts and component producing. As a leading custom precision machined parts suppliers, we specialize in producing custom made, precision CNC products and offer complex secondary and finishing operations. We are able to produce both low and high volume custom precision metal parts. We are already ready to quote, produce and ship customers' precision machined components which meet their specification and tolerances exactly.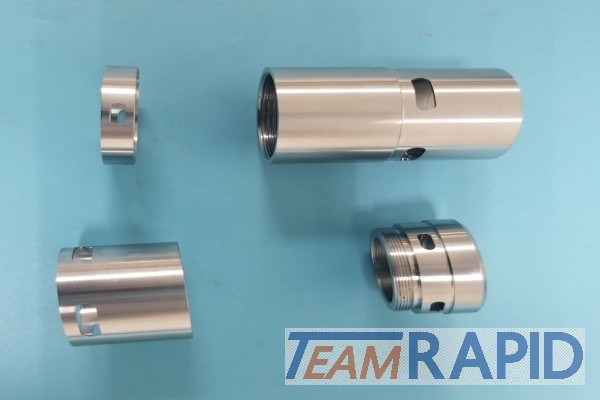 Precision machining is used to manufacture metal components or parts which need precision specification and high level performance. Precision machined parts require precise specifications. Precision machined part applications include grooves, tapers, thread. These parts have to provide precise fit with other parts.
Precision machining process begins with sketch. Engineers use CAD software to create a 3D diagram. Engineer then put the design into CAM programs or CNC machines. As machining cut is finished by machines which get instructions from computer software. Precision machining process allows high accuracy. Precision machining parts can be produced with tolerances down to 0.01 to 0.05mm.
Precision machining is commonly used in a wide range of industry which request high quality, tight tolerance and safety standard, like auto, electrical, medical, aerospace industry. Precision machining is a useful way to maintain consistency during components mass production. Repeatable and consistent results can be achieved by using precision machining.
TEAM Rapid's machining services are available for a wide range of applications and additional finishing work. Precision machining has many benefits. It allows great accuracy, repeatability, efficiency. It helps to save time and reduce material waste. Compared to other metal fabrication process, precision machining offer high efficiency and involve less manual input. CAD machines operate quicker than human-operated machines which have less error and save time. With our state-of-the-art machines are equipped with the most advanced technologies, we provide feed grinding, CNC machining, turning, broaching, thread rolling, plating, conventional heat treating and more.
As a precision machining leader, we can offer you a custom quote based on your project requirements. Get us involved in your Precision Machined Parts Manufacturing projects today.
Request A Quote