The Purpose of Choosing Rapid Prototype Tooling Service
Most manufacturers feel daunting when comes to meet clients required dimension. Though you have experts in your industry it's very hard to get the clients expected design and bringing it on the product. That's why most company choose Rapid Prototype Tooling to result out ideal product design. Not alone manufacturing industries engineers and some other specialist also make use of this technology. The purpose of choosing this method is below: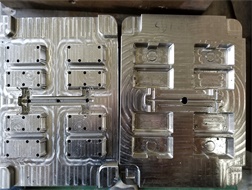 Priority to Client's Requirements
Your only goal is to meet the client's requirements right? Attaining it will fall easily if you choose
Rapid Prototype Tooling
service. There is no need for specific equipment, techniques and then other processes. Just within some cost and the individual's idea, the model will get ready. In case of flaws also instant correction can be made.
Understanding the Project
Choosing rapid prototyping will make you know what's actually the project is. You will get some idea about the product and its design. It's really worth than CAD why means you just see the design in CAD. Alternatively, rapid prototyping will allow you to sense the design. It will facilitate you to go through the design the way you want. Finally, you will achieve your clients expected design.
Save Time and Cost
Imagine if you finalize a product but it's not fulfilling clients expectation then all the cost you spend on it become worthless. Similarly, CAD also requires various things. On the other hand, rapid prototyping takes cost, time and effort in less quantity. Thus in the case of failure also you never face any huge loss.
Providing Changes
If you get the model of the product design then you can easily identify the alteration you want to make in the design. Plus the changes can be done within some time or immediately. You also get clients idea and then change the design. Thus the product that will be molded in the way liked by your clients is possible only through rapid prototyping.
Request A Quote