Rapid CNC Service
Rapid CNC machining is a quick and cost effective method to produce prototypes. It is a popular method when it comes to product development and design. If you have limited molding, it is also a common method to make volume manufacturing for some parts.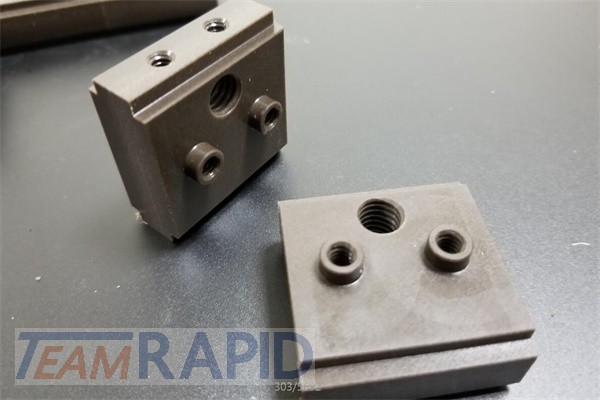 Most of CNC material is plastic and metal. It has a wide range of materials. For example, ABS, PC, POM, PVC,PEI, PEEK, aluminum 6061, 7075, 2024,5052, Stainless Steel 303/304/316/17-4PH, Steel 1050, 1018, 4130,4140; Brass, Bronze etc.
CNC is a method that cuts parts by the computer arithmetical control system. The most beneficial reason for using Rapid CNC Service is that it creates the parts could easily replace addictive manufacture or invention prototypes by using real production grade resources. It help to build parts in a featured materials when is the same as in end products. Rapid CNC Machining is an ideal option for speedy prototyping of superior quality metal or plastic parts that requires an increased range of dimensional accurateness, crucial surface finishes and material-specific features.
If you are looking for good quality part at lower cost, you are at the right place. At TEAM Rapid, our professional team is dedicated to offer the desired level of services to our clients. We use the most advanced technology to provide the best solutions base on clients' requirements. Our engineers and machinists program the equipment to optimize cutting time, surface finish and final tolerance to meet clients' specifications. We use rapid CNC machining to manufacture production parts and prototypes. Our advanced CNC machines can do small radius cuts and maintain a high quality level whether you want one piece or one hundred. Chamfered edges, multiple radius curves, and tapped holes are a few things that make machining a part more workable for any projects. We take pride in making quality, custom, low cost, machined parts.
Advantages for using Rapid CNC Machining are high accuracy and repeatability. Quick removal of large amounts of metal material is suitable for different kinds of substrates. Large volume up to 100,000, low investment in fixture and preparation costs. Industries could use rapid CNC services includes aerospace, defense, automotive, consumer Products, education, electronics, energy, industrial, medical, dental and robotics.
At TEAM Rapid, we use modern equipment to offer clients a variety of CNC machining service includes milling, turning, EDM, wire EDM, surface grinding etc. We use 3, 4 and 5-axis CNC machining centers and skilled machinists to make turned and milled parts.
For more information on our rapid CNC service, contact us at [email protected] today.
Request A Quote