3D Printing

Surface Finishing Options
Today, we are going to talk about the 3D printing surface finishing options. It may help you to choose the best surface finishing for your rapid prototyping projects.

3D printing is an amazing technology which enolve from a niche and experiemental process to a widely used manufacturing technology. Nowadays, 3D printing is widely used for producing prototyping applications in various industries. 3D printing offer high level of design freedom, ability to produce parts in low volume at a rapid speed. At TEAM Rapid, 3D printing is one of our rapid prototyping solutions, we offer a wide range of polymer-based additive manufacturing processes which includes FDM, SLS, SLA and polyjet 3D printing.
3D printing is an excellent technology to produce visual prototypes. For example, car manufacturers use technology to create initial prototypes with high visual accuracy for car design. Jewerlry manufacturers create customized jeweley prototypes before running into the end production. Creating 3D printed prototypes is an easier way to show customer or shareholders what the end product will look like.
3D printing is not capable to produce parts with professional-grade surface finish. So, post-processing is an important part in 3D printing. At TEAM Rapid, we offer various surface finishing solutions as a part of our 3D printing rapid prototyping services.
3D printing surface finishing options
3D printing parts need multiple post-processing.
Painting
Painting is an important finishing solution especially for prototypes which need high visual accuracy. Applying a professional coat of paint on the 3D printed parts can be resemble nearly anything, from a car parts, an electronics casting to homeware parts.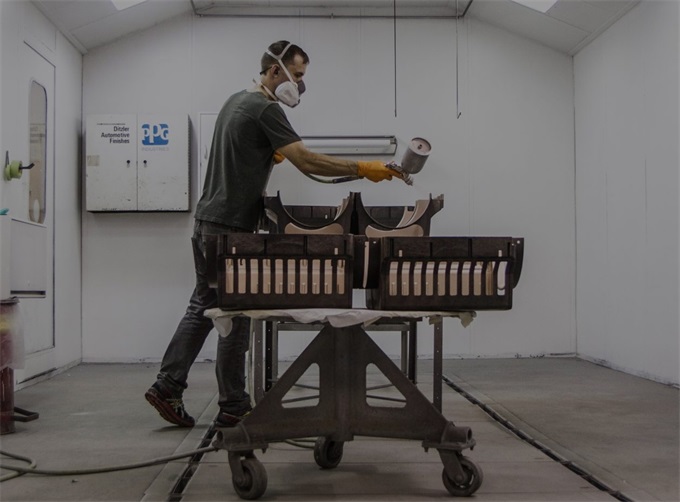 When painting 3D printed parts, there are many options available which include acrylic, sprays, airbrushes and enamels.
In most of the cases, the painting process needs a few requirement:
1, The 3D printed parts have to be cleanded, there must no oil or dust on the 3D printed parts.
2, The 3D printed parts have to be primed and dried for paint adhesion.
3, In some certain cases, the 3D printed parts have to be sanded to make sure the surface is smooth and printed layers are not visible.
The painting process for 3D printed parts serves to increase the visual quality to the parts. Sometime, it could be matched to customer's required branding. It could also add a protective layer to the prototypes. Painted 3D printed parts have a variety of finishes which include matte or shiny. They can be printed in customized color and even can ve food-grade. At TEAM Rapid, our professional finishing services make sure customized parts are painted to the high quality.
Polishing
If the 3D printed parts need a high quality and shiny finish, and the color or branding is not important, polishing is the ideal finishing for your projects. Polishing is applicable for 3D printed parts using an FDM process as the filament extrusion technique results in parts with visible layers. There are different polishing methods for different 3D printing materials. For example, ABS can be polished and smoothed by vaporizing a solvent. PLA needs more manual approach which involves sanding and a polishing agent. There are many different types of polishing materials used in PLA 3D printed parts which include liquid metal polish and was-based polishing materials. Polishing process is straight forward. During polishing process, the polishing agent is rubbed onto the part's surface until the parts are smooth. Polishing process can make a shiny mirror surface and transform a matte surface texture into a high aesthetic surface.
Bead Blasting
Beading blasting is a common surface treatment technique for many manufacturing process which include CNC machining and sheet metal fabrication. Bead blasting process consists of shooting tiny abrasive particles at the surface of metal parts by compressed air. Bead blasting process creates a smooth surface with a matte finish. Bead blasting is an effective method to remove the visible layer of a 3D printed part.
Bead blasting is best suitable for parts in small batch as the process is conducted in an enclosed chamber. 3D printed parts will have a uniform and matte surface finish after a few minutes of bead blasting. The other post-processing, for example painting can be followed after bead blasting is finished.
3D printing and finishing process at TEAM Rapid
TEAM Rapid is one of the leading rapid prototyping manufacturers in China. We are pound of ourselves in offer different manufacturing services which include CNC machining, sheet metal fabrication, injection molding, 3D printing and more. Our team of engineers has rich experience in creating 3D printed parts with high quality. We understand the importance of a good surface finish. Thanks to surface finishing solutions, customers will not be worried how the end parts will look like. Customers can have an accurate prototype in their hand because of 3D printing and finishing. Contact us to learn more today!

Request A Quote