What Are the Types of Injection Molding Machines?
The process of injection molding, widely employed in manufacturing, involves the creation of parts by injecting molten material into molds. Central to this technique is molding machines, which undertake the critical tasks of melting, injecting, and cooling the materials. In this article, we delve into the various types of these injection molding machines, each possessing distinct advantages and limitations, ultimately playing a pivotal role in contemporary manufacturing processes.
Unraveling the four main types of injection molding machines based on drive/motor injection molding machines, the backbone of modern rapid manufacturing, can be categorized according to the type of drive or motor they employ. Let's delve into the four primary classifications: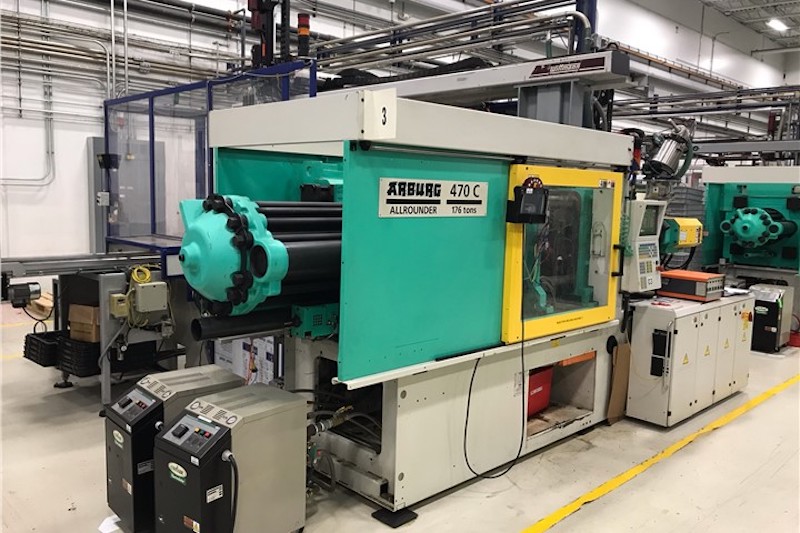 1.Conventional Hydraulic Machines
These stalwart machines utilize hydraulic pumps to generate the force necessary for the injection process(insert molding, overmolding etc). Renowned for their reliability and robustness, they have long served as workhorses in the industry. However, their energy efficiency may lag behind newer counterparts.
2.Servomotor Hydraulic Machines
Embracing advanced technology, servomotor hydraulic machines feature a servomotor to control the hydraulic pump. This integration allows for precise control over the injection process, resulting in enhanced energy efficiency compared to conventional hydraulic machines.
3.Hybrid Machines
Hybrid machines combine the best of both worlds in a masterful fusion of hydraulic and electric prowess. They strike a balance between efficiency and control by employing hydraulic systems for high-force tasks like clamping and electric systems for precision-driven operations like injection.
4.All-Electric Machines
Pioneering innovation, all-electric machines exclusively rely on electric motors for all processes. The result is unparalleled precision and energy efficiency. While their upfront cost may be higher than hydraulic machines, their long-term savings from reduced energy consumption make them an appealing investment.
Unveiling the Four Types of Driving Systems in Injection Molding Machines
In the realm of injection molding machines, beyond the classification based on drive/motor type, lies another facet of diversity: the driving systems. These four driving systems - hydraulic, mechanical, electrical, and hybrid - each possess unique attributes that cater to specific manufacturing requirements and challenges.
1.Hydraulic Driving Systems
Drawing upon the potency of hydraulic force, hydraulic driving systems depend on hydraulic pumps to furnish the essential power for the injection process. Esteemed for their unwavering reliability and durability, these systems have stood as stalwarts in the industry for several decades. However, when compared to other types, their energy efficiency might not reach the same pinnacle.
2.Mechanical Driving Systems
Showcasing mechanical ingenuity, these systems employ gears, levers, and other mechanical components to generate the force essential for the injection process. With enhanced energy efficiency compared to their hydraulic counterparts, mechanical systems prove their worth in specific applications. Yet, their maintenance requirements warrant careful consideration.
3.Electrical Driving Systems
Powered by electric motors, these systems orchestrate the injection process with precision and efficiency. Valued for their accuracy and reduced energy consumption, electrical systems embody cutting-edge technology. Although their upfront cost may be higher, the long-term benefits make them an invaluable investment.
4.Hybrid Driving Systems
At the pinnacle of synergy, hybrid systems combine the finest attributes of hydraulic, mechanical, and electrical systems. Striking a harmonious balance, they optimize performance and efficiency. By employing hydraulic force for high-pressure tasks and electric motors for precise control, hybrid systems resonate with the demands of modern manufacturing.
Unveiling the Diversity: Other Types of Injection Molding Machines
Beyond the classification based on drive/motor and driving system, injection molding machines manifest further diversity with additional types like plunger, screw, and reciprocating machines. Each type brings its unique features to cater to diverse manufacturing demands. Let's explore these fascinating variations.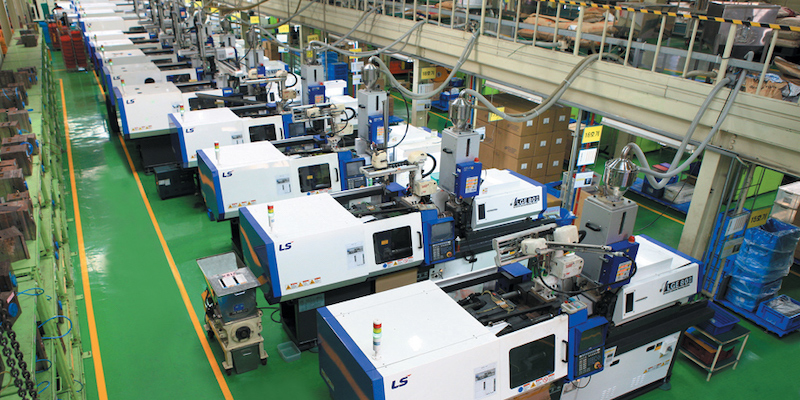 1.Plunger Type Injection Molding Machines
Embracing simplicity, plunger machines employ a plunger to propel the molten material into the mold. With a straightforward design, they find their niche in low-volume production scenarios. While these machines offer cost-effective solutions, their application scope may be limited by the challenges of precise control and molding intricate shapes.
2.Screw Type Injection Molding Machines
A ubiquitous presence in modern manufacturing, screw machines utilize a screw to melt and convey the material to the mold. This design enhances control over the injection process, making them an ideal choice for high-volume production endeavors. Their versatility extends to various materials(such as clear plastic molding, silicone rubber molding) and complex shapes while also facilitating color mixing and reducing material wastage.
3.Reciprocating Type Injection Molding Machines
Revolving around a reciprocating screw, these machines elevate precision to new heights. Compassionating machines excel in high-precision applications by carefully melting and transporting the material to the mold in a back-and-forth motion. As a result, they are favored in industries where consistency and uniformity are paramount.
Advantages and Disadvantages of Each Type of Injection Molding Machine
1.Conventional Hydraulic Machines
Advantages
Reliability and Durability
Conventional hydraulic machines are renowned for their robustness and long-lasting performance, making them dependable for various applications.
Cost-Effectiveness
These machines often come with a lower initial cost than other types, providing a cost-effective solution for certain manufacturing setups.
Handling High-Force Operations
Hydraulic systems excel at managing high-pressure tasks, such as clamping, with efficiency and precision.
Disadvantages
Energy Inefficiency
The hydraulic power used in these machines may result in higher energy consumption compared to more modern alternatives, leading to increased operational costs.
Limited Precision
Conventional hydraulic machines may not offer the same level of precision as newer types, potentially impacting the quality of intricate products.
2.Servomotor Hydraulic Machines
Advantages
Enhanced Energy Efficiency
Servomotor hydraulic machines optimize energy consumption by utilizing servomotors, reducing power usage and operating costs.
Improved Precision
The servomotor-driven control allows for more precise movements and better management of the injection process, resulting in high-quality finished products.
Reduced Noise Levels
Servomotor systems tend to operate more quietly, contributing to a quieter and more pleasant working environment.
Disadvantages
Higher Initial Investment
These machines may have a higher upfront cost due to incorporating advanced servomotor technology.
3.Hybrid Machines
Advantages
Energy Savings
Hybrid machines strike a balance between hydraulic and electric systems, offering energy-efficient solutions without compromising on high-force functions.
Versatility
These machines can handle various applications, making them suitable for diverse manufacturing needs.
Precise Control
By combining hydraulic and electric systems, hybrid machines achieve greater precision, ensuring consistent and high-quality outputs.
Disadvantages
Complexity
Integrating multiple systems may increase the complexity of these machines, requiring additional maintenance and technical expertise.
4.All-Electric Machines
Advantages
Unparalleled Precision
All-electric machines provide exceptional control and accuracy, making them ideal for high-precision molding applications.
Energy Efficiency
These machines offer maximum energy efficiency by relying solely on electric motors, leading to significant long-term cost savings.
Reduced Maintenance
The absence of hydraulic components simplifies maintenance and reduces the risk of hydraulic oil leaks.
Disadvantages
Higher Initial Cost
All-electric machines typically have a higher upfront investment due to their advanced technology and precision engineering.
Conclusion
The article covered different injection molding machines: conventional hydraulic, servomotor hydraulic, hybrid, all-electric, plunger, screw, and reciprocating, highlighting their unique advantages and disadvantages for informed decision-making.
TEAM Rapid equip with a series of injection molding machines. Besides injection molding, we also offer rapid prototyping services, CNC machining services, and die casting services to meet your projects needs. Contact our team today to request a free quote now!
Request A Quote