Quotes of China Rapid Prototypes from United Kingdom
TEAM Rapid was established in Hong Kong, the factory is located in Zhongshan China, only 2 hours from Hong Kong. We are a company specialize in rapid prototyping, CNC Machining, Rapid Injection Molding, and other
Low Volume Manufacturing
needs. Our 20,000 square feet facilities provide a workplace for over 40 employees that includes 2 independent factories of Rapid Prototyping and Rapid tooling. We help lots of customers to prototype their ideas and lunch the products into the market. Recently, we got some quotes from United Kingdom clients, below is the details:
1. I have attached a pic of my old car with it attached so you know what we want ideally a couple to get orders and then see how many we need for complete run.
2. Aluminium, bare machined finish, 20+ quantity, quantity can be higher depending on price
3. Hi - looking to get a low volume quote for parts in Stainless Steel, brushed surface finish. Quantity Handle - 20 Handle Connector - 80 Many thanks
4. We are looking for 10 to 50 of the part attached made from plastic.
5. I am looking for a quote to have this part 3D printed in black ABS or to have the external shape thermoformed in 3mm HIPS.
6. Material PC or PP or tough polymer of your selection. Mirror finish, solid colour white Annual qty 20,000 required in 5,000 call off or production Possible inclusion of silver ion material to provide anti bacterial protection as container will hold damp item.

7. We require the piece to be in ABS black plastic with a highly polished exterior particularly on the outer surface where the logo is incised into the plastic. The logo will be filled with white paint. Initially 100 pieces.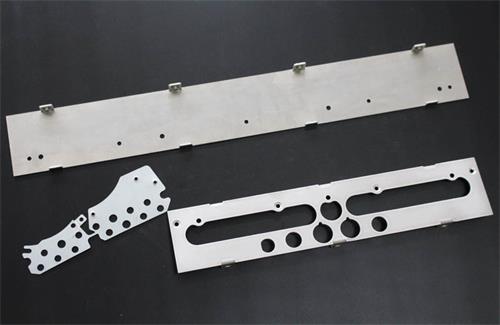 8. Hi Could you please quote for 10off and 20off the attached drawing in Brass. As machined finish and standard tolerances will be fine for this project. Thanks in advance
9. plastic insulation retaining clip upvc plastic, smooth, 20,000 no
10. ABS Black with smooth finish. Quantities: 200 / 300 / 500 / 1000 Thank you.
11. Hi this is a prototype enclosure that I need one producing to see if internals fit if successful I'll be requiring regular batches. Unfortunately I only have an STL file for it. Hope you can work your magic.
12. Hi, I'm looking to prototype a cosmetic brush and need a partner to manufacter the 'core' of my brush. I've atahced the design files for you to see. Can you help with this? PLease can you provide a quote for 1 unit and 10 units? Thank you.
13. The attached parts are initial designs for a set of plastic parts we require to be produced in black ABS or PP. I would like quotations for the following options: 1) 5 of each part by the most cost effective method (machining from solid ABS?) + shipping to the UK on 5 day turnaround 2) 700 of each part (inc. tooling) + shipping to the UK on 10 day turnaround. The tool will need to last _20,000 units total, with future batches being 1,000 to 2,000 units. The designs currently lack draft and fillets - these will be added before ordering. Please email me if you have any questions. Best wishes

14. Looking for 1 part of each attached design. Please note part Nr 1 should be hardboard, not plywood. Please quote the price with delivery to the UK and all customs cleared (DDP).
TEAM Rapid is a professional Rapid Prototype Tooling company. We aim to help you reduce the risks involved in production and improve efficiency to meet your needs from the early prototype R & D to late mass production. We spare no effort to make sure you are satisfied with the quality, price and services! Want to find a best solution for your ongoing project? Contact us at [email protected] today and get a free quote.
Request A Quote