Die Casting
Die casting is one of the main metals casting working process. It is done by forcing molten metal into a die cavity though high pressure. Die casting mold material is harden tool steel. Die casting molds allow manufacturer to build high accurate and repeatable parts. Die casting allow to produce perfect details like textured surfaces without further processing. In our daily life, we can see a lot of products made in Die Casting process like door knob, car parts etc.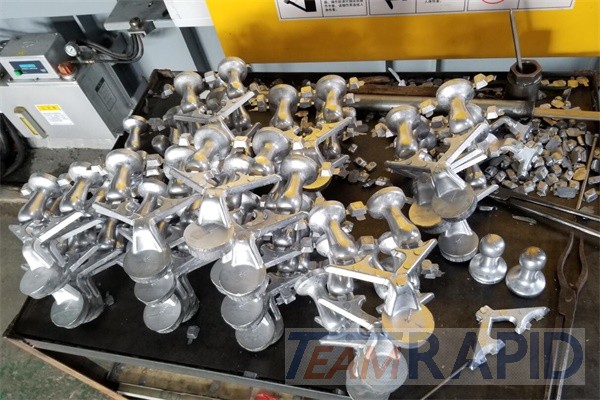 Main Steps of Die Casting Process include die making and assemble, injection, cooling, ejection and trimming.
Type of die casting process includes hot chamber die casting and cold chamber die casing. Hot chamber die casting is the process for alloys like zinc, magnesium or copper. Cold chamber die casting is the process for manufacturing Aluminum Die Casting.
With die casting process, manufacturers are able to produce parts in a various shapes and size. Die casting process does not limit the shape. Die castings are more durable than plastic parts. Although it is a thinner parts, die casting can still maintain its strength for it application. Die casting can withstand temperature. And can work in bad working environments. Die casting is one of the most effective processes to mass manufacture non-ferrous metal parts as no machining processes needed. Die casting parts are made of recycled material. Around 95% of metal is recycled. Sustainable material can be used many times. So it is a manufacturing technique. Die casting is able to produce parts with thinner wall thickness which allows lightweight construction and reduce the secondary operations. Die casting process allows inserts to be cast-in to form certain features like threaded inserts.
Die casting is the very high production cost. Compared to other casting process, casting equipment and the dies and other related components are expensive. So, to make die casting cost-effective, a large production volume is preferred.
TEAM Rapid, as a trusted Die Casting Manufacturer, we provide high quality aluminum die castings as well as zinc die castings with cheap prices. Our die castings are exported to overseas. Our die casting services will meet all your special requirements of products. For more information, contact us at [email protected] .
Request A Quote