Rapid Prototype Machining Services
TEAM rapid provide rapid prototype machining services to customers around the world. We assure superior quality, high precision, and rapid turnaround times. Rapid Prototype Machining Services are used for customized parts in small volume.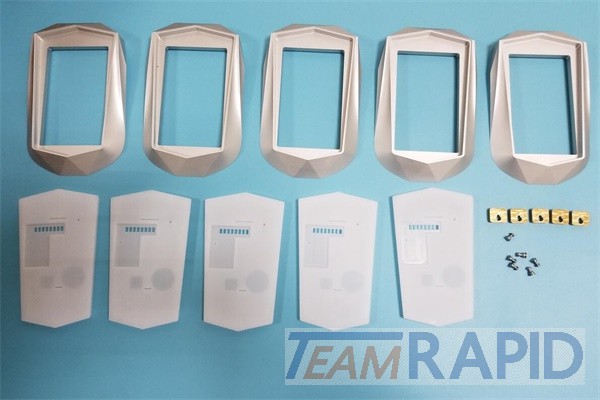 At TEAM rapid, we use quick turn CNC milling process to create custom prototypes and end use products. We use 3-, 4-, and-5 axis machining process to manufacture parts in high tolerances. We use a live tooling and CNC lathe to manufacture radial and axial holes, holes, slots, flats, grooves, etc. We offer comprehensive and right solutions to industries. We offer precision CNC machining services include thread milling, external threading, contour turning, countersinking and counter boring etc in a short period of time. We can provide thousand of parts due to our improving capabilities. We do inspection, packaging for all prototypes machined parts.
Our CNC machines are equipped with spindles and have good tool changer capacities which provide super-speed production. Our experience and advanced technology allow us to produce parts in a very period of time. We understand how to turn complex geometrical design to real part. We are a one-stop shop for all prototype requirements. Our professional experts always offer good suggestion to customers to cut down manufacturing cost to meet their initial budget.
We work with various kinds of material like metal, thermoplastics, elastomers, ABS, acylic, acetal/delrin, aluminum, alloy steels, brass, carbon steel alloys, copper, CPVC, HDPE, LDPE, megnesium, nylon, noryl, polycarbonate, PEEK, PET, ultem, radel, stainless steel, titanium, UHMW, etc. We help customer to choose the right type of material according to their application requirements, specifications and budget. Our professional team has a deep understanding of mechanical properties, and cosmetic appearance of these materials, which enable them to provide appropriate suggestions to clients. We use rapid machining services to build rapid prototypes for application like metal stampings, gear box components, sheet metal fabrication, plastic enclosures for electronic devices.
Our prototype CNC division has the capacity to deliver large quantities of top-quality CNC machined prototypes rapidly. With more than 10 years' experience, our skilled prototype programmers and machinists produce complex CNC milled and CNC turned parts using our state-of-the-art multi-axis machines. Our assembly department can quickly assemble the components to ensure that all the tolerances and fits are accurate.
We can provide quick turnaround prototype parts in a matter of days, taking your prototyping needs from concept to fruition in a wide range of materials.
Request A Quote