What is Insert Molding?
What is insert molding?
Insert molding is a manufacturing process to mold or form plastic parts around other non-plastic parts or inserts. The inserted parts a simple part like a thread or rod. Sometime, we call it metal insert molding or metal screw/brass inserts molding. Insert molding can be used in many industries like automobile, cooking ware, household equipment, instruments, devices, knobs, electrical parts and more.
And in some cases, inserts are complex like a battery or motor. Insert molding can combine metal and plastic or multiple combinations of materials into a single part. The process makes use of engineering plastic to improve wear resistance, tensile strength and reduce weight. The insert molding process can use metallic materials for strength and conductivity.
Insert molding reduce and assembly and labor cost. It reduces the size and weight of parts. Insert molding improve part reliability and delivers part with strength and enhanced design flexibility.
What is insert molding process?
At TEAM Rapid, we use advanced molding machines which are designed for insert molding process. The insert molding process offers tight tolerances to create correct formation of the plastic parts. The slightest misalignment of a millimeter will lead to the failure of insert molding process. Our modern insert molding equipment will meet or even customers' expectation.
Insert molding process is as same as injection molding process. Insert molding uses the same injection molding machines to inject molten raw material into a plastic mold. The molten plastic is solidified. The press opens and the molded part are ejected. The only different is the metal needs to be put into the mold before the mold close. And all injection molding process starts as injection molding.
Except for the metal added into the mold before mold close, insert molding use the same materials as the injection molding process. For example, same mold steel, same thermoplastics, same mod structure, same molding machine. In some cases, vertical injection molding machines are used. Most vertical insert molding machines have a feature which use multiple bottom mold halves to be used with a single cavity half. One bottom half is molding with the cavity half, another bottom is available to be loaded together with the metals and other insert molding parts. As multiple bottom halves make the inserts to be placed in a bottom half when another one is in the molding step. It reduces the cycle time.
What are the benefits of insert molding?
Insert molding is a highly efficient method to assemble the discrete parts using soldering, connector, fasteners or adhesives. Metal inserts and bushings are widely use to reinforce the mechanical properties of the plastic parts or thermoplastic elastomer part. Insert molding offer a number of advantages.
l Insert molding reduces molding part size. As insert molded parts have a metal insert molded together with plastic. The size of parts can be designed smaller than assembly parts. The part is lighter than assembly parts. This can reduce the material cost.
l Insert molding reduces assembly and labor costs. As insert molding is made by a single shot. And two or more parts are combined together into an end part. It reduces the assembly and labor cost. Insert molding only need one operator to put the insert parts into the mold in molding production. One insert or multiple inserts can be molded in a shot.
l Insert molding increase reliability. Insert molding is molded together by plastic molding process. Each part molds in thermoplastic tightly. An insert molded part prevents components lessening, mismatch, misalignment and other issues.
l Insert molding increase design flexibility. With insert molding, designers can save time to think about how to assemble the parts together. Designers do not need to think about how to fasten the metal and plastic tight together. Designers do not need to think about how to save the place for other parts. So, insert molding process offer more flexible design.
l Insert molding save injection molding cost. When inserts are used in molding process, it is more difficult for operator to put the insert into the right place in the mold. Some small metal parts and insert parts are easily to drop on the floor when putting the inserts molding into the mold. So, vertical injection machines are efficient which sabe time and injection molding cost.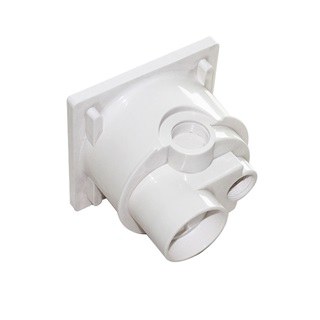 What are insert molding materials?
At TEAM Rapid, our advanced insert molding machines and equipment enable to adapt to constant advancement in industry. Improvement in molding process and polymer technologies allow us to produce new and exciting products and processes. We always offer the most up-to-date and advanced insert molding solutions to customers. The insert molding material which we provide can be used in most thermoplastic. Most moldable thermoplastic are compatible with the insert molding process. The inserts are commonly made of metal, brass, aluminum or stainless steel. Threaded inserts are available in a number of standard sizes.
What is the difference between insert molding and overmolding?
Insert molding and overmolding are the two different processes which create their own type of parts. The overmolding process happens when a material is overmolded over another material. The base layer of material is first molded and the additional layers are molded over the base layer. Overmolding creates a strong finished parts with long life and safety features. Insert molding happen when insert material are injected into the mold cavity to plastic injection molding. The purpose of insert molding is a single part with the insert encapsulated by plastic. Insert molding is a fast and cost-effective assembly process. It reduces the size and weight of parts.
Applications of insert molding
Insert molding is widely used in a wide range of industries which include aerospace, medical, defense, electronics, industrial and consumer markets. Applications of metal and plastic insert molding part includes screws, studs, contacts, clips, spring contacts, pins, surface mount pad and more.
Advantages of using insert molding and traditional injection molding?
An application of insert molding is to include one or more threaded metal inserts in plastic parts when the parts is mated to another part in an assembly. A single plastic part may not have sufficient mechanical properties to withstand the force to combine two parts together. For example, threads in a plastic part will wear over repeated usage that can result is a failure part. Metal insert reinforce the properties of the plastic and make sure reliable fastening over repeated use of the part. Insert molding combines the plastic and metal together which allows designer to reduce the weight and size of the parts.
Today, more than 90% insert molding parts are made by China manufacturer. The main reason is China has low labor cost and high-quality control. And China can do assembly all the finished parts together and ship to customers all around the world. TEAM Rapid is a professional insert molding manufacturer in China. Our strong engineering, mold maker team and quality control production allow us to produce high quality parts at reasonable price. Contact us for more information regarding our insert molding capabilities to create plastic parts and metal inserts, or request a free quote today.
Request A Quote