Quotes of China prototype manufacturing from Argentin
TEAM Rapid is a company specialize in rapid prototyping, CNC Prototyping, Rapid Injection Molding, and other
low volume manufacturing
needs. Our 20,000 square feet facilities provide a workplace for over 40 employees that includes 2 independent factories of Rapid Prototyping and
Rapid Tooling
. We help lots of customers to prototype their ideas and lunch the products into the market. Recently, we got some quotes from Argentin clients, below is the details:
1. Hello, i m from Argentina, i need on full scale in foam, a Lamborghini or Ferrari model and ship to here, wich are the price estimated for all. Thanks
2. We need a testable prototype for a product we are developing. Not a 3D print (we already have one). We have a quote from a local vendor which we find quite expensive. I am atttaching 3 archives. There's an excel with material and colors.
3. Please quote aluminium 6061 or similar. Quote 3, 6, 10 units. Quote fedex shipping to Argentina Thanks!
4. CNC with smooth finish in 6061-T6 or better. I am only requesting a single assembly to see the quality of your work.
5. Hello, I am looking to manufacture a small prototype series. 13 different parts. 78 parts in total. Of which 4 are stainless steel and the rest are aluminum. Tolerances and finish for each part are specified in the attached PDF drawings.
6. Hi, Could I have a quote for 2 quantity of each step file attached. Aluminium, no surface finish, delivery. Thanks
7. Are you able to fabricate RF shields (bent brass .381mm), such as specified in the attached drawing?
8. Hello Please find enclosed 3D and 2D Drawing of requested Die Cast part. We do not have specific request about surface Finishing, except red area (on 2D Drawing and second 3D) corresponding to the machining surfaces. Quantity (different scenarios - including Shipment breakdown) 200 /year (1 Bath delivery for the year) 2000 /year (4 Batches of 250units -_ 1 batch/annual quarter) 20000/year (8 Batches of 2500units -_ 2 batch/annual quarter) Best Regards
9. Hello, We have a working prototype and are looking to take it to the next step. running into some issues with the battery. Would like to set up a call to see if your company would be able to help our startup. We are in the cessation market, looking to build a smart lighter. Please contact me via email. Hope we can chat soon!
10. Please provide quote for qty 30 of attached cooling baffle.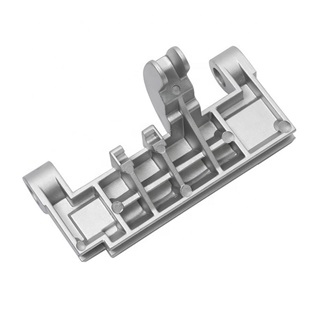 11. I would like to try this spacer in aluminum as well as titanium in batches of 4. 4x titanium, 4x 7075 aluminum.
12. I have developed a product that I need a prototype created for. Can you please let me know a price to produce a prototype of each of the attached parts? The base is CNC made form ABC/PC plastic The feet are 3D printed parts. The flanges are made with vacuum casting. Thanks
13. Good morning, I need 12 of these little knobs made and would like a price from your company please. The attached picture shows one made of a plastic, I need the same thing but something conductive and inexpensive (basic Aluminum?). No surface treatment. Tolerance +/- 0.5mm. Best Regards
14. Dear Sirs, We don?t know if it is better to develop 2 pieces mould or 1 piece mould, so I have sent you both options. We would like to make use of your expertise in order to improve this design: mould and physical properties, if it is posible. For instance, if you detect design errors for injection manufacture process, please let us know. About surface treatment we would like with a fine finish and bright colour, as long as it doesn?t increase its fragility. Estimated quantity may differ according to our customers demand. We are expecting to manufacture around 2000 units for our first batch. Could you please send me prices for both options: 1 piece mould and 2 pieces mould?
TEAM Rapid is a
China rapid prototyping company
, we aim to help you reduce the risks involved in production and improve efficiency to meet your needs from the early prototype R & D to late mass production. We spare no effort to make sure you are satisfied with the quality, price and services! Want to find a best solution for your ongoing project? Contact us at
[email protected]
today and get a free quote.
Request A Quote