We Are A Plastic Parts Manufacturer
Custom plastic parts are affordable no matter you have just a small batch volume or high volume of parts. Using thermoforming which provides affordable tooling cost and enhance the value of plastic part manufacturing is suitable for low volume production run. TEAM Rapid, as a trusted plastic parts manufacturer, we use the advanced production technologies with the modern machines to provide our valued customers with the highest quality plastic molded part. Our professional team of experts are able to fulfill all customers projects including material selection, prototyping creating, tooling building, production parts producing, inspection and shipping which meet and even exceed clients expectation.
Prototyping can produce parts which meet customer's specification without asking requesting large product commitments. It allows quicker turnaround time which is usually half to a year of time. In some project cases, a customer designed parts could be produced in as less as several weeks. Additional time like blueprint revisions, prototypes changes made during product development process. At TEAM Rapid, we are helping you to ensure your parts are perfect. Choose us as your partner, our rich knowledge helps to avoid error and maximized the quality and value of your parts.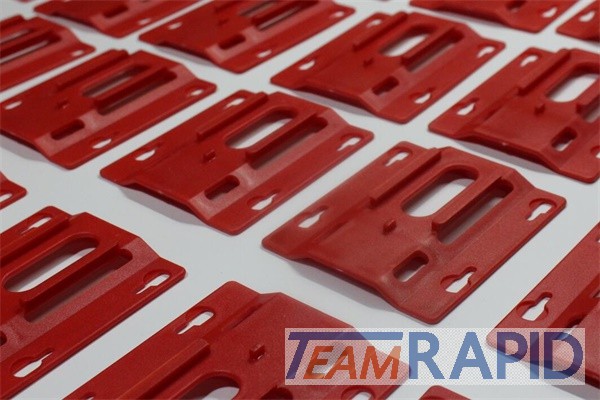 Our plastic molding factory is equipped with advanced automatic material conveying system which helps to reduced material waste and slippage. Our injection molding set up operated with automatic hardened tools synchronized requires little supervision which helps to eliminate human production mistakes. We have rich knowledge of thermoplastic material. Materials we process including PP, ABS, polycarbonate, PC+ABS, nylon 6/6, nylon 6, glass filled nylon 6, PMMA, polyacetal, LDPE LLDOE. Plastic which is also called polymers, it composed of element such as hydrogen, chlorine, oxygen and nitrogen.
Plastic is tough, light weight and recyclable so it is ideal for building plastic molds that need different shape. Its good characteristics help to save the production cost and ensure product quality is maintained during production. ABS, Nylon, PC and PMMA are hydroscopic engineering polymers. They need to be dried to perform their best performance and surface finish. If they are not dried, material will be wasted by sink marks, sliver marks which significantly rise production cost. And they need to be stored under dry air and low moisture condition.
We are a custom Plastic Parts Manufacturer of high precision plastic injection molds, custom molded plastic parts. We have over 10 years experience in plastic part manufacturing, plastic injection mold making for OEM/ODM manufacturing to the global market. If you need help on your project, contact us at [email protected] for free quotes.
Request A Quote