Differences between Soft and Hard Tooling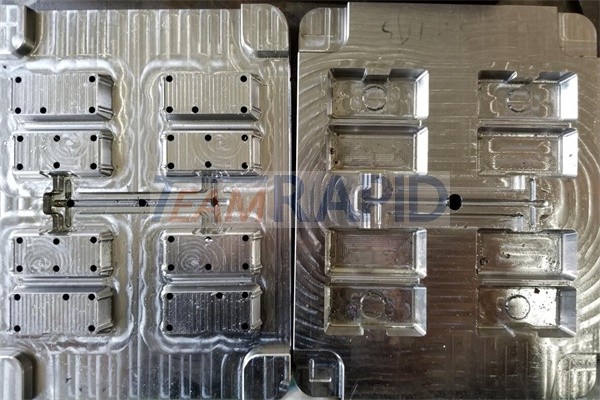 Urethane mold and injection molding are the most widely used molding process. These two processes request different types of tooling. Urethane molding produced parts from Soft Tooling (silicone) and injection molding produce parts from hard tooling (metal or aluminum). This article is about the difference between soft and hard tooling method which could help your project on time, within budget and give you proper function parts.
When coming to a low volume of quantity from 1 to 100 parts, soft mold and the urethane process are the ideal method because the tooling and part price is favorable for small quantities. Soft molds are also used for prototypes, bridge and production of small volume from 1 to 100 pieces. Soft molds are injected with material which is manually gravity fed through a tube which can take between 1-24 hours to cure. The molds are opened and applied finishing manually. Soft tooling injection molding has many advantages includes cost-effectiveness, short lead times and fast order turnarounds and a variety of material options. And a 3D-printed master pattern, minute details and complex geometries are quicker to implement into soft tooling compared to hard mold.
Hard Tooling are used for high volume injection molding process. Depending on tooling material and shape, steel or aluminum tools cost are thousands or ten of thousand of US dollar. Compared to soft mold, there is less labor as the machine injects mold into the mold. The hard mold yields parts faster than soft tools do. Hard tools help to facilitate high-volume production into the millions. Parts with simple designs may be used right off of the production. And a simple hard mold can have multiple cavities. Also, hard tooling molds can withstand higher temperatures, so they are suitable for materials which soft mold can't handle.
TEAM Rapid is a reliable manufacturer that provides high-quality soft and Rapid Tooling services. Our turnaround time for prototyping is sometimes as little as a few hours which could give our customers plenty of time to evaluate design, prepare for production. We also offer a variety of value-added services, such as CNC machining, pressure die casting, and 3D printing.
For more information about our prototyping and injection molding capabilities, please contact us or request a quote.