Details of

Plastic Injection Molding Process
Plastic injection molding is a manufacturing process that plastic material being heated and plasticized in the barrel, and the molten plastic flow is injected into the mold cavity through the sprue and runner system, and the desired shape comes out after being cooled.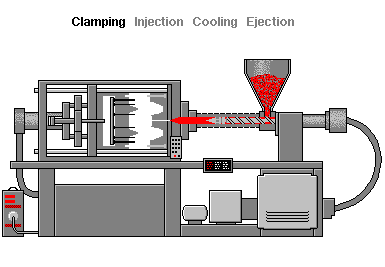 Injection Molding Process Flow includes feeding material, melting, filling, holding pressure, cooling down, mold opening, ejecting, mold closed. In the injection molding process, plastic pellets are delivered in to the high temperature injection barrel through the hopper, plastic pellets are heated, melted into a molten flow, and then is injected into a closed mold which is at low temperature through the injection nozzle under high speed and pressure. Under the high pressure, the molten plastic fills the whole cavity. And the plunger returns after a period of holding and it flow back from the cavity into the runner system. Desired product is released from the mold cavity when the mold is opened after cooling.
Plastic Injection Molding Process is fully automated and high efficient. The process allows to producing part with complex design and details. Plastic injection molding process lends itself well to mass production. It will take less than a minute and even a few seconds to finish an injection molding cycle. Every cycle can produce multiple parts. Output of Injection Molding Process is huge. CNC machining cuts plastic from a big block of material creates many materials. Plastic injection molding produces little material waste. Material waste is around or less than 20% for plastic injection molding process. With plastic injection molding process, manufacturers able to produce complex parts, and even mold customers brand onto the parts in the manufacturing process.
When proceeding with customized injection molding projects, it is important to choose the right plastic materials. To make the material decision, you have to consider part application, function, durability, color and flexibility. Material selection will directly influence parts' performance and features as different plastic molding material behave differently. At TEAM Rapid, we offer a wide range of plastic materials. Customized special resin materials are also welcome to meet personalized needs. Materials we often used include ABS, A6, PA66, PP, PC, PC/ABS, PS, POM, PPS and more.
TEAM Rapid is one of the most well-known plastic injection molding manufacturers in China. We have experienced with various plastic injection molded products for industrial. Our advanced equipment ensures our production maintains high quality at the reasonable price. We have strong business relationships with customers around the world. If you need help on your injection molding projects, contact us at [email protected] today.
Request A Quote