What is CNC Machining and Why CNC Prototype China
There are diversities of machining methods for manufacturing your custom parts. Among all these methods, China rapid CNC machining should be the best choice to make your products starts at low volume.

What is CNC Machining
Computerized Numerical Control (CNC) Machining is a manufacturing process which is widely used in machining nowadays. With the help of Computer Aided Machining (CAM) and Computer Aided Design (CAD) in the late 1970s, the new CNC was able to pre-programmed control the movement of factory tools and machinery to process high accuracy and quickly machining, which improves the production efficiency quite a lot!
How does CNC Machining works?
CNC machining begins with a computer. Designer design a part by CAD software. This digital part is converted into a format which recognized by a CNC machine. Instructions are sent to the CNC machine "G-Code" which machine begins cutting. CNC machines have a work table and work holding device to hold the block of materials in place. Depending on the type of machine, the work table may or may not move. When CNC machining begins, the cutting tools contact with the work piece and cut away layers of material. The workplace is moved and rotated rapidly according to the G-Code instruction so the cutter are made in the right place unit the part is completed.
Types of CNC Machines
CNC machines are defined by the number of axes. The more axes, the greater number of ways that they can move their tools and work piece. The more axes, the greater cutting flexibility and the ability and more complex parts can be produced in a shorter time.
CNC Milling
CNC milling is a subtractive process. It uses 3-, 4-, & 5-axis milling machines with cutting tools to remove materials from plastic or metal blocks to create parts.
CNC Turning
CNC turning is more efficient. CNC turning produce parts in round shape from metal and plastic bars or tubes like shafts, worms. Combination with live tooling and milled geometries can be finished at the same time.
Applications of CNC Machining China
CNC machining is widely used as a method to create CNC prototyping with fast turnaround times. CNC prototyping allows designers to iterate design drawing quickly without spending tooling costs or wasting times. CNC machining is the best way to build function prototypes and concept models to test the design. Compared to other rapid prototyping methods, rapid CNC machining allows create prototypes with high tolerances in production materials. CNC Prototyping China is a great option to bring design life in other prototyping methods.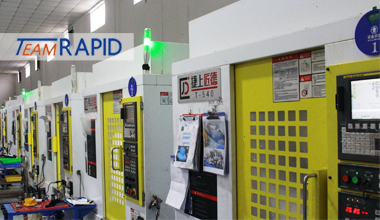 Benefits of Rapid CNC Machining
1.Accurate and repeatable.
3.Volume is optional in 1 to 10,000 +.
2.Diverse materials can be used.
4.Economical and short lead-time
5.Easier to process a complex surface and small parts.
Contact us for your next CNC Machining Project now
Why

CNC Prototyping China
In the workflow of product development, designers need rapid prototypes to verify their designs, also some amounts of low-volume manufacturing parts to test the market. These bring more open market and opportunities to manufacturers, especially in china, the industry of Rapid Prototyping is developing quite quickly these years.
Low Cost
The reason for choosing china rapid prototyping and CNC machining China company is they can provide lower manufacturing cost due to the competitive labor cost.
High Quality
The quality of Rapid CNC Machining is quite stable. At TEAM Rapid, we invest advanced CNC machines and apply with strict quality control system, we can guarantee workflow and every step is in-process.
Fast Delivery
Benefit from the advanced CNC machines, CNC prototype & low-volume manufacturing parts ranges from 1 to 200 can be shipped as little as 2 days from TEAM Rapid.
Why choose TEAM Rapid as China CNC machining Supplier?
1, Rich experience
Here at TEAM Rapid, our professional engineers have rich and deep experience. We have produced complex and precise parts in different industries with problems.
2, Modern and advanced and modern equipment
We have advanced and modern equipment in house. Which mean we can produce and test parts in houses. All our parts can be produced, tested and inspected with our advanced equipment which include HAAS 3-, 4-, and 5-axis CNC milling, Hexagon CMM, and Olympus XRF analyzer
3, Fast turnaround
We can offer instant free quote in 24 hours. Our parts can be shipped in 7 days and even less. We offer 99% on-time delivery and quality rate.
CNC machining materials and surface finishes
If you want to produce your parts with CNC machining, it is important to know what materials you are going to use. TEAM Rapid, we are not only is CNC machining ship, we also provide different types of surface finishes to CNC prototyping parts and production parts. If you need your customized CNC machined parts with high quality surface finishes, contact us today.
CNC machining materials
Here at TEAM Rapid, we offer a wide range of CAC machining materials.
Plastic: ABS, PC, PP, PS, POM. PMMA. Teflon, DHPE, HDPE, PPS, PEEK and more.
Metal: Aluminum, Steel, Stainless Steel, Magnesium, Titanium, Zinc, Brass, Bronze, Copper. There are the common materials used to produce CNC prototype and production. We can also work with any other machinable plastic and metal material.
CNC machining surface finishes
1, As machined - As machines is a popular and cost efficient surface finish for inner functional parts. Fine and even tool path is suitable for aspect parts.
2, Bead blasted - It is matte finish. Bead blasted surface finish allows to create different roughness to the part surface.
3, Anodized - Anodized surface finish creates a corrosion resistant surface finish. Here at TEAM Rapid, we can anodize parts to get different colors which include clear, red, black, and blue. This is associated with aluminum with low silicone elements. Compared to type II, type III is thicker and offer a wear resistant and corrosion resistant layers.
4, Powder coat - Powder coat is a process that postered paint is sprayed onto a parts and then baked in an oven. Powder coat creates a strong and corrosion and wear resistant layer. Power coating can be in a wide range of color to offer desired aesthetic.
CNC machining tolerances
Here at TEAM Rapid, our CNC machines allow us to offer CNC machined parts with standard tolerances at the reasonable cost. When working with TEAM Rapid, we guarantee all CNC machining products are produced to meet customers specifications.
Contact TEAM Rapid for CNC

Machining China Services
TEAM Rapid offers a variety of CNC machining services which include milling, turning, EDM, wire EDM, surface grinding and more. Here at TEAM Rapid, we combine our 3-, 4- and 5-axis CNC machining centers with our professional team and advanced capabilities to produce CNC machining parts in metal and plastic. No matter you need CNC prototyping China or mass production, our high quality CNC machining services is your best choices. Contact us today if you are looking for CNC prototyping China.
Request A Quote