-
Powder Coating, Anodizing, Electrophoresis, How to Choose?
Recently, we received couples of enquires about post finish selection. Some customers want to make custom metal parts look pretty. They are entangled in how to select the suitable finish at low cost but high quality, maybe anodizing service? There are various methods you can use to apply coating to various aluminum alloys. These methods include anodization, powder coating, and electrophoresis. Each method has its own uses in various circumstances. Sometimes, you will need to use a certain coating method, while other times, you might choose any coating method that will suit your preferences the most. Here, we want to share our experiences and opinions about Powder Coating, Anodizing, Electrophoresis finishes.
1. Powder Coating
Powder coating is a type of coating that is applied as a free-flowing, dry powder. The main difference between a conventional liquid paint and a powder coating is that the powder coating does not require a solvent to keep the binder and filler parts in a liquid suspension form. The coating is typically applied electrostatically and is then cured under heat to allow it to flow and form a "skin". The powder may be a thermoplastic or a thermoset polymer. It is usually used to create a hard finish that is tougher than conventional paint. Powder coating is mainly used for coating of metals.
Powder coating is commonly used to coat aluminum alloy. With this coating process, you can put an additional layer containing thick aluminum powder on the aluminum's surface. By doing that, you can make the aluminum material more durable and more resistant to corrosion. This process is quite simple to do, but it can get complicated if you encounter some problems with the resulting powder-coated aluminum material.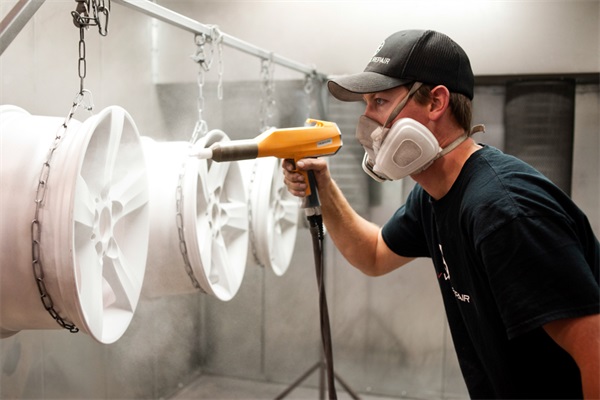 Pros
● Cost-effectiveness in the long run.
The powder coating process might have a higher initial cost, but it is quite cost-effective in the long run. After purchasing the equipment, it won't be as expensive to run the regular powder coating process.
● Better durability.
With powder coating, you will turn the aluminum material into a more durable one. In this process, you will need to apply quite a lot of aluminum powder, which will lead to providing better durability for the base aluminum alloy.
● No waste material.
With the powder coating process, you don't need to worry about waste materials from this process. There's little to no waste materials produced from the powder coating process. All the aluminum powders will adhere to the surface area of the aluminum material, leaving no waste material behind.
● Better scratch and corrosion resistance.
The thick powder coating material for the aluminum alloy will provide the aluminum material with a better scratch and corrosion resistance. So, this is the coating process that will provide you with the best solution to reduce or eliminate scratching and corrosion on the aluminum alloys.
● Healthy for the environment.
Powder coating is an aluminum processing method that doesn't produce much waste materials, which means it is healthy for the environment. Also, this process doesn't cause any pollution in the air, as the resulting VOCs (Volatile Organic Compound and Smog) stay in the powder coating booth equipment.
Cons
● Unable to apply thin coating.
With powder coating, you need to apply thick coating for the aluminum material. You can't apply thin coating on it, as the aluminum material won't be able to absorb enough powder on the aluminum surface. Thus, a large amount of aluminum powder is necessary for the powder coating application.
● Difficult to change color.
You can't change the coating color with ease. Yes, it is possible to change the coating color, but you will need to remove the previous powder-coated surface first before you can apply a new coating color with the powder coating process. This process can be daunting and complicated to do.
● Uneven finish.
With powder coating, sometimes you will need to deal with uneven finishing, which means the coloring of the surface won't spread to all the surface areas of the aluminum material. Also, you can't just add new powders to the uneven areas to fix this problem.
● Higher start-up costs.
To perform the powder coating process, you will need to have certain powder coating equipment ready. The costs of purchasing the equipment will be quite expensive, as you will need to buy the powder coating oven, powder coating booth, and spray gun to perform the powder coating process, along with the aluminum materials and powder coating materials you need to prepare.
2. Anodizing
Anodize (also spelled anodizing, particularly in the UK and Australia) is an electrolytic passivation process used to increase the thickness of the natural oxide layer on the surface of metal parts. Aluminum alloys are anodized to increase corrosion resistance and to allow dyeing (coloring), improved lubrication, or improved adhesion. Anodizing produces a very regular and uniform coating. Some aluminum aircraft parts, architectural materials, and consumer products are anodized.
Anodized aluminum is the type of aluminum material that has undergone the anodization process, which is an electrochemical process that transforms the metal surface of the aluminum material with the anodic oxide surface finish. Aluminum anodizing can be found on smart phone, multi-tools, flashlights, anodized aluminum cookware, cameras, sporting goods, window frames, in electrolytic capacitors, and on many other products both for corrosion resistance and the ability to retain dye. The anodic oxide surface has a more metallic appearance, and it is also useful as a decorative property for the anodized metal. Also, with this process, you can increase the thickness of the aluminum surface, improving its overall durability.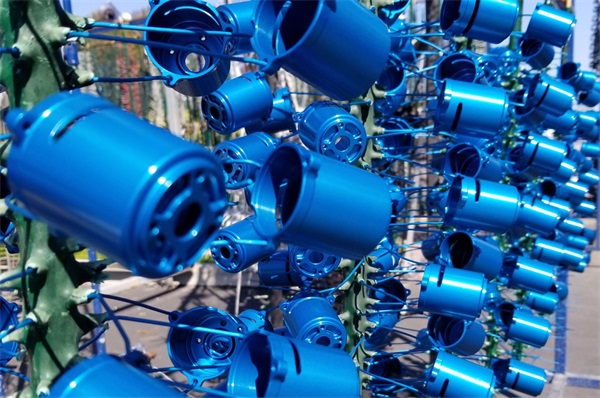 Pros
● Stronger aluminum build.
The aluminum anodizing process provides the base aluminum alloy with a stronger build, meaning that you can improve the overall durability of the aluminum metal such as hard anodized cookware after this process. Also, you will give the base aluminum metal with more appealing metallic anodizing colors.
● More resistance to wear and corrosion.
You can provide the aluminum alloy with more resistance from corrosion and regular wear by adding a new metallic layer via the anodized aluminum process. It will be very useful for various applications, such as construction and home appliances anodized cookware.
● Better surface finishes.
Anodization can also create better surface finishes for the aluminum, and you can apply various colors to the aluminum surface later. The smoother surface of the aluminum, along with its metallic appearance, makes the anodized aluminum a much better option compared to the regular one.
● Prevent peeling or flaking on the aluminum surface.
Anodizing aluminum is a process that alters the material's surface. So, the resulting surface finish will become integrated with the base aluminum metal itself, anodized meaning that you don't need to worry about peeling or flaking on the aluminum surface.
● Easier maintenance.
With the smoother metallic surface, you can maintain the hard anodized aluminum material even easier than regular aluminum. For instance, to keep its metallic color in its best appearance, you can just clean the aluminum surface with detergent and water.
Cons
● Lower thermal conductivity.
The anodization process will make the aluminum material lessen its thermal conductivity. Anodized aluminum is excellent as an insulator, but it is not good for you to use it as a material to transfer heat. Also, cracking might happen especially in black anodized aluminum when exposed to high temperatures.
● Inconsistent results.
The anodization especially the hard-anodized process will not have a consistent result between batches. So, you can only maintain consistency in the result of each batch. You will have discrepancies in the anodize aluminum results for the different batches you are working on.
● Higher costs of production.
Anodizing process requires you to use higher-grade aluminum alloys especially for the clear anodized aluminum, which are quite expensive. The reason is that only aluminum alloys with higher grades can withstand the anodization process. Thus, it makes the overall production costs more expensive when compared to other processes.
3. Electrophoresis
Electrophoresis is the motion of dispersed particles relative to a fluid under the influence of a spatially uniform electric field. The technique applies a negative charge, so proteins move towards a positive charge. It is ultimately caused by the presence of a charged interface between the particle surface and the surrounding fluid. Electrophoresis can be aluminum coating process, which requires you to submerge the aluminum material, along with the coating material, into the liquid solution charged with electric currents. The electrophoresis process will go on for a few minutes, and during this process, the coating material will adhere to the surface of the aluminum material, resulting in metallic color finish.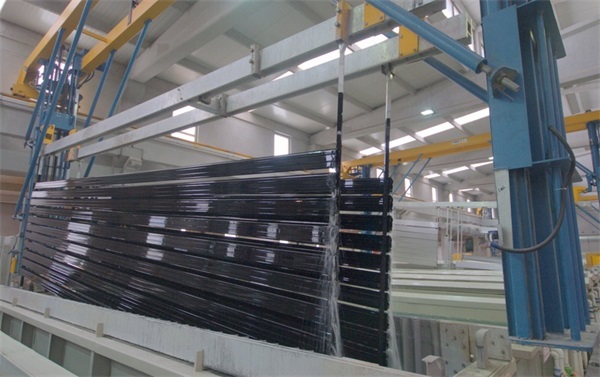 Pros
● Higher impact resistance.
When compared to anodization, electrophoresis can provide the aluminum material with a higher impact resistance. The reason is that it applies the coating process with the higher hardness level for the aluminum alloy.
● Quick process.
With electrophoresis, you just need to immerse the aluminum alloy and the coating material in the liquid solution and charge it with electric currents to start the process. It will only take a few minutes before you can see the resulting coated aluminum alloy.
● Better wear and chemical resistance.
With better durability and higher impact resistance produced by electrophoresis, you can have better wear and chemical resistance for the aluminum alloy. When compared to anodization, electrophoresis can provide you with a much better chemical and wear resistance.
● High-adhesive surface coating.
The surface coating produced by the electrophoresis process will be high adhesive, which means a stronger surface coating for the aluminum alloy. The high-adhesive surface coating makes it very durable and difficult to fall off.
● Better corrosion resistance.
With a better coating, it means a better corrosion resistance for the surface finish. Aluminum alloys that have undergone electrophoresis can have much more resistance to corrosion when compared to anodized aluminum.
Cons
● Lower heat conductivity.
The resulting coated aluminum from the electrophoresis process will have lower heat conductivity, meaning that it is not suitable to use in applications that require high heat conductivity.
● Lower electrical conductivity.
The resulting coated aluminum will also have lower electrical conductivity, making it not suitable to use for applications that require high electrical conductivity.
● Requires higher grade aluminum alloys.
You can only use higher grade aluminum alloys for the electrophoresis process, which will allow you to produce thicker and more durable coating for them.
● Fewer color options.
There are only a few colors available for you to choose when using the electrophoresis process.
● Higher costs.
You will need to use a higher grade of aluminum alloys to perform this process, which can get very expensive for each production cycle.
Conclusion
Between anodized aluminum, powder coating, and electrophoresis, each has its own benefits and disadvantages. You can use the anodizing service if you want the best result in the rapid manufacturing for small volume production. This is the method that can provide you with coated aluminum alloys that have better durability, corrosion resistance, and high-impact resistance.
However, the two other methods can also provide you with various other benefits, such as cost effectiveness for large volume production. You can use these more affordable methods if your project doesn't require you to use the best aluminum coating.
Contact TEAM Rapid
TEAM Rapid offers customize metal part fabrication and post finishing (anodizing service). We can make your parts at lower cost and better quality by our professional rapid prototyping service and die casting services. Furthermore, we provide the post finish service to meet your product needs. Are you working on your next rapid prototyping and pressure die casting project? Contact our team at [email protected] and get a free quote today.