CNC Machined Components Manufacturer
Are you looking forCNC Machined Components Manufacturer that offers China CNC Machining service? TEAM Rapid is your best choice. We have a team of flexible and skilled experts that provide CNC machining parts with perfect quality at the most competitive price. If you have machining parts need to be manufactured, don't hesitate to contact us to ask for our best price. Our quotations are issued within a days and production starts quickly.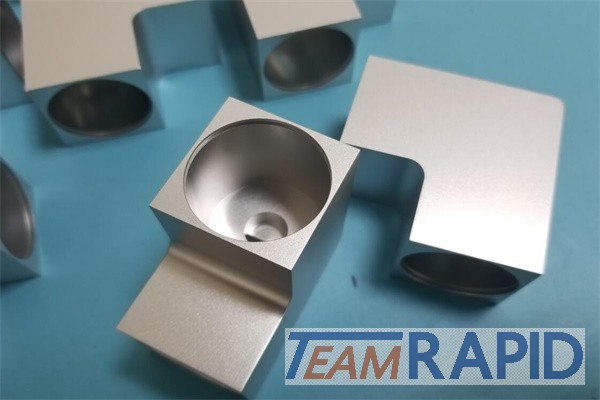 CNC milling is one of the CNC machining services that TEAM Rapid offers. CNC milling looks similar to drilling but the manufacturing processes are different. CNC milling is a machining process that uses computerized controls and rotating multi-point cutting tools to remove material from the work piece create the bespoke parts. CNC milling is suitable for metal, plastic, glass, wood. Types of milling tooling includes mill axially, laterally and both. At TEAM Rapid, we use the most advanced machinery which includes 3 and 5-axis milling equipment.
CNC drilling is a cutting process that the work piece does not move, cutter is moving, adjusting the cutter center with the hole center and make the cutter rotate. CNC drilling creates round holes for machines screws and bolts. CNC drilling is suitable for metal, hard plastic, wood and rigid materials.
CNC turning is a CNC machining process which holds cylindrical work piece in a chuck and rotated and the cutting tool is fed to the removing material to achieve the needed CNC turned parts. It does not require additional processing as it offers perfect surface finish sometimes.
We are pride to offer the best CNC machining services. The fields we have ever served include electronic, enclosures, tanks, electronic component racks, machine parts etc. We produce a broad range of custom made metal parts. Materials we use commonly include aluminum, stainless steel, steel, brass, plastic, ABS, POM, PA66 and more. If customers request other materials, we are happy to source.
AtTEAM Rapid, we specialized in small, medium and large size parts manufacturing. Our CNC machining capability enables us to produce low or large volume CNC machining parts. Our skilled team of expert will truly take your projects from concept to production. Our modern machinery has produced millions of parts to a wide range of industries all around the world. For more information, contact us at [email protected] today.
Request A Quote