Benefits of Aluminum High Pressure Die Casting
TEAM Rapid specialized in high pressure die casting. We are able to develop different options and solutions to overcome those limitations associated with high pressure die casting.
High pressure die casting is a common process to create structural components. It is a process that molten metal is forced into a sealed mold cavity by high speed and high pressure. It is held in place by a powerful compressive power until the metal is solidified. In solidification, the die is released and opened and the solid metal comes out. In removal, the mould cavity is resealed to begin next cycle.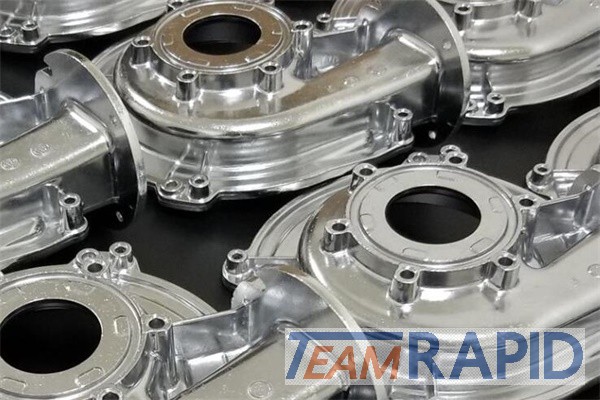 Aluminum High Pressure Die Casting is a manufacturing process that creates accurate, defined, smooth and textured-surfaced aluminum parts. It is corrosion resistant, high conductive and have good stiffness and strength-to-weight ratio. Aluminum die casting alloy has lightweight property and high dimensional stability for complex parts with thin walls. As aluminum is good corrosion resistant, mechanical and electrical conductive, it is a good alloy for die casting. Aluminum die casting process requires cold chamber machines. Cold chamber machines require higher pressure than hot chamber die casting. Aluminum die casing pasts have more surface finishing options, it can withstand higher temperatures than other materials. Aluminum die casting process is based on rapid production which can produce high volume die casting parts very quickly and cost-effectively. As aluminum die casting has many advantages including lightweight, durable, corrosion resistant, conductivity, recyclable and reusable, it is becoming an ideal options for different industries around the world.
Cold chamber High Pressure Die Casting technology is attractive in a wide range of production of aluminum and magnesium automotive casting like engine blocks, oil sumps, engine mounts, cross-car beam and more. It is widely used to produce parts in applications that range from simplest to the most demanding components like aerospace engine parts.
TEAM Rapid has been specialized in producing high level high pressure die casting aluminum parts. Our high pressure process allows quick, precise, fast and cost effective production of aluminum die casting. Our tooling and set-up operations are optimized to customers who have low volume quantities. So, we provide high pressure die casting service whether you have a batch of 10 or 10,000. Contact us at [email protected] for more information.
Request A Quote