-
Plastic Overmolding
Plastic overmolding is one of the injection molding process. This process is a one material being molded onto another material through heat and pressure. By using overmolding, substrate parts production is a standard injection molding process which involves an aluminum mold without heating or cooling lines running. When all substrate parts are molded, overmold tooling is assembled to the press. Manufacturers hand place the substrate parts into mold where every part is overmolded with thermoplastic or liquid silicone rubber material.
Plastic overmolding can help to save the assembly time, for example, manufacturers can overmold the metal tool with a plastic hand grip instead of joining them together manually or with automation. Overmolding design not only improve the overall aesthetic design and functionality of a product, but also allow many color options. Overmolding also provides a soft grip surface around a part of the separate material and break up color options. It helps to add flexible area to the rigid parts.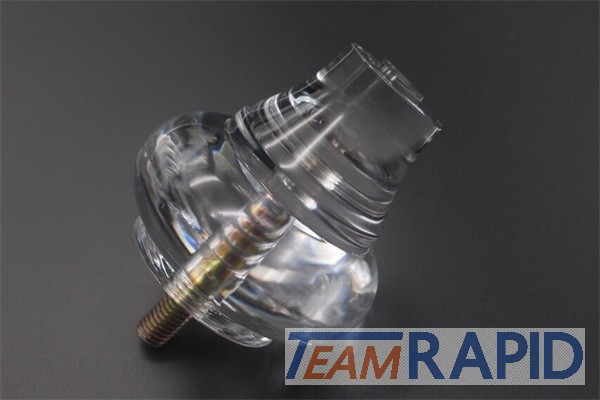 There are two Plastic Overmolding process type: insert molding and Multiple Material Plastic Overmolding. Insert plastic overmolding is the most widely used. Compared to multi-shot processing , insert molding tooling cost is lower. Multiple material plastic overmolding needs a unique injection molding machine. This machine allow more than one materials shot into the same mold because of the tow or more barrels. By using multiple material plastic overmolding, manufacturers can save time and labor cost and get high quality parts.
Overmolding offer many advantages. It can ensure plastic part alignment is correct, avoid loosening. Vibration and shock resistance ability is improved by the plastic resin. As overmolding is a process to mold two materials as one assembly, it reduces the secondary operation and assembly. It also eliminates bonding step in the manufacturing process which significantly save time and cost. TEAM Rapid, has over 10 years custom overmolding experiences. We are able to reduce the labor and assembly costs to add quality to the finished parts. Our plastic overmolding is widely used in a wide range of applications which include automotive, appliance, controls, medical devices, electronic device etc.
Contact us at [email protected] for more information regarding your plastic overmolding projects, or request a quote today.