Short Run Injection Molding
Short run injection molding (also called small batch injection molding) uses convectional machines and molding processes to manufacture the simple plastic parts. Short run injection molding solves a problem that many businesses have when looking for injection molding services. Most injection molding manufacturers maintain high minimum orders which can be cost-prohibitive. Short run injection molding process is fast and cheap and the molds produced are of high-grade aluminum or low grade steels. This process is simple and focuses on simple parts that are easy to build.
Plastic parts are produced by injecting a heated, liquid base material into a mold, clamping the mold together until the material cools, and ejecting the finished part. There are some differences in short run injection molding compared to standard production injection mold. For example, lower minimum quantities, with the help of short run injection molding, we can produce orders as small as lower 100 parts, no order is too small. Short run molding is faster turnaround and can reduce the cost. Short Run Injection Molding offers different mold options.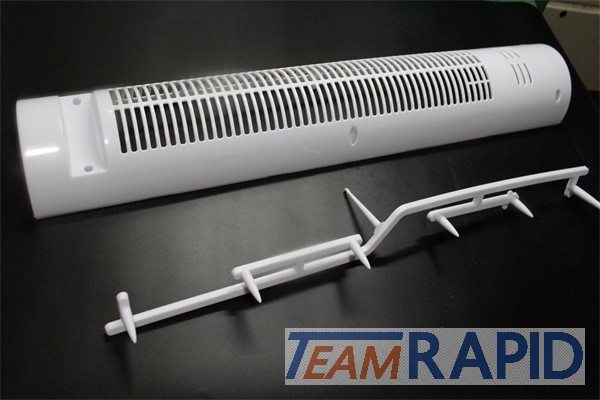 Short run injection molding is attractive in a wide range of industries includes medical, automotive and aerospace and so on. It is an ideal option for highly specialized parts that may be required in smaller quantities. It is very useful when accuracy and part performance are important.
At TEAM Rapid, our short run injection molding offer many advantages. We do not require any minimum order which offer flexibility in prototyping, iterating, testing, and controlling your inventory and production quantities. Our short run injection molding help you to save cost including tool costs production costs and faster time to market. Our short run tooling is durable and long-lasting, with a 10,000-shot guarantee. Our short run plastic injection molding is your best choice if you need a production-quality prototype to guarantee performance and functionality. With shorter production time, we are able to complete projects in as little as two days. We provide faster mold manufacturing and capacity. At TEAM Rapid, we specialize in short run manufacturing. We help you with material selection, tooling, production plans and schedules, prototyping, short run injection molding and more.
We are ready to offer you all of the benefits described above. We will help to solve the problems in short run Injection Molding and have helped many customers move their projects forward quickly, efficiently. For more information about how we can help through your design, development and production processes, contact us at [email protected] today.
Request A Quote