Quotes of Die Casting Services from Iceland
TEAM Rapid is a company specialize in Aluminum Die Casting, Zinc
Die Casting
, Rapid Injection Molding, and other low volume manufacturing needs. Our 20,000 square feet facilities provide a workplace for over 40 employees that includes 2 independent factories of Rapid Prototyping and
Rapid Tooling
. We help lots of customers to prototype their ideas and lunch the products into the market. Recently, we got some quotes from
Iceland
clients, below is the details:
1. Dear sir or madam. My enquiry is wether you offer
low volume manufacturing
of resin memorabilia statue. See further attached casting spec. If this is within your scope I would like to get an indication of price and shipping. Either a 3d mesh file of statue can be provided for molding purposes.
2. Dear Team Rapid team, I`m currently working in a proof of concept project. Could you please provide a quote of 01x unit of the attached file? Material: 6000 Series aluminum
3. Dear Sir/Madam, I am looking for someone to create the attached parts for me in Aluminium. I wonder if it's something you could do and at what price? The zip contains 2x folders. Step files I'd like done in Aluminium Anodized red and a single file black powder coated. Each file name has a number prefix for the number of that part I required. Kindest regards
4. Essentially the product is a bottle opener. I am really struggling with the material needed to make this an effective product. I only have a 3d printed prototype but I need some stronger material to have a functioning prototype.
5. Hi We're looking for chocolate molds (proabbly vacuum formed) to make what will resemble a gold bar. Initially we'd like six of these, but are happy to order more to make it worthwhile. It would be incredibly useful for us to have two of them in about a week if there's any possibility?
6. Hi there, I have an idea for a 4x4 cleaning product I would like to get turned into a prototype for investment. can you please assist?
7. I would like to get an estimate on how much it would cost to
Die Cast
5 of these parts out of Aluminum.
8. require made in ALUMINIUM and the blade from stainless steel
9. We need 2 pieces in copper smooth finish
10. I would like to get couple of options on surface finish: 1. Just machining 2. Sand blasting 3. Sand blasting + Anodizing ( in Silver, and in Red) Please let me know how much it would cost, and then I will decide how many pieces. It would be great If I could get photos of those 3 finishing options, then I can decide right away which finish to go with. I am thinking about ordering 10-20 pieces like this. Best regards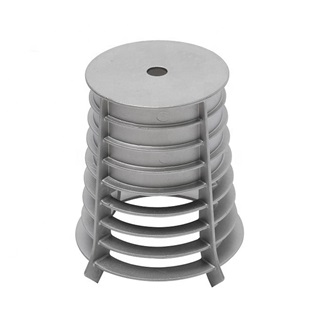 11. SLS, Nylon 12 preferred. If there's a cheaper way please let me know. The only constraint is that the material needs to be waterproof, and I need to be able to melt threaded insert hardware into it.
12. Attached is a screenshot of our design. We want to make an aglet that functions like a zip tie, which fixes frayed laces on hockey skates.
13. ABS-like, black, no finish. Please quote separately for 100 and 200.
14. Goodmorning, I would like to know if you can quote me for a production. I need to know which kind of file you need for your machines (PDF, DWG, SKB, TIFF,JPG) or.....I don't know which kind of material is more proper. Please give me your advice. The box average dimension shoul be around 35x40x60 cm. Thank you
15. Hi, I would like to get a quote from you regarding machining the parts of my jig project. I am attaching a folder containing both 3D model and 2D drawings. The project includes 5 parts/machined aluminum plates. The 3D model is not completely up-to-date dimensions-wise. For now, this gives an idea. Please let me know if you have any questions. Thanks. Kind regards
TEAM Rapid is
Aluminum Die Casting Manufacturer
in China, we aim to help you reduce the risks involved in production and improve efficiency to meet your needs from the early prototype R & D to late mass production. We spare no effort to make sure you are satisfied with the quality, price and services! Want to find a best solution for your ongoing project? Contact us at
[email protected]
today and get a free quote.
Request A Quote