Aluminum CNC Machining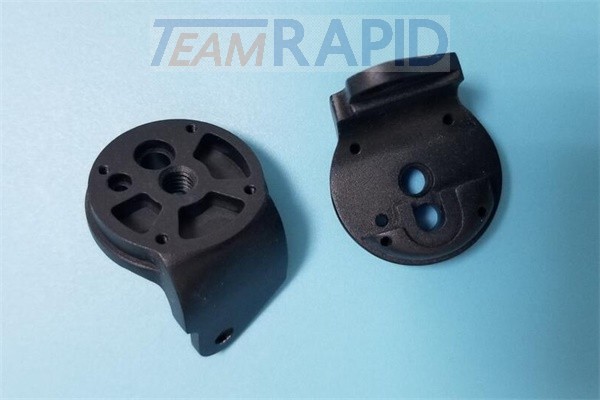 Precision machined aluminum parts are becoming more and more popular in industries. Aluminum is widely used in because of its good mechanical properties including softness, durability, corrosion resistance etc. TEAM Rapid is one of the reliable manufacturers that provide Aluminum CNC Machining Service in China. Our in-depth understanding of aluminum CNC machining could help your business strategy.
At TEAM Rapid, we offer aluminum CNC machining service. Our facilities have CNC lathes, turning centers with live tools, horizontal and vertical band saws, etc which could help to produce precision machined CNC parts. We have 3, 2, 3+2, and 5 machinery axis that help us to offer CNC milling and turning services. And we also offer knurling, milling, drilling. We produce high precision machine parts using 4 axis wire EDM.
Aluminum grades we work with including aluminum 2024, 6063, 5052, 6061 and 7075. Let's see the following information for these material grades.
Aluminum 2024 is widely used in aerospace and military products because it is high fatigue resistant, high strength, and susceptible, not easy weld and poor corrosion resistant.
Aluminum 6063 is weld, heat treatable, and durable. It is usually used in aluminum extrusion products. And commonly used for complicated shapes with smooth surface like door frames, window frame, roofs and so on.
Aluminum 5052 is non-heat treatable. It offers good resistance to marine, saltwater, and industrial environments which is used for building machine parts.
Aluminum 6061 is one of the most popular aluminum grades as it is mechanical and welded. It has typical properties like good toughness, medium to high strength, excellent corrosion resistance in harsh environments, easy anodizing, and good workability. It is widely used for 5 axis CNC machining.
Aluminum 7075 is also a popular grade. Aluminum 7075 is well-known for its excellent fatigue strength. But it is not easy weld. It is commonly used for hard component like aircraft wings, and fuselages, bicycle components, rock climbing equipment. And it has good corrosion resistance property.
The popular CNC machined aluminum parts include spline shafts, worm gears, dials, scales, front panels, dowel pins, optical reflectors, EMI-proof housings etc.
TEAM Rapid has broad Aluminum CNC Machining experience. We are always ready to help you when you require aluminum CNC machining parts. Please contact us if you want to know more about aluminum CNC machining service or aluminum CNC machining service. Contact us at [email protected] today and learn more about us.
Request A Quote