Home
>
News & Events
> CNC Machining vs 3D Printing -Which One is the Best Method for Prototyping?
CNC Machining vs 3D Printing -Which One is the Best Method for Prototyping?
Rapid Prototyping is an important process in any manufacturing production, as manufacturers need to use prototypes to test the hardware parts or sheetmetal work components they will produce as final products. With prototypes, manufacturers can test various features and characteristics of the parts and components, as well as making the necessary iterations to improve their quality before sending them to full-scale production. This guide will talk about CNC machining vs 3D printing for prototyping, along with the pros and cons of each method.
CNC Machining vs 3D Printing: CNC for Prototyping - Pros and Cons
CNC machining(CNC milling and CNC turning) provides you with superior accuracy and precision when compared to the 3D printing method, but it comes with a more expensive production price. What are the pros and cons of CNC for prototyping?
Pros
●Superior accuracy.
When compared to 3D print services, CNC machining service is a better option for prototyping, as it can provide you with superior accuracy for the hardware parts or components you produce. It will follow your prototype design to the letter, with very little deviation in their measurements.
●Better finish.
You will also get a better finish when you use CNC prototyping, and you don't need to apply any surface finishing process. Surface finishing is just an optional process if you want to improve the aesthetics of the prototype even more.
●Exact replicas for multiple prototypes.
You can repeat the process of CNC machining for any prototype, and you will get the exact replicas for your prototypes. So, you can create multiple prototypes in case you need them as backups.
●A wide range of materials.
CNC machining is suitable to use for different types of materials, whether they are metals, plastics, ceramics, woods, or any other materials. It can handle materials with a high level of thickness and hardness. So, it can get plenty of options for your prototypes when you use CNC machining.
●Closer to the final product design.
CNC machining can also provide you with the prototypes that have a closer look as the final products. It will allow you to test your prototypes with more accuracy, as they will resemble the final products that you will produce later.
Cons
●Inflexible geometric design.
With CNC machining, you can't produce hardware parts or prototypes with the geometric design that is too complex. Medium complexity is still fine. But, the more complex the geometric design, the harder it will be for you to program the CNC machining equipment to follow the prototyping process.
●Plenty of waste due to the subtractive manufacturing process.
Due to the subtractive rapid manufacturing process, you will need to shed plenty of waste materials in the process. Also, most waste materials you produce from CNC machining won't be able to get recycled, which means it might end up contributing to the environmental waste.
●Expensive prototyping method.
You can get better prototype results with CNC machining, but often with a steeper price. The whole process of CNC machining can be expensive for you to perform, especially if you need to start from scratch.
●Not good for smaller prototypes.
You can use the CNC machining process for prototyping only for the medium to big size prototypes. Smaller prototype might not be suitable for CNC machining, as it will be more difficult for you to produce accurate cuts with it.
CNC Machining vs 3D Printing: 3D Printing for Prototyping - Pros and Cons
The 3D printing technology offers you a fast way of making prototypes, but at the cost of lower durability and size restrictions. Let's take a look at the pros and cons of the 3D printing technology for prototyping.
Pros
●Suitable for rapid prototyping.
3D printing is the best way for you to produce prototypes at a rapid pace, meaning that you can get your prototype done in just a few hours or within a day, depending on the complexity of it. With this feature, you can test various aspects of the prototype without having to wait for too long for it.
●Complex geometry compatibility.
You can create the prototype blueprint that has complex geometries and print it with the 3D printing machine with no problem. The additive manufacturing process allows you to create any objects, even those with a high level of complexity.
●Fewer waste materials.
The additive manufacturing process of 3D printing will also leave a small amount of waste material for each printing session. This is because you will only use the materials as you need them.
●Cheaper production costs.
3D printing offers you cheap overall production costs, and you can get both the materials and 3D printing equipment at lower costs compared to CNC. You can also save money by producing prototypes in large quantities.
●Lightweight parts.
The hardware parts and components you get from 3D printing will be lightweight, which means they are easier to manage. You can move the prototypes around as you see fit.
Cons
●Suitable only for small and medium prototypes.
Due to the relatively small size of the printing chamber, you can only print small and medium prototypes with 3D printing. There will be size restrictions you need to consider.
●Not quite durable.
Prototypes from 3D printing are lightweight, and sometimes, they are not quite durable. They might get damaged a lot if you use the prototypes to perform heavy-duty tasks.
●Additional manufacturing processes.
You might also need to perform additional manufacturing processes with 3D printing, as the prototypes often don't have excellent surface finish.
●Easy to fake.
People might be able to fake your prototypes with ease, as 3D printing technology is quite accessible to the public.
Conclusion of CNC Machining vs 3D Printing for Prototyping?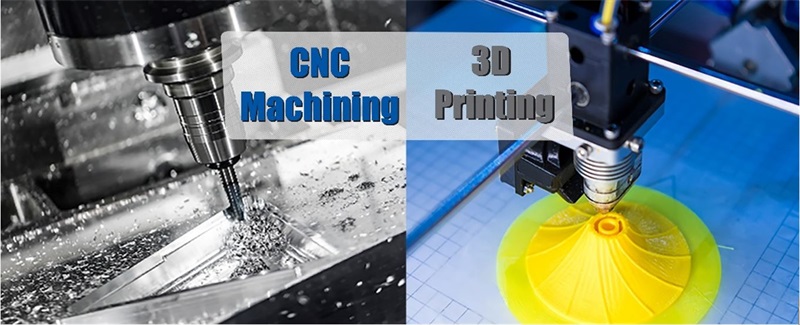 To find the best method for prototyping, CNC machining vs 3D printing, it will depend on various factors. For instance, you can use 3D printing if you need to get your prototypes ready fast, or if you want to print prototypes with complex geometries. But, you can use CNC if you need to get the best quality prototypes with the best precision, although it might take more time for you to get the prototypes done.
So, depending on your current needs and requirements for your prototypes, you can choose between 3D printing and CNC, and you can even combine the two methods if your project requires it. The important thing to do is to evaluate the pros and cons of each prototyping method and decide whether you will need to use 3D printing or CNC after weighing all the pros and cons of each method.
Besides from CNC machining and 3D printing, TEAM Rapid also offers injection molding services and die casting services for your project needs. Contact our team today to request a free quote now!
Request A Quote