-
CNC Rapid Prototyping
There are many options for rapid prototyping like 3D printing, sand casting, selective laser sintering, investment casting and CNC Rapid Prototyping. CNC prototype machining has some unique advantages.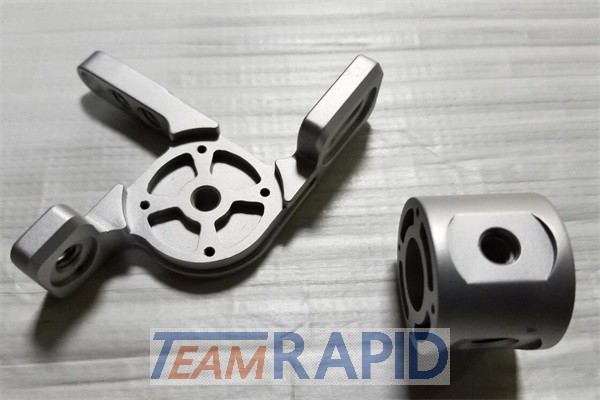 What is CNC prototype machining? CNC prototyping involves the use of 3D solid model CAD designs as the input, and correspondingly fabricating the part directly from solid material through a computer controlled cutting and milling process. CNC machine removes material from a starting material block to create the final part precisely to the CAD model specifications. With the help of modern CNC machines, material removal process s more efficient, quicker and accurate. CNC prototyping allows components to be made from any material which is suitable and commercially available in cast or extruded stock. When our customers choose us as their rapid prototype manufacturing company, we always offer an outstanding option for low volume customized products and prototypes with precision results!
Prototyping provides many benefits. Engineering teams can identify potential problems or functional issue by creating a model before producing mass production quantity. This can allow manufacturers to make necessary corrections before going into full production, which saves a significant amount of money. Human factors such color, texture, feel, light, shadows, temperature to touch, resistance to motion etc can be assessed with prototypes made to high craftsmanship, quality and proper materials.
CNC Prototyping can benefit any industry, whether aviation, automotive, architecture, aerospace, construction, medical, or something else that needs a finished product with precision and detail. Investing in the prototype process with CNC machining reduces the risk of time-consuming and costly mistakes.CNC is an attractive option for many lower volume production projects. CNC machining is an ideal option whether customers need 100 or 1,000 parts as CNC machining eliminates the need for upfront tooling and molds due to its "on-demand" manufacturing methodology. CNC machining is an outstanding process whenever customers need plastic or metal prototypes or multiple pieces in low volume manufacturing.
At TEAM Rapid, we pride ourselves in assisting both large and small businesses. We have the ability to produce prototypes for volume production and engineering support service to help with the development. We can help customers save weight, time, and money by optimizing product specifications. If you need a rapid-prototyped part or component, our professional team can help. As a leader in the industry, we maintain state-of-the-art CNC machines and have a dedicated team of professionals eager to assist you. For more information, contact us at [email protected] .