2024: What Material Is Suitable for Your Plastic Prototype
When it comes to producing parts in plastic material, it is important to choose the suitable material. Plastics vary in appearance, strength and durability. If you are looking for plastic fabrication services in 2024, TEAM Rapid is your right choice of rapid manufacturing. Here at TEAM Rapid, it is intimidating to choose to pick the right approach and the right plastic materials. Our team of engineers can guide your through the whole project which include using your drawing, data and gathering pertinent information to identify the best manufacturing process.
Material Selection and Considerations for Plastic Fabrication
Having a strong knowledge of plastic fabrication is important, no matter it is picking the right material to build cosmetic parts or build a functional part which needed to have good performances, you need to know about it. When choosing the plastic material there are many factors to consider which include:
1, The purpose to create the parts and the mechanical functions that the parts offer
2, What manufacturing process to be used? It is CNC machining, 3D printing or injection molding?
3, How big the order is? Is it high or low volume? If it was a high volume, injection molding is the best manufacturing process to use.
4, Cost and budget. Cost will depend on process and materials to be used.
5, Timing. Lead time varies according to the process and material availability.
Further Considerations about Plastic Fabrication
There is a number of consideration when doing plastic fabrication. In this article, we focus on factors to consider when making decision to choose particular plastic for prototype parts. What to consider when we make such a decision? Below are the three quick steps pointing you in the correct direction:
1. Determination the purpose of parts
Different plastics are suitable to plastic parts with different functional purposes. Is it plastic fabrication? Are the parts mechanical, load bearing, purely aesthetic? Do they experience friction? Do they relate with other parts in the larger device?
2. Choose the Correct Stock Material
The availability of plastic is variable. ABS or Delrin are commonly used plastic. Plastic suppliers typically have stock. Other plastic materials many need special ordering or increased costs. Consider if the availability of the material is a sheet, rod or pipe. For example, if the plastic fabrication is used a CNC machine, or a printing material used in 3D printer. Normally, if you want to match production plastic, FDM machines are the best option. You can mimic plastic with 3D printing material like SLA, SLS. But you cannot use the same exact material. SLA begins off as liquids. When it is hit with a laser, SLA materials are cured which cause some inherent differences in the completed parts. Similar to SLA material, SLS is a powdered material. It is hit with a laser to fuse it with another surrounding powder. SLS is an ideal option if you want your end parts to be nylon. Consider the plastic ability to be prototyped. Different plastics are more suitable to CNC machining process. Others are easily to be 3D printed. Consider if you will use the same material prototypes as you use in the end manufacturing. Consider the material's feasibility as injection molded polymer. Consider if the plastic is recycled after consumers' use. If so, make sure to use a thermoplastic.
3.Design, Engineer and Construct
Consider if you want to construct a single unit or injection molded prototypes in 300 – 1,000 pieces for test before running into mass production. If you want a few hundred or a thousand injection molded prototypes, you need to design and build an injection molding tool for plastic fabrication.
The Top 5 Materials Used for Plastic Fabrication: ABS, PC, Acrylic, Acetal, Nylon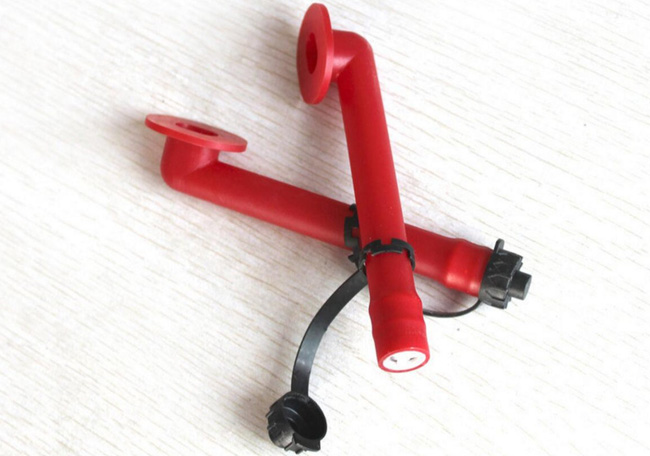 ABS
ABS is strong and offers good surface appearance. It can be painted, metalized and decorated to achieve the desired look. It can be used in all prototype processes.
Description: this low-cost engineering plastic offers exceptional mechanical and surface strength for a wide range of parts used in high-impact application
Properties: one of the popular Prototyping Material, cut easily, thermal and dimensional stability. It also can be painted and glued for adding versatility, lager and complex parts with undercuts can be easily made in sections and glued.
Finish Available: Machine Finish, Smooth Finish, Sand Blasting, Polishing Finish, Painted or Grey Primered, Electroplated.
Weaknesses: Not suitable for Petroleum-based oils, paints and solvents. Moderate heat, moisture and chemical, weathering resistance. Can easily scratch. Flammable with high smoke generation.
PC
PC is clear. It offers strength and flexibility.
Description: Unfilled Poly Carbonate (PC) is a tough and durable, transparent engineering thermoplastic notable for its high impact resistance, temperature resistance and optical properties.
Properties: High Impact resistance, Good Dimensional Stability, Excellent strength retention at elevated temperatures, Low coefficient of thermal expansion, Good Dimensional Stability. Good electrical insulator and having Heat resistant and Flame retardant properties.
Finish Available: Machine Finish, Smooth Finish, Sand Blast, Mirror Polish, Vapor Polishing, Translucent finish (Foggy look like Lamp Shade), Painted or Grey Primered.
Weaknesses: Subject to cracking due to stress, Moderate resistance to Chemicals, Low scratch-resistance. Difficult to glue. It can be subject to discoloration with UV light. So, if using PC to creating exterior parts, it is commonly needed to apply a special UV protective top coat.
Acrylic
Acrylic is also a clear material. It is strong and hard to scratch. Acrylic has a glossy finish. Acrylic is commonly used in creating optical parts.
Description: Also known as PMMA (Poly Methyl-Meta Acrylate) is an amorphous thermoplastic material with very good optical properties. Acrylic is often used as a glass substitute.
Properties: Excellent optical clarity, Good Abrasion Resistance, Excellent environmental stability, Good Heat Resistance, Good Chemical Resistance. Flammable but low smoke emission.
Finish Available: Machine Finish, Smooth Finish, Mirror Polish, Flame Polish, Translucent Finish, Painted or Tinted finish
Weaknesses: Poor impact resistance, Subject to stress cracking, not suitable for use with chlorinated or aromatic hydrocarbons. Brittle nature, PMMA swells and dissolves in many organic solvents.
Acetal
Description: Acetal also known as POM (Poly Oxy Methylene) is an engineering Thermoplastic often used for precision components that require high stiffness, low friction and excellent dimensional stability. Acetal has excellent wear resistance. It is ideal for specific application like gears. Acetal is strong and stable to temperatures of 80C dimensionally.
Properties: Excellent abrasion resistant good working temperature, Glossy appearance, Excellent durability Self-lubricant good stiffness, strength & Hardness. Wide range Chemical resistance (including many solvents). Good Electrical and Dielectric properties.
Finish Available: Machine finish, Smooth Finish, Sand Blast, Polished finish
Weaknesses: Very difficult to bond, Poor resistance to acids, Flammable and High Specific Gravity. Difficult to paint. Large and thin parts with irregular wall section are prone to warp.
Nylon
There are many nylons formulation offering strong and durable results. Glass-filled nylon blends can add strength and heat resistance. Nylon is commonly used in creating engineered parts which need strength and durability.
Description: Nylon is a generic designation for a family of synthetic polymers known generically as PA Poly Amides. Nylons (Polyamides) comprise the largest family of engineering plastics with a very wide range of applications. Nylons are generally Strong, Tough and Wear Resistant.
Properties: Excellent abrasion resistance, High elongation, good resistance to fuels, oils and solvents but is affected by acids and strong bases. Good Toughness, High Tensile Strength, High Impact Resistance, Good Dimensional Stability.
Finish Available: Machine Finish, Smooth Finish, Sand Blast.
Weaknesses: High Moisture absorptivity degrades electrical and mechanical properties. Attacked by strong Acids, Bases, Oxidizing agents. High Notch sensitivity.
PP
PP is preferred for creating parts which need flexibility like living hinge geometries. PP is commonly used in automotive interiors. PP will not react with most substances. It is creak and stress resistant. PP is harder to glue and paint. PP is commonly used in injection molds.
Description: Poly Propylene is semi-opaque thermoplastic widely used in variety of applications. Polypropylene has good resistance to fatigue. PP offers a combination of outstanding physical, chemical, mechanical, thermal and electrical properties.
Properties: Excellent resistance to fatigue. Lightweight with good combination of toughness and flexibility. Resists most alkaline and Acids. Low moisture Absorption and Non-Toxic. Good Impact Resistance. Retains stiffness and flex.
Finish Available: Machine Finish, Smooth Finish, Sand Blast.
Weaknesses: Hard to Glue. Degraded by UV radiation, Attacked by chlorinated solvents and aromatics. Large and thin wall sectioned parts are prone to deformation or warping after machining.
TEAM Rapid - One of The Best Plastic Fabrication Company
For more information about the plastic fabrication material selection, please feel free to contact China Rapid Prototyping company at [email protected].
Request A Quote