Plastic Injection Mold Tooling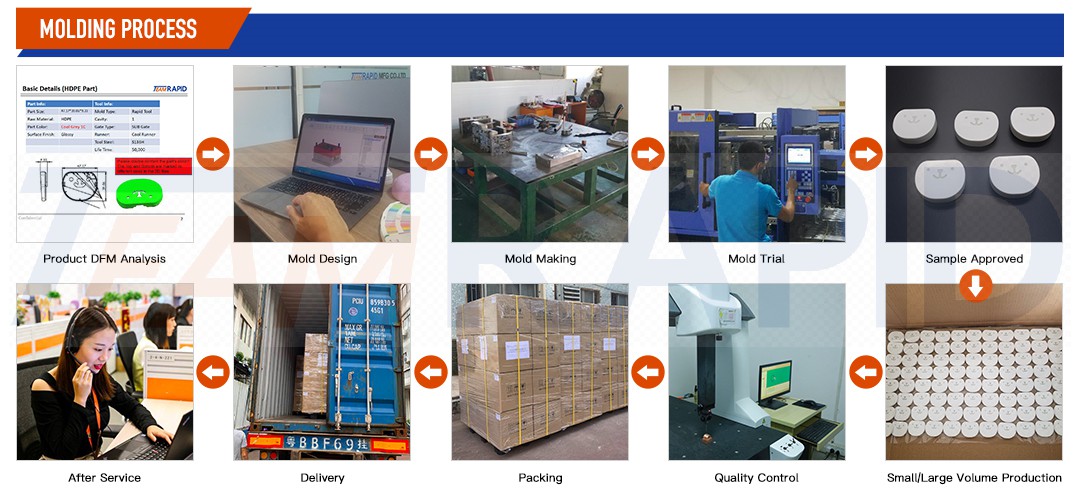 To build a successful plastic injection mold tooling, it is important to understand three things including the plastics used in the injection process, the injection machines and the tool which make the melted plastic material into end products. Injection time and cost will affect the part's price. This article talks about the key factors about building the best plastic injection molding tools from prototype to mass production.
The first thing is to review the product. To create the best quality and the most cost-effective prototypes and product, it is critical to have a good start in the process as early as possible - finding a good Plastic Injection Molding Company like TEAM Rapid to begin the projects. TEAM Rapid, as one of the leading plastic injection molding companies, our experienced team of expert are able to let customers understand the strength and limitations of plastic injection molding. We will provide different options of modifications which should be applied on mold, tooling and product to perfect the end products.
The second thing is to work and build the prototype mold when customers figure out how and what the parts will be. The mold and the mold cost will effect by many factors. For example, part size. The size of the part and the quantity of parts in a mold will impact the cost, machines. Part complexity may need several cavities or additional process like overmolding or two-shot which will increase the cost. More cavities require more complicated presses or post-production processing. Plastic injection mold can be made out of different types of metal. Hardened steel is more expensive. Aluminum is cheaper and easier to be used, but it is easy to wear out after a short production run.
The third thing is to build the production tool for mass production when the design is validated. In the tool building process, manufacturers will test plastic injection molding process and check the specifications and design.
At TEAM Rapid, we are pound of ourselves in Plastic Injection Mold Tooling making. Our full services ranging from prototyping developing, tooling making, tooling testing, part producing to product after sales-service. Contact us at [email protected] today, get us involved to start your plastic injection molding tool making projects today!
Request A Quote