CNC Machining Services - Medium to High-Volume Production
CNC machining is a process that pre-programmed computer software controls the movement of tools in machinery. There are many tools available for CNC machines. These tools remove layers of a material from a stock piece and produce a uniquely designed part like drilling, milling, turning, grinding and more. The CNC process is effective for a wide range of materials and automated which allows for high precision and accuracy. CNC machining is an ideal option for who is looking for consistency and quality.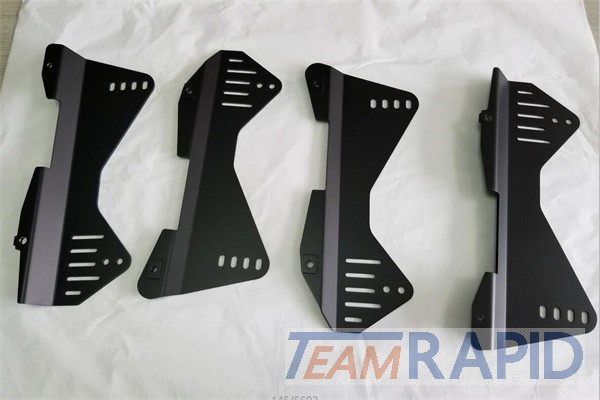 At TEAM Rapid, we provide CNC machining services for personalized custom parts and components. We offer turning, milling, drilling, tapping, boring, and grinding for a variety of materials. We have sub-spindle and live tooling turning capabilities. Our high-speed vertical and horizontal machining centers produce accurate and efficient machined parts for different kinds of industry. We have state-of-the-art machinery handles 3- and 4-axis machining which allows production tolerances to ± .0002.
At TEAM Rapid, we provide high volume CNC Machining Services in all industries including hydraulics, electronics, aerospace, plumbing and more. We can help to develop high-quality machining parts that meet the exact specification. We work tirelessly to make sure the machining parts include the tightest tolerances, best finishes, detailed dimensions and great consistency. Our professional engineer team will carry out quality assurance inspection during the manufacturing process so the final machined part is of the top quality.
We offer brown & shape, davenport department, CNC lathes, CNC bar lathes and other high and medium volume machining projects. Our trained team can use an array of material types including but not limited to alloy steel, aluminum, brass, bronze, copper, plastic and stainless steel. We offer a comprehensive quality assurance for all machined parts – to ensure that only the best quality materials and tolerances are followed. The quality process we follow includes ISO 9001-2015 certified and compliant, measurement equipment that is NIST-certified, detailed report and tracking report on all projects, strict protocols for parts to be approved to use. We also provide secondary services include inventory managements, assembly, part washing, packaging, plating, heat treating, grinding, thread lock, broaching, slotting, piercing, notching and more.
TEAM Rapid has professional machinists and rich experience working in kinds of industry. We manufacture part meet clients' personalized design, specifications, quality and budget. If you need helps on your High Volume CNC Machining or small run production projects, get us at [email protected] involved early and we will help you spend your money wisely.
Request A Quote