The Top 7 Injection Molding Applications
Plastic injection molding process make it possible to produce very complex plastic injection molding parts of high quality. Injection molding application examples include functional and housing product for automotive parts, medical equipment and consumer products. Plastic injection molding material ranges from hard plastic for housing parts to soft plastics with rubber-like characteristics. The production plant of injection molding industries is high automatic.
For more than 10 years, TEAM Rapid has offers various manufacturing solutions for a wide range of industrial application. As a professional plastic injection molders, we make high quality custom plastic injection molded parts in low to high volume at the most reasonable prices.

Our

I

njection

M

olding

A

pplications

I

nclude
Building and Construction
Plastic injection molding is a versatile process. Injection molding applications are in countless industries. Injection molding applications is increasingly valuable in construction industry. As custom injection molded pats have high material stability. Injection molded parts has high durability when exposed to the elements. Compared to metal or wood, plastic is much cheaper. Plastic is high energy efficient, recyclable, lightweight. There are a wide rang of materials and finish options available. Because of above characteristics, custom injection molded parts are suitable for construction applications. At TEAM Rapid, we use plastic injection molding to make a wide range of construction parts and products which include hand tools, fasteners, and small or large accessories.
Food and

B

everage
Food and beverage parts or components must comply with safety guidelines which include FDA and GMA-safe compliance. This ensures sanitary parts producing and protect the well-being of consumers. Plastic injection molded parts for food and beverage must made with food-grade materials which are non-toxic and BPA-free to meet FDA and GMA-safe standard. At TEAM Rapid, we are able to produce food-grade plastic injection molded parts. We used chemical resistant, UV resistant and autoclavable materials to meet foot and beverage industry requirements and specifications. Our injection molding applications for food, beverage and packaging include beverage overcaps, conveyor system parts, beverage filtering parts, food and beverage containers. We are well equipped with automation technologies and robotic processes. We can produce custom orders in high volume. We provide customers with injection molding solution which are cost and time effective.
Medical
Medical products are tied to an individual's health and safety. The quality of the whole manufacturing process from initial design stages to inspection is very important. TEAM Rapid, as a full service plastic injection molding manufacturer, our capabilities allow our customer to track the production of their projects from beginning to completes with transparency and accountability. Our injection molded parts meet the specifications of medical industry such as FDA. Our plastic injection molding capabilities offer benefits to medical industry. For example, use of food-grade and engineering grade plastic materials with great physical and chemical characteristics which include resistance to extreme temperatures, high tensile strength and tight tolerances. Our foot grade plastic injection molding parts are lightweight, high quality and repeatable. They are super design flexible. They are quick fulfillment of orders in high volume. They reduce material waster, shorten production lead time and lower overall costs. And the patient risk is reduced. Injection molding applications include diagnostic test kits, surgical prep products, dental field X-ray components.
POP
POP display parts are made to be functional and decorative. POP display parts need a balance of durable construction and aesthetic appearance. At TEAM Rapid, we are able to create different POP display parts which include shelf dividers, pegboard hooks, products stops. Our plastic injection molding services offer high tolerance. Our wide customization capabilities allow us to offer durable POP display solution cost-effectively.
Doors and

W

indows
At TEAM Rapid we have been producing high quality and cost effective door and window to customer needs. Our door and window parts have exceptional weatherability and excellent thermal insulation. We have a wide of materials for door and windows parts. Our materials include high-reliability resins, UV-inhibited engineered nylon, polypropylene, celcon and vinyl. Our material for door and window parts are high corrosion resistant which eliminate the possibility of rust corrosion. Our window and door parts shorten assembly time and costs. Our injection molding application for doors and windows include hole plugs, locks and keepers, muntin bar clips, muntin joiners, sash handles, tilt latches, bent stop, weep covers, window handles, window roller assembly, window screen corner, window stops and more. Except for above parts, we can also make customized parts like in-house part. We offer tool design, mold creation and production and more.
Automotive

P

arts
Plastic injection molding is a production process that automotive mold producer inject molten plastic materials into a mold cavity. The melted plastic cools and solids. And the completed plastic parts are extracted. Plastic injection mold design is important and challenging, injection molding is reliable for creating solid plastic parts with a high quality finish. Injection molding applications for automotive parts are repeatable, low cost, fast and high precise.
In automotive industry, repeatability is important. Automotive plastic injection molding relies on robust metal molds, the molded automotive parts made using the molds are identical. Injection molding is a highly repeatable process if the mold is well designed and finished.
Injection molds creating process is expensive because of the cost of the molds. But it is a highly scalable process as the overall cost decreases because more parts are produced. For mass production injection molding applications, injection molding is beneficial to the manufacturers. Injection molding tooling cost curb the cost efficiency of the process.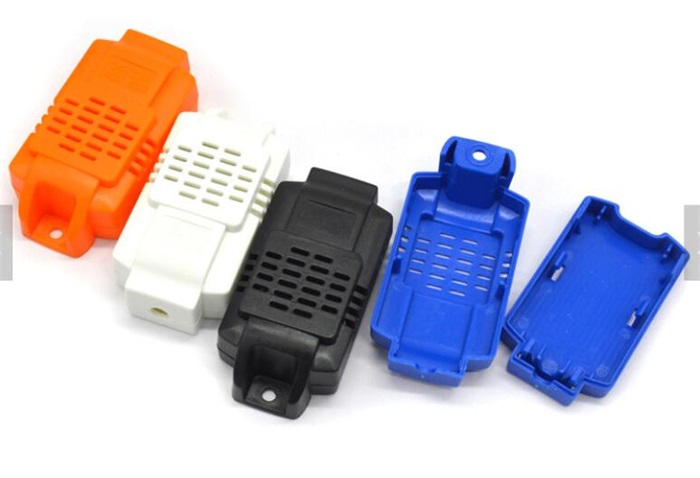 The wide range of rigid, flexible is the significant benefit of using plastic injection molding for automotive production. Manufacturers use different polymer for various applications in automotive industries which include ABS, polypropylene, acrylic, acetal, nylon, polycarbonate and more. Manufacturers have many finish options and surface textures when producing plastic injection molded parts. Surface textures include glossy, rough or matte. Plastic injection molding makes it easy to change the color of molded automotive parts to meet vehicle's color scheme. Plastic injection molding allow mix dyes with raw materials pellets before production starts which creates solid and consistent coloration without painting or tinting after the molding is finished.
Agriculture
In the past, agriculture industry invested in metal-made parts as they are a durable solution. Today, reinforced plastic options gained favor because material properties such as UV-resistance, impact-resistance, humidity resistance and more. The ability to make durable agriculture parts fit for agriculture industry from feeding to harvesting parts.
Contact TEAM Rapid today
At TEAM Rapid, we specialized in offering our customers with customized plastic injection molded parts in high volume. To learn more about our injection molding capabilities and how we offer the most efficient and cost-effective solution for your injection molding applications, contact us today!
Request A Quote