Insert Molding
Insert molding metals are also called metal insert molding or metal brass insert molding. Insert molding is also called over-molding sometimes. Insert molding is used in a wide range of industries including cooking ware, automobile, instruments, devices, knobs, electrical parts, household equipment etc. With the help of insert molding, labor cost can be reduced, size and weight of the components can be reduced and part reliability can be improved.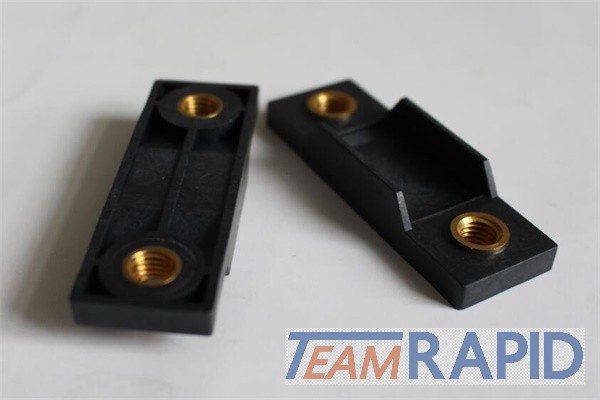 Insert molding process is the same as injection molding process. The molten raw material is injected into a plastic mold by the same injection molding machines. And the plastic is solidified by cooling system. Manufacturers need to put the metal into the mold and begin all of injection molding process before the mold is closed. Insert molding used the same materials as the injection molding process uses. Thermoplastic, mold steel, mold structure and injection molding machine are the same. In some special cases, injection molding manufacturers will use vertical injection molding machines.
Most thermoplastic resins can be used in insert molding process. The most commonly use material to make the inserts is metal like brass, aluminum and stainless steel. Threaded inserts have numerous standard sizes.
Insert molding have many advantages including improves part reliability, strength and structure. Reduce labor/ assembly cost and the size & weight of the parts. Enhances design flexibility. At TEAM Rapid, our modern insert molding machine and advanced equipment make us to fulfill customers' requirements. We aim to offer customers the most up-to-date insert mold options. Our insert injection materials can be used in most thermoplastics.
Insert molding metal inserts are used in a wide range of industries including aerospace, medical, defense, consumer markets and so one. The applications of metal insert molding including screws, studs, contacts, clips, spring contacts, pins, surfaced mount pads, auto industry components, industrial equipment components, medical devices, threaded fasteners, electrical parts etc.
Are you looking for more information about Insert Molding for your business? Please contact us at [email protected] and let us know your any requirement for quotations. Our team will get back to you with 24 hours. Get a free quote now!
Request A Quote