-
Quotes of China Rapid Prototype from Czech Republic
TEAM Rapid is a company specialize in rapid prototyping, CNC Prototyping, Rapid Injection Molding, and other
low volume manufacturing
needs. Our 20,000 square feet facilities provide a workplace for over 40 employees that includes 2 independent factories of Rapid Prototyping and
Rapid Tooling
. We help lots of customers to prototype their ideas and lunch the products into the market. Recently, we got some quotes from
Czech Republic
clients, below is the details:

1. Dear Jason (last person we were in touch), after longer time than we had expected we are making new machine. SInce you did a good job for us so far, I am sending you stl and pdf file of mold parts. All stuff is made of aluminium, final surface Ra 0.8 is good enough. All threads are standard metric in basic modifiacions, except four G1/4 - it is mentioned in drawings (ISO A1 format) Would you be so kind and send me some quotation? Thank you very much

2. I am looking to have prototypes made for these products. I would prefer and durable material as this product will be used for presentation and we would like it to hold up fairly well for some time. I would like 1 piece each. Tray color gray, lid red, pod body forest green, and scoop black

3. Hi, I am interested in creating a prototype for our new patent pending product. We would like it to be as thin as possible. I have attached some pictures and our utility drawings for reference. Please let me know if this is something your company could assist us with. We are hoping to get these made ASAP so that the product can be utilized for hand sanitizer spray. This would be a great thing to have as people return to work during these uncertain times. Any help you could be, is appreciated. Thank you

4. I would like this produced in a plastic that is resistant to lubricating oils.

5. Wanting to get a quote for this prototype made of either aluminium or steel with a time frame to build for just the one prototype and then also for a batch of 10 if possible

6. 3D drawing | Aluminium (If you don't quote aluminium parts, then Polypropylene would be fine) | Gloss | Quantity: 5000

7. Hi there, I am interested in tooling costs and part pricing for the two attached parts. Enclosure for lighting electronics. The parts are not finalised yet, so there may be subtle changes before tooling up. I look forward to your pricing and feedback. Best regards.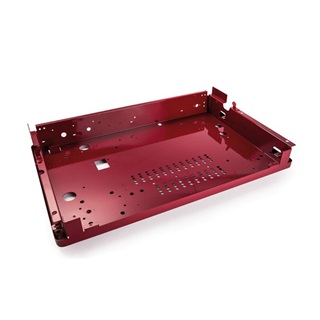 8. I am looking to get my 3d File CNC machined, I want to buy 1 and it should be Aluminium and Black
9. Hello? We are interested in your products. Kindly get back to us for further business discussions.?
10. We are interested in PolyCarbonate prototypes. We want a quotation for 1, 3 and 10 pcs of each of the two step files. We prefer a rough finish e.g. matte or textured finish D-1
11. Hello, I'm looking to get a silicone enema created. I have provided a 2D file, however if it something you can create I can provide a STEP file. How much would it cost to be created, can I provide pantone colors? Thanks
12. Hi! My partner and I are looking to manufacture a new innovative type of iPhone case that's completely new on the market. We already have the files from our engineer. Is it something your company would be interested on working on? . Here are some questions : We would like to know what would usually be the cost for a product of the size of an iPhone case approximately. For a 3D printing job and for
injection molding
(8 different sizes). Can you assemble some basic parts? Can you manage custom packaging and shipping. If yes, at what price? Is product finishing a thing that your company is able to do? (Texture for example) Because we are operating a business on Shopify, do you have a system in place that would facilitate taking in orders from our company? We'll be waiting for your answer patiently!
13. 01steel matte black powder coating prices for 1x, 50x, 100x, 500x and 1000x pieces if possible.
14. Material: Transparent plastic. Cheapest one. Quantity 100 to start. More to come in future.
TEAM Rapid is a China rapid prototyping company, we aim to help you reduce the risks involved in production and improve efficiency to meet your needs from the early prototype R & D to late mass production. We spare no effort to make sure you are satisfied with the quality, price and services! Want to find a best solution for your ongoing project? Contact us at [email protected] today and get a free quote.