Quotes of China Rapid Prototype from
Finland
TEAM Rapid is a company specialize in rapid prototyping, CNC Prototyping, Rapid Injection Molding, and other
low volume manufacturing
needs. Our 20,000 square feet facilities provide a workplace for over 40 employees that includes 2 independent factories of Rapid Prototyping and
Rapid Tooling
. We help lots of customers to prototype their ideas and lunch the products into the market. Recently, we got some quotes from
Finland
clients, below is the details:
1. Hi, These parts are reducers for uniball joints, so the surface of the part should be pretty smooth, but cheap as possible.
2. Machined aluminum (T6060 preferred) part, mostly lathe work but a milled/EDM cut on the end. See STEP file attached! I also have a 2D PDF sketch of this project, if needed! The production number would be at least 25, maybe 30 pcs. Thanks in advance!
3. Hi I am looking for a rapid mould maker. Material can be aluminium, epoxy block, sika block mdf or similar that can bea coated for lamination work
4. I need a quote for these plates made of 304 Stainless Steel 0.104" (2.64mm)thick. I need a quote for quantities of 9, 45, and 540.
5. Hello, I am sending a .zip archive with details for the parts I need. I am including the 3d files in .step format and the 2d drawing files in .pdf. Inside there is also a .pdf document specifying how many pieces I need from of each. I would like to know te prices for aluminum machining. Thank you.
6. Need quotes for qty 4 of the file attached and made in Aluminum
7. Hello I am a small startup company with a budget. I need a working prototype of my product to use for marketing and promotion. Can you make a small heated hair tool?
8. I am looking to get this form made into a 3-D prototype. I am flexible on material to cut costs, foam, wood, plastic etc. I would like it to be 6" wide.
9. Please find attached zip file with: .xls for order details .pdf for finish details .stp If you find features of parts which are increasing the price significantly, or you find ways that with small changes, the parts can be much cheaper, I would appreciate recommendations. Please note the required delivery date.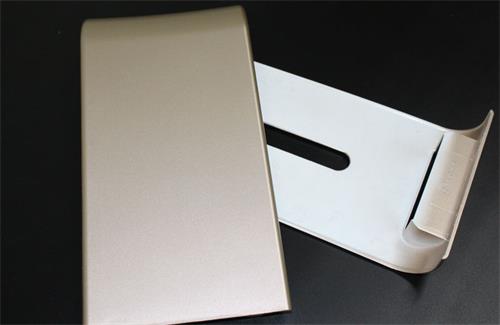 10. Sirs, We need soft rubber square o-rings with a bevel corner. Drawing attached for one of the models. Material is soft rubber neoprene or polyurethane, Hardness shore 60A and quantity 50 for first order. Please advise if you can produce and the cost.
11. I am needing cad services and also CNC services. I have two 3d STL files and need some modifications to make it work with CNC. I want the part to be made out of Aluminum. The part holder part needs thread m10x1.0 and m20x1.0 for the connection to the Tip The Tip needs M20x1.0 internal thread. If it needs to be created new, please let me know. thank you
12. hi I just want know how much it cost, to cnc this part out of mild steel, include shipping cost
13. Attached are two files which we need die cast in aluminum. The design is preliminary and will need to be refined and optimized for die casting, but I'm wondering if this is a good fit for you to quote. Please advise. Thanks.
14. We are interested to know if you can quote aluminium rapid tool and 50 off parts to the attached zip folder.
15. Here is the STEP file for the assembly I want manufactured. I need 2 assemblies made, preferably out of stainless steel.
16. Hello, I need a quote on this part, 4 pieces, material is 304 or 303 SS, the tolerance is + - 0.1mm, the surface finish is 32RA. If you have any questions please feel free to contact me. Thanks
TEAM Rapid is a
China rapid prototyping company
, we aim to help you reduce the risks involved in production and improve efficiency to meet your needs from the early prototype R & D to late mass production. We spare no effort to make sure you are satisfied with the quality, price and services! Want to find a best solution for your ongoing project? Contact us at
[email protected]
today and get a free quote.
Request A Quote